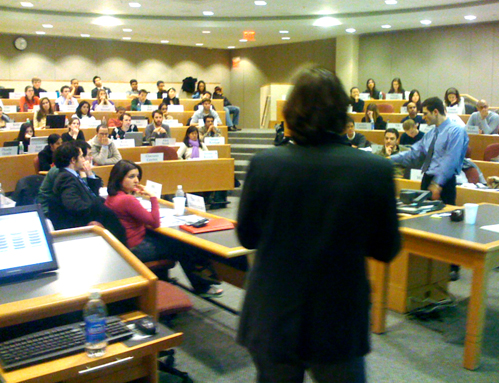 Although not strictly a Masters degree, the Master of Business Administration (MBA) is considered by many to be a must-have for a top level career in business.
As the number of schools offering MBAs has grown, a ranking system has developed around them, to give students guidance on the best colleges to apply for, and to help potential employers to target their recruitment efforts.
Now we have publications like US News & World Report, Business Week, Financial Times, The Economist, and the Wall Street Journal publishing annual rankings of selected MBA programs that directly influence the prestige of schools that achieve high scores.
Ranking an educational institution is a little less scientific than ranking the performance of a computer or an automobile component, and the practice has been widely criticized, but the rankings are nevertheless hugely influential.
The Financial Times ranking is based on long-term graduate career progress, and is compiled from over 20 criteria, including the graduates' salary data and placement success, and information about the school's faculty.
9 equal:
Hong Kong UST Business School
The Hong Kong University of Science and Technology (often abbreviated HKUST), one of nine universities in Hong Kong, was established in 1991.
The university is home to 9,000 students and over 450 faculty, and has rapidly risen to become one of the top universities in Hong Kong.
It is ranked as the second best university in Asia according to QS Asian University Rankings 2010.
The HKUST Business School's MBA program was ranked first in Asia, and equal 9th worldwide by the Financial Times.
The school's Executive MBA program is run in partnership with Kellogg School of Management.
9 equal:
University of Chicago Booth School of Business
Founded in 1898 as the College of Commerce and Politics, Chicago Booth is the second-oldest business school in the world, but it has changed its name several times during its history.
The school was renamed the School of Commerce and Administration in 1916 and offered its first doctorate program in 1922. It then became the School of Business in 1932 and offered its first MBA in 1935.
A landmark decision was taken by the school around this time to concentrate its resources solely on graduate programs, and the undergraduate program was phased out in 1942. In 1943, the school launched the first ever Executive MBA program.
The school was renamed the Graduate School of Business (commonly referred to as the GSB) in 1959, a name that it held until 2008 when it was renamed following a $300 million endowment gift to the school by alumnus David G. Booth.
It is the first and only US business school with permanent campuses on three continents: Asia, Europe, and North America, and has 43,000 alumni around the world.
8. MIT Sloan School of Management
The MIT Sloan School of Management is one of the five schools of the Massachusetts Institute of Technology, located in Cambridge, Massachusetts.
MIT Sloan offers bachelor's degrees, master's degree and doctorates, as well as non-degree executive education programs. Its largest program is the Master of Business Administration (MBA) program, which matriculates students every year from more than 60 countries and offers the widest range of electives of any business school in the United States.
MIT Sloan began in 1914 as the engineering administration curriculum in the MIT Department of Economics and Statistics. A program offering a master's degree in management was established in 1925.
The world's first university-based executive education program - the Sloan Fellows - was created in 1931 under the sponsorship of Alfred P. Sloan Jr, an 1895 MIT graduate, who became chairman of General Motors and has since been credited with creating the modern corporation.
A Sloan Foundation grant established the MIT School of Industrial Management in 1952 with the charge of educating the "ideal manager", and the school was renamed in Sloan's honor as the Alfred P. Sloan School of Management.
Notable alumni include Kofi Annan, Secretary-General of the United Nations, and Bill Ford, Jr.
7. IE Business School
IE Business School (formerly known as Instituto de Empresa) is an independent, non-profit business school in Madrid, Spain.
Founded in 1973, the school runs master's degree programs, executive master's degrees, executive education programs, PhD and DBA programs. Approximately 7,800 students from 88 countries undertake degree programs at IE each year.
There are approximately 5,600 annual participants in the school's executive education programs. In 2008, 48.5 percent of the professors were of non-Spanish origin, and there were 81 nationalities on campus.
IE Business School has MBA student exchange programs with 53 international universities.
Notable alumni include Claudio Aguirre, former chairman and CEO of Merrill Lynch International Bank Ltd.
6. Columbia Business School
Columbia Business School (CBS) is the business school of Columbia University in Manhattan, New York City.
It was established in 1916 to provide business training and professional preparation for undergraduate and graduate Columbia University students. It is one of six Ivy League business schools and its admission process is among the most selective of top business schools. Its first MBA was awarded in 1945.
The Columbia MBA Program had an admission rate of 15 percent in 2009.
Columbia Business School is known for its close ties to Wall Street. The wealthy investor Warren Buffet is an alumnus, as is Alexander Haig, former US Secretary of State.
5. INSEAD
INSEAD is a multi-campus international graduate business school and research institution with campuses in France, Singapore, and Abu Dhabi, as well as a research center in Israel.
It was founded in 1957 as Institut Européen d'Administration des Affaires (European Institute for Business Administration).
The school offers a full-time MBA program, a PhD in Management program, and several executive education programs (including an Executive MBA).
INSEAD pioneered the concept of international business education to meet the growing need for global business leaders. The school has been widely recognized as one of the most innovative and influential among top-tier business schools worldwide.
The school's main differentiation lies in class diversity, quality of education, and the strength and spread of the alumni network. It is the highest ranked one-year MBA program on the FT ranking list.
INSEAD MBA students have the chance to study in three continents through a strategic alliance with the Wharton School of the University of Pennsylvania.
Starting in September 2010, a campus exchange program with Kellogg School of Management will be offered.
Famous alumni include Marius Kloppers, CEO of mining giant BHP Billiton and Noel Tata, managing director of Tata International.
4. Stanford Graduate School of Business
Founded in 1925, the Stanford Graduate School of Business (also known as Stanford Business School, Stanford GSB, or The GSB) is one of the professional schools of Stanford University, in Stanford, California.
It is the most selective business school in the world, with the highest ratio of applicants to available seats of any business school in the US for the last decade, and the lowest acceptance rates (typically less than 10 percent) of any major business school in the world.
The Stanford GSB offers a general management MBA degree but does not offer degrees in specialized areas such as finance, marketing, human resources etc.
The school also offers the Sloan Master's Program, a full-time ten-month MS in Management for accomplished mid-career executives and entrepreneurs, and a PhD program.
Stanford GSB has produced a remarkable number of successful business leaders and entrepreneurs from its relatively small alumni base. Phil Knight, founder of Nike, gained his MBA there in 1962. Steve Ballmer, CEO of Microsoft, is another graduate. Former US President John F Kennedy dropped out.
3. Harvard Business School
Harvard Business School (HBS) is the graduate business school of Harvard University in Boston, Massachusetts.
Founded in 1908, HBS started with 59 students. In 1926, the school moved from the Cambridge side of the Charles River to its present location in Allston, Boston—hence the custom of faculty and students referring to the rest of Harvard University as "across the river."
HBS offers a two-year full time MBA program, which consists of one year of mandatory courses (required curriculum) and one year of unrestricted course selection (elective curriculum). Admission is highly selective, with an admissions rate of 12 percent for the class of 2010.
HBS owns Harvard Business School Publishing, which publishes business books, online management tools for corporate learning, case studies, and the monthly Harvard Business Review.
It is consistently ranked in the top ten of other national and global business school rankings, and is one of six Ivy League business schools.
Former US President George W Bush is an alumnus of HBS, as are Jim Balsillie, co-CEO of Research in Motion, the company responsible for the BlackBerry mobile phone, and Jim McNerny, chairman, CEO and president of Boeing.
2. University of Pennsylvania (Wharton)
The Wharton School is the business school of the University of Pennsylvania, an Ivy League university in Philadelphia, Pennsylvania.
Founded in 1881 by Philadelphia industrialist and philanthropist Joseph Wharton, it is the world's first collegiate business school and the first business school in the United States.
A native Philadelphian, Wharton became a leader in industrial metallurgy and built a fortune through his American Nickel Company and Bethlehem Steel Corporation.
The popular and financial press has consistently ranked Wharton as one of the world's top institutions for business education. It has been ranked #1 by the Financial Times in every year in which the newspaper has ranked business schools until this year, when it has dropped to #2.
According to Forbes, approximately 90 percent of billionaires with MBAs obtained their master's degree from one of three Ivy League schools: Harvard Business School, Columbia Business School, or Wharton.
Though Wharton MBA students do receive grades, they have a policy of non-disclosure whereby their grades are not disclosed to or discussed with others. The school does recognize students at the very top of the class, however. The top academic honor in the Wharton MBA Program is the Palmer Scholar designation, given to the top five percent of the graduating MBA class. Students who rank in the top 20 percent of the graduating class after both their first and second years are awarded Graduation with Honors.
Chip Goodyear, former CEO of the world's largest diversified resources company BHP Billiton, and a descendant of Charles Goodyear, the American inventor of vulcanized rubber, gained his MBA at Wharton, as did Terry Leahy, CEO of the UK-based Tesco supermarket chain, and JD Power III, founder of marketing research firm JD Power & Associates.
1. London Business School
London Business School is a constituent college of the University of London, in the UK. It climbed to #1 in the FT rankings this year after sharing top spot with the Wharton School of the University of Pennsylvania in 2009.
Located in central London, next to Regent's Park, it was established in 1964, after the Franks Report recommended the establishment of two business schools, as part of existing universities (London Business School and Manchester Business School).
The school's flagship is its 15-21 month Master of Business Administration degree. MBA students take a prescribed set of core courses, then choose electives from a choice of 70.
The school is proud of the diversity of the student body and the 2008 intake—graduating in 2010—consisted of 320 students from 60 nations with 25 percent female and only 9 percent from the UK (20 percent from North America).
Beyond academic teaching, the school puts an emphasis on personal development, particularly in terms of leadership and global awareness, thanks to specific workshops led by external consultants.
Alumni of London Business School include Sir Richard Greenbury, former chairman and CEO of British retailer Marks & Spencer, and Sir John Sunderland, former chairman and CEO of Cadbury Schweppes plc.