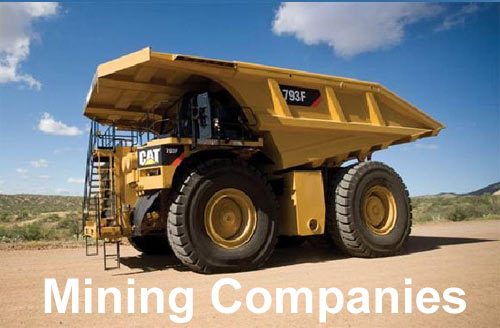 10. Norilsk Nickel
Norilsk Nickel is a nickel and palladium  mining  and smelting  company. Its largest operations are located in the Norilsk–Talnakh  area, in northern Russia. MMC stands for "Mining and Metallurgical Company".
Norilsk Nickel is headquartered in Moscow and is the world's leading producer of nickel and palladium. The company is also active in platinum, copper and cobalt. It is ranked among the top four world platinum producers, in association with subsidiary Stillwater Mining Company of Billings, Montana. It is ranked among the top ten copper producers.
9. Xstrata
Xstrata plc is an international mining company, listed on both the London Stock Exchange and the SIX Swiss Exchange. Its headquarters are in Zug in Switzerland and it is a member of the FTSE 100 Index. Xstrata Copper is currently the world's fourth largest producer of copper.
8. Alcoa
Alcoa, Inc. is the world's third largest producer of aluminum, behind Rio Tinto Alcan and Rusal.  From its operational headquarters in Pittsburgh, Pennsylvania, Alcoa conducts operations in 44 countries. In May 2007 Alcoa made a $27 billion hostile takeover bid for Alcan, a former subsidiary, aiming to unite the two companies and form the world's largest aluminum producer. The takeover bid was withdrawn after Alcan announced a friendly takeover by Rio Tinto in July 2007.
7. Shenua
Shenhua Group is a state-owned mining and energy company in China. It was founded in October 1995 under the auspices of the State Council of the People's Republic of China.
6. Chinalco
Chinalco is principally engaged in the extraction of aluminum oxide, electrolyzation of virgin aluminum and the processing and production of aluminum.
Chinalco operates its business through three segments: aluminum oxide segment, producing and selling aluminum oxide, aluminum hydroxide and gallium; virgin aluminum, providing virgin aluminum, carbon element products and aluminum alloys, and aluminum processing segment, offering casting products, slab band products, foils, squeezing products, forging products, powder products and die-casting products.
5. Anglo American
Anglo American PLC, is a multi-national mining company, founded in South Africa as a mining  enterprise but now extending into other areas. Natural resources remains the focus of its operations. Its headquarters are in London, United Kingdom.
4. Barrick
Barrick Gold Corporation is the largest pure gold mining company in the world, with its headquarters in Toronto, Ontario, Canada; and four regional business units located in Australia, Africa, North America and South America. Barrick is currently undertaking mining and exploration projects in Papua New Guinea, the United States, Canada, Dominican Republic, Australia, Peru, Chile, Russia, South Africa, Pakistan, Colombia, Argentina  and Tanzania. For 2008, it produced 7.7 million ounces of gold at a cash cost of US $443/ounce. As of December 31, 2008 its proven and probable gold mineral reserves stand at 138.5 million ounces.
3. Rio Tinto
The Rio Tinto Group is a diversified, British-Australian, multinational mining and resources group with headquarters in London and Melbourne. The company was founded in 1873, when a multinational consortium of investors purchased a mine complex on the Rio Tinto river, in Huelva, Spain from the Spanish government. Since then, the company has grown through a long series of mergers and acquisitions to place itself among the world leaders in the production of many commodities, including aluminium, iron ore, copper, uranium, coal, and diamonds. Although primarily focused on extraction of minerals, Rio Tinto also has significant operations in refining, particularly for refining bauxite and iron ore. The company has operations on six continents but is mainly concentrated in Australia and Canada, and owns gross assets valued at $81 billion through a complex web of wholly and partly owned subsidiaries. In 2007, the company was valued at $147 billion. Its head office in the United Kingdom is in the City of Westminster, London, while its Australian head office is in the City of Melbourne.
2. Vale CVRD
Vale (BM&F Bovespa: VALE3, VALE5 / NYSE: VALE, VALEP / Euronext: VALE3, VALE5 / BMAD: XVALO, XVALP) is a diversified mining multinational corporation and one of the largest logistics operators in Brazil. In addition to being the second-largest mining company in the world, Vale is also the largest producer of iron ore, pellets, and second largest of nickel. Vale also produces manganese, ferroalloys, copper, bauxite, potash, kaolin, alumina and aluminum. In the electric energy sector, the company participates in consortia and currently operates nine hydroelectric plants.
1. BHP Billiton
BHP Billiton is the world's largest mining company.  It is also the largest company in Australia  by market capitalisation. It was created in 2001 by the merger of Australia's Broken Hill Proprietary Company (BHP) and the British-Dutch Billiton.  The result is a dual-listed company with head offices in Melbourne and London. BHP Billiton Limited, which is the majority partner in the dual-listed structure, is listed on the Australian Securities Exchange. BHP Billiton Plc is listed on the London Stock Exchange and is a constituent of the FTSE 100 Index.