Marung Development Services (Pty) Ltd is a 100% citizen-owned company that offers a wide range of products and services of the highest quality in the mining industry value chain. The main objective of Marung Development Services is to provide drilling and blasting services, including drilling consumables management as well as mining consultancy services to its clients.

Amongst the services provided by our team of experts are the following;
- Drilling and blasting services and consultancy on efficiency improvements (optimization of drilling and blasting results)
- Mining consultancy services, including benchmarking audits and advice on Mine-to-Mill.
- Mining value chain assessment and elimination of bottlenecks.
- Mining project management
Marung Development Services have done Auditing and Benchmarking work for Debswana Diamond Mines, and are currently providing drilling and blasting services to Lucara's Karowe Diamond Mine.
HQ: 2979 Phase 1, Letlhakane, Botswana
Tel: (+267) 76239460
       (+267) 72950710
Company Logo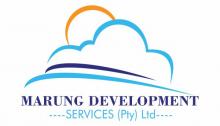 Company Email
info@mds.co.bw