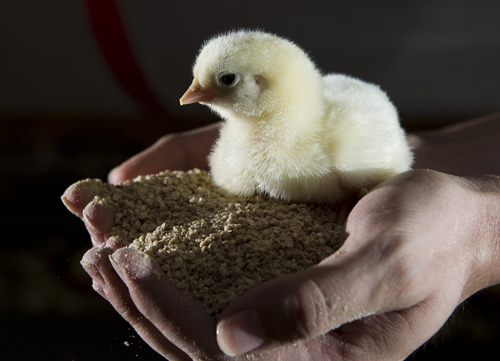 Kevin James acquired CBH in 2003 when it was a small and struggling operation processing just 250,000 chickens a week at its Bloemfontein location. However, having just shaken the dust of Zimbabwe, where he had built up a thriving poultry business, he hit an auspicious moment for the South African market, with feed prices declining and chicken prices firm. A year later he and his partners were able to buy and restart an operation in Mafikeng turning out 400,000 birds a week. They increased the capacity of both operations and by 2007 had a joint weekly capacity of 1.5 million birds. To this they added a number of feed mills, and in that year listed the group on the Johannesburg Stock Exchange.
Today the group employs 5,379 people and trades its poultry into the South Africa market under the Supreme Chicken brand and its animal feed under the name of Nutri Feeds, now the leader in animal feed manufacturing in South Africa with manufacturing plants in Viljoenskroon, Mafikeng and Bloemfontein. "The feed market is very consistent," says James. "We produce 500,000 tonnes of feed a year, around half of it for our internal use and the rest sold into regional and even global markets. We have three abattoirs, each of them working double shifts to produce half a million birds a week and additionally we have our own breeding programme." After just five years, then, CBH is now the third largest poultry producer, and at times has been the largest poultry exporter in South Africa.
Feed may be a consistent market – chicken meat is more volatile. At the time of listing, the South African poultry industry was quite buoyant. Since then rising maize prices have chipped at margins and rapid expansion of the poultry industry has led to over-supply. But an even more serious challenge has come from cheap meat flooding into the country from overseas, particularly the EU and Brazil. The South African Poultry Association has asked the International Trade Administration Commission of South Africa to raise duties to as much as 82 percent from the current 5-27 percent range, saying that as many as 20,000 jobs are being put at risk across the industry.
CBH has not escaped the effects of this unfair competition. "Producers are selling the breast meat and thighs on their own markets and dumping the leg quarters cheaply on South Africa," he points out. But CBH has a strategy that is mitigating the damage. The company has been very successful in penetrating the demanding QSR (Quick Service Restaurant) market, selling value added products to expanding chains like KFC, Hungry Lion and Captain Dorego. These products now make up 15 percent of CBH's total production of around 3,000 tonnes a week and the plan is to increase this segment to around 35 percent, which he feels is eminently doable. The result will be a balanced business selling a third of the product into retail, a third wholesale and a third to the foodservice market.
These plans are keeping the marketing department very busy at the moment, backed up by investment in plant and machinery. Specialised cutting equipment, crumbing lines and tumblers are examples of the sort of machinery that has to be sourced from abroad. Additionally all the abattoir lines are being upgraded to meet the standards required globally by the customers. All three processing plants have achieved YUM food safety accreditation and can supply KFC, CBH's biggest QSR customer, with product, but other outlets like Nandos, Hungry Lion and Captain Dorego each have their own specifications. With something like 12 percent of the South African foodservice market already captured, there is plenty of room for CBH to expand.
Exporting into Africa is hard to do if your production base is in South Africa. Most of the neighbouring countries have taken measures to protect their indigenous producers, some imposing very high import duties, some entirely banning imports of frozen poultry. The only solution is to set up businesses in these markets, and that is something CBH is continuing to focus on. In fact, with operations already set up in Zambia, Namibia and Botswana it was Kevin James's original intention of leaving Zimbabwe to focus on these countries had not an unmissable opportunity arisen in South Africa.
Now the emphasis is once again on Africa. CBH has in fact already started its return to Zimbabwe where it has been given the KFC franchise. The first restaurant will open in Harare in November – something of a departure for a company that is primarily a breeder and producer but the longer term plan, when the time is right, is to set up an operation to supply poultry to the trade.
In April this year the IFC (International Finance Corporation, the private sector funding arm of the World Bank) provided CBH with a loan of $25 million, convertible to shares within two and a half years from disbursement, to fund its African expansion plans. Apart from the money to increase production and set up new operations, this is a massive vote of confidence from an organisation committed to helping African economies and companies that catalyse growth. "Africa needs dynamic regional agribusiness companies that help encourage competitiveness and can expand successful models outside their home markets," said Saleem Karimjee, IFC Senior Country Manager for Southern Africa.
With increasing urbanisation and disposable incomes, per capita meat consumption is expected to double in Africa by 2030, particularly that of poultry, which is cheaper relative to other meats.. "We are spending $15.5 million in Zambia on upgrading our hatchery from 380,000 to a million birds a week" Also in Zambia, CBH has bought a 'grandparents' farm. Hatchlings become the great-grandparent flock, which produce grandparent stock, which in turn produce parent stock – it is the offspring of the parent stock that are raised for meat production, so the operation in Zambia will supply Angola, Zimbabwe, Botswana, Mozambique, Malawi and Uganda with the parent stock for breeding.
These are all territories that Kevin James and his associates know well. However the biggest prize of all in Africa is Nigeria, its most populous and diverse country. CBH is actively and currently moving into Nigeria with a turnkey project, he explains, in partnership with four partners who came from Zimbabwe eight years ago at the express invitation of the then president Olasegun Obasanjo. Obasanjo gave each of them 1,000 hectares near the western city of Ilorin.
Kevin James is very excited by the project. "With 4,000 hectares at our disposal we will have a breeding operation, a feed mill, and a broiler operation there, doing 250,000 birds per week by the end of this year. We will be supplying KFC in Lagos and the local market there." Many people think that Nigeria is a difficult market to crack, and are put off by reports of inter-community conflict. Well, that does not apply in Kwara State, he observes, where Muslims and Christians coexist harmoniously. And he has found Nigeria to be the most collaborative of the many African governments he has worked with when it comes to cutting the red tape associated with getting permits, arranging investment and the like.
The Nigerian operation is already in pilot production, processing 25,000 birds a week, and the feed mills and houses are under construction. It will be in full production by the end of 2014, with a target output of 100,000 birds a week – with no lack of demand from a population that is both affluent and famously fond of chicken. The area is already benefiting: "We are empowering a lot of the farmers there," says James. "We buy 90 percent of our maize from the Ilorin area, and we give them soya bean seed for them to grow and supply back to us."
Wherever there is a need for poultry in Africa, Country Bird will be present, he promises. "We have a training school in Zambia for people who know about farming and want to go into poultry. That gives us a real edge, having high calibre managers at our disposal." Trainees come in from Angola and other territories, and South African staff are trained there for deployment in other countries including the staff needed to supervise the Nigerian business, who recently concluded their training.
Written by John O'Hanlon, research by Jeff Abbott