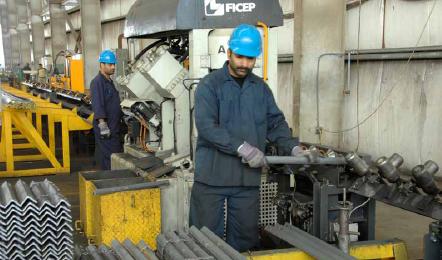 Business is all about accepting risks but if you have the 'do it yourself' attitude, nothing remains out of reach, as Alan Swaby learns.
The mark of a true entrepreneurial spirit is when challenges turn into opportunities. In the 1970s, the Zamil family business in Saudi Arabia found that pioneering steel buildings to a predominantly concrete market was no easy task, as it involved educating and converting end-users to the benefits and advantages of locally manufactured steel buildings.
For an entrepreneur, the answer is obvious. Stop being a customer and become a supplier. Of course the execution is not quite so simple. On the pro side, demand existed—on top of Zamil's limited but guaranteed demand, the country as a whole was just gearing up to transform its infrastructure and economic base. On the con side, Zamil had no experience or expertise in this line of work.
The solution was a 50/50 joint venture with a United States partner who supplied the initial know-how. The choice of partner was, in part, influenced by the technology it used. The European approach to designing steel buildings was to use proprietary hot rolled steel sections. The US approach, on the other hand, was to build up custom designed sections by cutting sheets of steel and welding them together in a process known as pre-engineered.
"In a sense," says Khalid Al Zamil, managing director of Zamil Steel, "the choice of technology was a gamble. But the gamble has paid off and we now see that the majority of buildings here are made this way."
The project was designed to give Zamil Steel sufficient capacity to satisfy an estimated 20 per cent of the country's needs. The joint venture, though, was never designed to last forever and within five years of setting up shop, Zamil was (amicably) in sole charge of its destination. With successive expansions in engineering and manufacturing capabilities Zamil Steel now commands substantial market share.
In keeping with the tremendous growth of industry within Saudi Arabia, Zamil Steel has diversified into more traditional steel fabrication with separate divisions for structural steel, pressure vessels and electrical and communication transmission towers. Each division is a separate company, with its own factory and management team. But the largest division by far remains pre-engineered steel buildings with over 50,000 buildings delivered around the globe to its credit. Zamil Steel has developed proprietary design software; and worldwide operations are networked for operational efficiency and customer care.
Such buildings are invariably low rise, clear span structures—usually without internal columns—used in applications such as supermarkets, warehouses, factories or aircraft hangers. Over the years a greater degree of sophistication has taken what was once simply a metal box into more complex areas. Factories wanted overhead cranes and supermarkets wanted a greater degree of aesthetic input into their facades.
But the fundamental proposition hasn't changed. The lightweight buildings are designed to put only sufficient metal into the frame as the loads require. High tensile steel is usually used to allow the thinnest sections possible. The frames tend to be I-shaped members constructed by welding together individual steel strips. If the loads allow it, sections can be tapered to reduce weight, restricting larger plate dimensions to those areas of highest load. Purlins to carry the roof are made from coils formed into Z or C shapes. "Cutting and welding sheets in this way," says Zamil, "looks more involved than simply cutting up hot rolled sections but we estimate that it gives us an in-built price advantage of at least 10 per cent." Roofs and side cladding are produced from roll-forming pre-painted coils.
The unprecedented growth within Saudi has meant that there is no shortage of competition from both local and overseas suppliers. Although Zamil manages to retain its market leader position, the over supply of fabricators often leads to times of squeezed margins. Consequently, 15 years ago, Zamil decided to diversify geographically. In 1996 manufacturing subsidiaries were opened in Egypt and Vietnam—moves that have proved highly successful in both instances. In fact, Zamil Steel now has two factories in Vietnam with a second in Ho Chi Minh City to complement the original Hanoi plant. More recently, Zamil Steel has entered the Emirates and Indian markets.
Saudi Arabia still accounts for half of the $500 million sales. Each year the group consumes 350,000 tons of steel—sufficient to build approximately eight to 10 million square metres of floor space. Although Zamil has some impressive projects in its portfolio, bread and butter work is much smaller—often needing just 20 or 30 tons of steel.
If called for, the highly automated machinery, linked to the equally sophisticated design tools the engineers employ, means these projects can be designed, detailed and fabricated in just days. However the more normal throughput of eight to 10 weeks fits in perfectly with the time required for civil work. "It is this totally integrated, in-house ability," says Zamil, "that continues to give us an advantage. We also are firm believers in the most advanced management techniques—all of which help us control overheads and remain competitive."
Zamil has the option of buying steel on the local market or from the Far East. With such large tonnages being consumed, tight inventory control is a must. "As managers," says Zamil, "we've tried to get stock holding down to just four weeks supply but the production team feel this is just too tight, so we settle on holding around six weeks of raw materials."
In an active economy such as Saudi Arabia, staffing is always an issue. Around two thirds of the 4,000 strong workforce are non-Saudis—either ex-pat professionals or shop floor workers from the Philippines or India. In all cases, English and technical on-the-job training is part of the training curriculum.
The Zamil family took an unprecedented lead in the formation of the first industrial IPO in the country when it merged its air conditioning, steel and glass businesses; and the Zamil experience has been a remarkable success. The company, part of Zamil Industrial Investment Company, is now listed on the Saudi stock exchange. www.zamilsteel.com