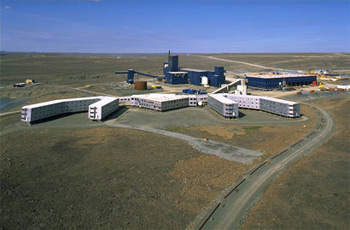 After reporting strong profits for the half year ending 30 June, Swiss-based mining group Xstrata intends to expand its Canadian operations.
Operating profit rose 31 percent to $4.25 billion with the company's cost reduction initiatives achieving $52 million of real unit cost savings.
In a separate announcement, Xstrata said it had approved two Xstrata Nickel projects totaling US$649 million as it continues its investment in growth options within its Canadian portfolio.
Xstrata Nickel's development of the US$530 million Raglan extension project in Northern Quebec and the US$119 million Fraser Morgan project in Sudbury, Ontario, have now been given the go-ahead.
At Raglan Mine, Xstrata Nickel will develop the high grade Qakimajurq and Mine 2 Lower Zone deposits and upgrade associated infrastructure to increase annual nickel in concentrate production from 26,000 to 32,000 tonnes per annum by 2014. In addition, Raglan's concentrator will be upgraded to reach 40,000 tonnes capacity per annum of nickel in concentrate by 2016, a 54 percent increase over current metal output, to facilitate further mining expansions.
Development of the Qakimajurq deposit will begin later this year and start production in 2014. The Mine 2 Lower Zone will commence development in 2012 and begin production in 2014. The concentrator upgrade is expected to begin in 2013.
Xstrata Nickel's Fraser Morgan project in Sudbury will develop two zones of the existing Fraser mine to unlock 6,000 tonnes and 2,000 tonnes per year of nickel and copper, respectively, while extending the life-of-mine of the Fraser Complex by five years to 2025. 
This project, coupled with the agreement with Vale to extend the Fraser Mine Copper Zone announced in May 2011, will enable the site to take full advantage of polymetallic ore bodies, utilize existing mill capacity to reduce unit costs at the Strathcona circuit, and provide a viable long-term local nickel feed for the Sudbury Smelter. Development of Fraser Morgan will start in early 2012 and is expected to begin production in 2013.
"The investments in Xstrata Nickel's Canadian operations in Quebec and Ontario will provide a solid source of downstream feed for our integrated nickel operations and solidifies our presence in these two world-class mining camps," said Ian Pearce, chief executive of Xstrata Nickel. "The Raglan and Sudbury expansions demonstrate our commitment to long-term growth in Canada and our contribution as a significant employer in the communities in which we operate."