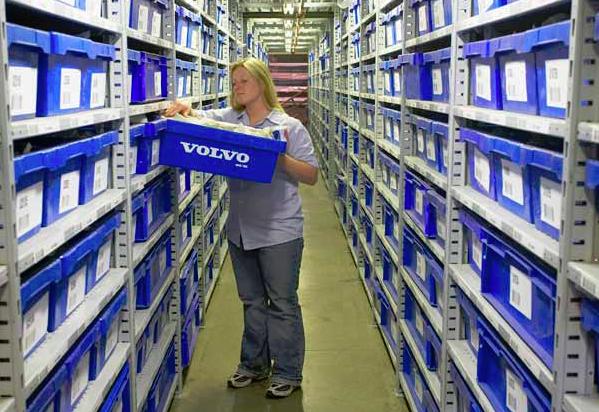 One of the world's largest airline parts distributors is poised for take-off to a whole new level, as senior vice president of asset management and operations Alain Berube tells Pamela Derringer.
VAS Aero Services (formerly Volvo Aero Services), now has the freedom and the financial backing to become a one-stop-shop for surplus new and used airplane parts, just as the airline industry has come to recognize the value of what the company has to offer.
"A decade ago, airlines were afraid of buying used parts," recalls Alain Berube, VAS' senior vice president of asset management and operations. "Now they are under rising cost pressures and have gotten smarter about buying good used parts when it makes sense in the later years of a plane's life expectancy," he says.
VAS has been growing strong partnerships with airlines, OEMs and MROs (maintenance and repair operators) for many years, but its parent company Volvo Aero halted a complementary engine repair venture and then realized that VAS' aftermarket business did not fit with its revised focus.
All that has now changed. H.I.G. Capital LLC, an $8 billion Miami-based global investment firm, recently bought VAS from Volvo Aero, with ambitious plans to expand the company. "VAS is the industry leader," says Bret Wiener, an H.I.G. managing director. "Aftermarket aviation component services is an attractive market. This is an opportune time in the industry cycle to invest," he says, and an opportunity to help VAS' "outstanding management team" in its next phase of growth.
Berube concurred. "H.I.G. sees us as a very strong player—one of the top five—with an extremely good network of large partners/customers, experienced management, good employees and robust internal operational processes."
The timing couldn't be better. VAS has bounced back from its lackluster performance in 2009 with a 25 percent boost in revenues this year, an indicator that the $250 million company is growing market share.
Underlying VAS' growth is a series of astute business decisions over the past few years. Not only did management grow the company while minimizing risk but it recruited customers as partners in acquiring and selling used parts, sharing the work and the profits. Now VAS is further optimizing operations by striving to reduce the number of its suppliers to a quarter of its former levels (previously as high as 80) to improve quality, delivery and warranty guarantees.
And, finally, VAS recently launched a new e-commerce website APO.aero with its complete inventory of some 500,000 part numbers, containing the history and documentation of each one. Customers can get a quote with a single click and have the part delivered the next day. The website will not only give global exposure to VAS' inventory but will also enable it to focus on its major customers and spend less time processing low-value orders, Berube says.
The company also recently moved one of its four regional warehouses from Tulsa to Kansas, consolidating two supply programs in larger, less expensive space with room for expansion, and yet still located close to major customers. The company has also optimized business processes by implementing SAP Enterprise Resource Management software and it continues to optimize logistics by subcontracting transportation services from a division of its former corporate owner.
One of VAS' first astute moves was a decision to run its four geographically dispersed warehouses, each located near its aircraft customers, like consignment shops. VAS provided centralized warehousing but let the airlines and MROs own the planes they were stripping for parts instead of owning them itself, Berube explains.
By owning only 25 percent of the warehoused inventory, VAS reduced its exposure and risk, especially as the value of parts often tends to depreciate over five years, he says. What VAS offered its customers under this arrangement was its strong expertise in asset management, infrastructure and customers network, which collectively helped achieve higher prices for its parts, he explains. "We see ourselves more as a service provider, that brings the best solutions and part values for our customers and develops long term relationships.
"We have an excellent reputation and we strive to become the best partners," he adds. "That's why we win deals."
More recently, VAS began taking collaboration to another level, enlisting customers as partners in disassembling jet engines for parts (while still not owning the engines) and then sharing the profits, Berube says. Sometimes the parts were sold to the customers doing the work, while other times the parts were sold to a third party and the profits shared. The whole asset sale process is therefore accelerated greatly.
Throughout VAS' growth, its close partnerships with major airlines, OEMs and MROs has been key. Boeing, for example, has an exclusive contract with VAS for the sale of new surplus parts. VAS also has a close partnership with MTU, Germany's largest commercial engine manufacturer and MRO group—Berube headed their North America Operations until coming to VAS in 2008. VAS' other major customers include all the big airlines such as American, United, Delta, Air France, KLM and British Airways.
Typically, VAS is one of three to five vendors competing for airlines' spare parts, Berube adds. "We're in a unique position," he says. "Because we are so close to these large companies and serve them well, they trust that we are very professional with our used parts distribution process. They know we make sure the parts meet the highest traceability and quality requirements required by the industry."
In addition VAS is accredited by AFRA (Aircraft Fleet Recycling Association) which is recognized as the leading global industry association dedicated to pursuing and promoting environmental best practice, regulatory excellence and sustainable developments in aircraft disassembly, as well as the salvaging and recycling of aircraft parts and materials. Berube (not coincidently) is also a member of the Board of AFRA.
Now that VAS is on its own and has strong financial backing, the company has ambitious plans to grow, both organically and through acquisitions, Berube says. "We see a lot of development opportunities with our existing customers such as Boeing, GE and Embraer in addition to expansion of our new military division," he says. "It's not impossible to double the size of the company in the next two to three years as we analyze all opportunities."