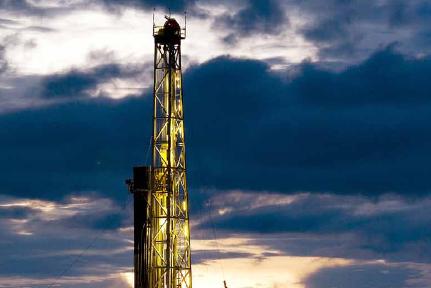 Last year, international exploration and development company Tullow Oil discovered significant oil resources in the environmentally sensitive remoteness of East Africa. General manager Dr Brian Glover talks to Gay Sutton about the importance of this discovery, and the challenges it presents.
Discovering the first oil reserves deep in the heart of equatorial East Africa not only presents enormous business opportunities for the oil industry and the people of East Africa, it also brings a unique set of responsibilities and challenges. Last year, just three years after initiating exploration in Uganda, Tullow Oil hit the jackpot. Twenty-eight of 29 exploratory wells drilled over a two month period encountered oil and gas.
Headquartered in London, Tullow is one of Europe's largest independent oil and gas exploration and production companies, owning over 85 licences in 22 countries worldwide and producing oil in eight. The current focus for operational activity, however, is very much on Africa, where the company has a presence in some 15 countries. "There are two key projects for us in Africa at present. One is in Ghana, and this will realise oil by the end of the year. The second is Uganda, and this has gone from being a twinkle in the company's eye in 2006 to a significant opportunity," explains general manager Dr Brian Glover. The breakthrough came in January and February 2009, "which is when we realised that we were dealing with a very large oil deposit—probably in the order of two billion barrels."
These discoveries were made across three licence blocks on the shores of Lake Albert, one of which Tullow owns completely. The others are shared 50/50 with operating partner Heritage Oil. The discovery of such a significant deposit presented Tullow with a delicious dilemma—how to develop the prospect in the most efficient and effective manner.
Tullow's strategy going forward was to seek partners who would not only be active from the financial perspective but who would also bring technological expertise to complement Tullow's own. The company was also presented with an opportunity to acquire all Heritage's interests in the licence blocks. The sale, which has government approval and now only requires Heritage's tax issues to be resolved, is expected any time. Meanwhile, partnership agreements are close to completion with two global giants: the French oil company Total and the Chinese National Offshore Oil Company, or CNOOC. "It's then a matter of mapping the expertise of the companies to the development needs, and identifying the role each of us will play," Glover says. Tullow, for example, brings expertise in exploration and appraisal, CNOOC in pipeline laying and Total in project development.
Tullow's vision is to develop Uganda as a hub for oil exploration, development and distribution in East Africa, with pipelines reaching north to southern Sudan, west into the Democratic Republic of Congo, south to Rwanda and Burundi and east to Tanzania and Kenya. The opportunities for Tullow and for East Africa are enormous.
The task ahead, though, is likely to present many challenges. Lake Albert lies in an isolated area some 1,300 kilometres away from the coastline of Africa. "And if I can quote one of my colleagues: this is like a big logistics project with some oil at the end of it. It's an enormous challenge."
During the development stage, the company will be moving some one million tonnes of material and equipment into Uganda. In some areas, tarmac roads simply do not exist, so the roads will need to be constructed or upgraded, while the railway line from Mombasa is also in poor shape, and will need to be assessed as a method of transportation before being upgraded. "We are also talking with the Government of Uganda about the need for a new airport for the region, perhaps near to Masindi or Hoima," Glover continues. "This will be essential not only for moving materials and equipment, but also transporting the significant number of people who will come to work on the development and subsequent facilities, and bring in their expertise."
The improvements in infrastructure will also do much for the region, firstly by supporting the growing oil industry, and secondly by enabling the development of a more formalised business and social structure, including the possibility of developing tourism as a trade. "We have received an excellent response from the Government, and commitment that the infrastructure will be in place, on time."
One of the biggest challenges of operating an oil company in Africa, however, is environmental. "And we have some of the most sensitive areas you could imagine working in," says Glover. "Around Lake Albert we are operating in the Kabwoya Wildlife Reserve, and in the Murchison Falls National Park—a wonderful fenceless wilderness with an abundance of wildlife, notably elephants, giraffe, lions and hippos. Our big challenge at the moment is to put together a sustainable plan not only to protect and preserve the wildlife, but also to give it the freedom to roam the areas where we are working."
Much of this work is being undertaken in conjunction with key authorities including the Uganda Wildlife Authority (UWA) and selected international experts. One key element will be the establishment of a fund to enhance UWA's environmental management of the area.
In common with most oil companies, Tullow has rigorous policies concerning corporate social responsibility—or CSR, which Tullow refers to as 'social enterprise'. It has been engaged in building or upgrading schools, health centres and hospitals, and works with local and international NGOs across a wide range of health, environmental, education and social enterprise initiatives. Before Tullow's arrival, the region had no roads, communities were isolated and fishing was the main form of employment in a subsistence existence. Today, the company is assisting in setting up markets for the purchasing and selling of goods. "We're providing the roads and communication. Today, mobile phones are owned by everyone in the valley where we work: it is their means of doing business. Our activities in the Valley are creating vast investment opportunities that will spur vibrant economic activity for the local communities and entrepreneurs. It's quite a remarkable change."
Glover believes very strongly that it is essential to engage with the local communities at all levels, all the way through the development programme. And this involves two major elements: firstly educating and informing them about the changes that are likely to occur as development progresses. "But most importantly, it is to support them as a community," he says.
One initiative that Glover is very proud of is the establishment of a highly successful and popular beekeeping cooperative which after just two years includes some 200 farmers and a long waiting list of those interested in joining. The company also trains and employs local people wherever possible. "Our vision is to ensure that for every dollar we're putting into communities, as much of that as possible stays in the local area. And I would like to think that many of the local people who have come to work for us will move on to more senior posts within Tullow Uganda."
Tullow Uganda's community investment and programmes have not gone unnoticed. In May 2010, against very strong competition, the company's Kaiso-Tonya Programme won the award for Most Scalable Community Investment. This award recognises 'best in class' community investment projects in East Africa.
The company was also nominated in June 2010 for the prestigious African Business Awards organised by African Business magazine in conjunction with the Commonwealth Business Council in London.
It is clear that the discovery of oil in Uganda is not the end point, but just the beginning of an exciting programme of exploration and development. Meanwhile, for the nations of East Africa, the presence of the oil industry could herald a step change in prosperity. www.tullowoil.com