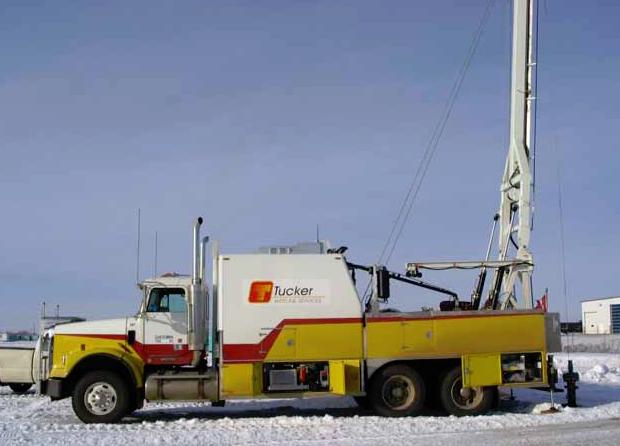 Competing with the big boys in the oil patch is a healthy challenge for this family company known for its customer service, David Hendricks learns.
Tucker Wireline Services is a subsidiary of Tucker Energy Services—an independent, family owned business that originated in Trinidad in 1935 as an oilfield service company named Industrial Agencies Ltd, which expanded to Venezuela in 1945, then to Brazil and Colombia, and in 1986 operations were established in the United States and Canada. The Canadian division of Tucker Wireline is based in Calgary, Alberta, headed by its president David Jellett, who has worked in the oil patch for about 30 years, the last 18 with Tucker, initially as operations manager. His engineering background comes to bear frequently, as Tucker is constantly developing its own proprietary equipment, both in its research and development facility in Houston, Texas, and in partnerships with equipment technology companies.
"Geographically in Canada," says Jellett, "we work in the Alberta tar sands, in shale gas in the Montney and Horn River areas of British Columbia, and in conventional oil and gas fields throughout the country including the far north, except for the east coast. We offer three basic services: open hole, cased hole, and slick line. Our competitors are the giants—the Schlumbergers and the Halliburtons, and the fact that we can go out and successfully compete with them on a daily basis is a testament to our business, and maintains our niche in the industry."
One of the biggest clichés in the corporate world is that a company is only as good or bad as its culture, its people. But after 75 years and several buyout offers, Tucker chooses to remain a family owned company that hasn't forgotten its roots, and continues to cultivate its core values, which ultimately means being useful to customers with service that provides results and solves issues. With Jellett at the helm, it's leading by example and it rings true.
"We hire carefully and we treat our employees as part of the family. We hold our core values dearly, and people are the main value. That leads naturally to the second part of who we are: our customer service. We pride ourselves on our ability to build strong relationships with our customers, and tailor the service we provide them around what they need. The vast majority of customers that we work for, stick with us. And they bring us referral business.
"Another part of who we are is safety, it's another core value. And maintaining that level of safety conscientiousness throughout the organization is very important to us. There've been a lot of mom and pop companies servicing the petroleum business over the years, and today there's fewer of them, since the conglomerates have come in, offered a ton of cash, and bought some families out. But the Tuckers are not about making a lot of cash; they like their legacy, which is creating a family business that they can hand off to their kids. They've had plenty of lucrative offers, which only confirms our value as a company. We have a strong customer base that we work hard to maintain, and I've seen more success in our company due to referrals in the last two years than ever before. And that's not often seen in this business, especially with the last few years being hit by the recession. But we've done quite well."
In terms of services, 'open hole' (also called open hole well logging or well evaluation) is a generic industry term for the process of evaluating a new well; logging is recording the events of the process. After an oil company is finished drilling a new well, Tucker lowers a number of sensors into the well, and an analysis based on what those sensors indicate leads to an evaluation that helps the oil company determine whether or not that particular well will be profitable enough to move forward. "It's like doing an MRI on the 'body' of the well. The reality is, oil companies drill a lot of holes, and not all of them are successful."
A 'cased hole' operation is done once the decision is made by the customer to go ahead and complete the well and put it into production. Some sort of casing, such as a steel liner, is run down into the well – "and then you need to create a path from the well bore out into the formation, through that casing. We call it completing the well." Once a well is in production, there may be some issues with it. The flow may be less than expected; there may be more water than gas or oil. And part of its cased hole business is helping the customer evaluate why that well isn't producing as much as anticipated. "We roll that up under cased hole as well as 'slick line.'"
Specialty services help resolve specific well situations. The company has also been working on some new services, unique to Tucker. It has just entered into a partnership with Read Well Services, a Norwegian company that provides quality seismic and micro-seismic services. "In their seismic work, they create an artificial noise source and measure the magnitude from a certain distance to provide an illustration of what's underground. In the newer micro-seismic analysis, they fracture the zones within the shale gas formations and place geophones into adjacent areas and wells to monitor the fracture, to see if it's propagating through the rock properly, and they produce an illustrative graph of the fracture. And when you're spending upwards of a million dollars to fracture a well, it's worth monitoring whether it's performing properly."
Another specialty tool Tucker developed for shale gas and coal bed methane, also unique in the industry today, is a pressurized coring tool that enables samples of the rock to be analyzed under its own pressure. "It's relatively easy to bring a sample of rock out of the hole, but as it ascends, going from down-hole to surface pressure, the gas in the rock dissipates. And that makes it difficult for petroleum companies to determine what is actually in the reservoir. This affects their reserve calculations, production estimates and how the well is completed.  All of these are critical to the petroleum companies' value, share price and cash flow.  www.tuckerenergy.com