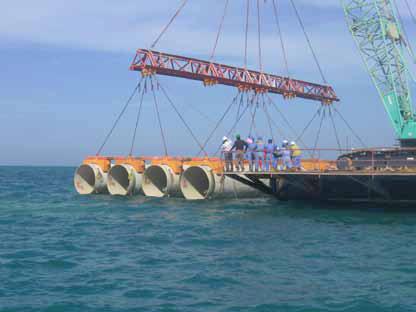 The story of Target Engineering Construction Company is intrinsically linked to growth and development over the past four decades in the Middle East. Ayman Taji has masterminded the company's steady growth throughout that period; and here he talks to Andrew Pelis about the legacy he will leave behind when he shortly steps down from his role.
Over the past 30 years the Middle East has undergone remarkable growth and development, much of it courtesy of its vast oil and gas reserves. One company that has been mirroring that development to the tee has been Target Engineering Construction Company.
The business was established in 1975 and is a leading single source contractor with standalone specialities. It has a Special Category classification in marine works, buildings and steel structure works in Abu Dhabi, while it is licensed to build unlimited floor towers in Abu Dhabi and Dubai.
With four distinct divisions covering civil engineering, mechanical work, power installation and marine construction, Target has enjoyed steady, stepped growth. One man that has overseen this progress from Target's inception is Ayman Taji, the company's outgoing CEO. "We are headquartered here in Abu Dhabi; and you wouldn't recognise the area as it was when we started out," he says. "Then, it was little more than a village; today, it is a large, multicultural society. Target too has grown enormously over time and is now a bigger, more versatile, and stronger company.
"There wasmuch less competition in the beginning and we have undergone continuous expansion to the point where Target is today a regional player with operations in the UAE, Qatar and more recently Saudi Arabia, while we also now work with the major EPC contractors."
Taji says that a large part of the success story has been Target's focus on "safety, quality and delivery, with profit not made the priority. As a consequence we are known for the quality of our work and we have maintained the trust of our clients. That has resulted in a lot of work coming from repeat customers, and has allowed us steady growth."
Of particular interest in recent times has been Target's expansion in oil and gas industrial construction, while the business has also built up its engineering capabilities. Taji says that such activity has a very clear aim: "We want to become a bigger EPC contractor. We are already working with many such companies on a medium scale but we want to become a substantial player."
Similarly, the company's focus on marine construction has included heavy investment in capital equipment including a number of workshops, 14 barges and cranes up to 280 tonnes. The investment has provided Target with exciting opportunities for future growth, reinforced by the company's excellent track record completing different technically-challenging projects such as construction harbours, jetties, marinas, artificial islands, beaches, breakwaters, rock scour protection, quay walls and subsea pipe installations.
Target also holds the agency agreement for EZ Dock Floating system and has an associate joint venture manufacturing facility under the name of Marinetek Gulf—a 65:35 (with Target owning the bigger share) partnership with Marinetek Middle East Asia. Located at Sharjah Hamriyah, the JV produces heavy duty concrete pontoons under licence from Marinetek Finland.
Target's reputation has been further enhanced by the creation and construction of 31 artificial islands (three of which were in deep sea), aimed at building a foundation for the 400kV overhead transmission line from Abu Dhabi to Taweelah. The business also carries out work for the Abu Dhabi Water and Electricity Department (now ADWEA), the Ministry of Public Works, and the Ministry of Information, both as a main contractor and also as a chosen subcontractor.
Taji is adamant that the combination of experience and quality are key components to this continued success, something the company is striving to improve upon over the next few months. "We have held ISO9001 accreditation for the past four years and were one of the first companies of our type in this region to do so," he comments. "We are now working towards the environmental ISO14001 and occupational health and safety OHSAS 18001 certification and hope to achieve this by February of next year."
In the fields in which Target operates, there are naturally strict industry controls that have to be met in terms of quality but also safety—and given that the company has over 10,000 employees, that is a large task. Many of the controls put in place are computerised and Taji says that every individual project across every division provides monthly reports that are pulled together from the company's internal IT software to provide updates on progress, equipment control, scheduling, accounts and even specialist design.
And design is very much in mind with the latest move into acquisition, as Taji explains: "We are now finalising the purchase of a marine design company based in Europe which will give us a stronger engineering design reference in the marine sector."
However, despite the benefits of technology, Taji feels that having in place the required level of operational resource remains a challenge. "It is true that there are labour issues that are not so smooth; but we provide extensive training and over time our staff learn and build their experience. This is why our growth has always been stepped."
And since 2007, an exciting new development has been offering even greater opportunities for expansion, says Taji. "Back then, the leading construction group Arabtec Holdings bought a 60 per cent stake in our business and there is a good synergy between their expertise and what we do. We are therefore looking at integration opportunities, particularly with a view to doing more work in Saudi Arabia.
"Our biggest job to date totalled 1.2 billion dirham (around $300 million) but we are now bidding on jobs valued at double that figure; and I think that Target can manage these projects now based on its reputation and resources."
While Taji will be stepping down in the next few months from his position as CEO, he will still very much play an important role in Target's future, in an advisory capacity. "I will be overseeing our strategy of growth and acquisition," he explains. "We are shortly going to register and look at opportunities within Iraq, where there is lots of oil and gas activity in the southern fields. We have registered a brand and office in Turkmenistan; and have also been approached about work in Libya."
Through diversity, experience and a focus on quality and safety, Target has laid the foundations for its steady growth. Although its leader will shortly be stepping down, he will be leaving behind a legacy that looks set to flourish in Abu Dhabi and will surely strengthen further under the expert guidance of Arabtec.