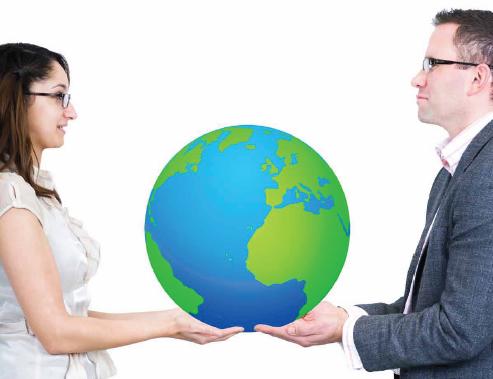 John Pymer, managing director of Certification International, explains the business benefits of achieving an internationally recognised environmental quality standard.
It was only a few years ago that many business managers thought 'going green' was a sentimental idea. But most businesses didn't see the link between being environmentally friendly, economic growth and the maximisation of profitability. However, in today's competitive marketplace, being 'green' is about demonstrating commitment to corporate social responsibility (CSR), which is an increasingly important factor clients take into consideration when deciding who to do business with.
Some critics of environmental policies often make the claim that they can be bad for business because green solutions often cost more money. But more efficient use of paper, electricity and fuel all lead to lower expenditure in the long term. The simple fact is that significant savings and results can be achieved through smarter working practices. Adopting environmental policies can secure a market advantage.  
Reducing a business's impact on the environment is becoming more important. So being able to demonstrate commitment to environmental best practices is becoming more central to many companies' business strategies. Whileenvironmental claims are easy to make, they are much harder to substantiate, and instigating and implementing environmental policies, procedures and activities is not something that can be achieved overnight. But one of the best ways to demonstrate commitment to the environment is through certification to an internationally recognised standard.
Certification is a strange thing. The connotations of the word seem to be different depending on who you speak to. For some, it simply means another word for 'audit' and all it implies. For others it means attaining a certificate that formally acknowledges that their business undertakes its work in a quality oriented way. And for a few it means recognition and credibility in the marketplace. Whatever people define certification as, a certification mark is valuable and distinctive—it shows you conform to industry standards. It's a see-at-a-glance authority that stands for trustworthiness and recognition. And it is becoming increasingly important in order to meet the demands of new and changing regulations.
Undergoing the process of independent assessment and certification not only ensures that a business's environmental claims are based on fact, but also that products and services meet performance standards appropriate for their intended use. This is important both to the end user needing to fulfil a sustainability brief, and to the supplier wanting to demonstrate environmental credentials.
We live in an environment-conscious world, and the ISO14000 group of standards for environmental management are important to every business, whatever sector a company operates in. ISO 14000 requires an organisation to look at all areas of its business which have an environmental impact. It is designed to help companies achieve consistent environmental regulatory compliance whilst embedding the concept of continuous improvements in environmental performance. Crucially, ISO 14000 provides a systematic approach to setting environmental objectives and targets, providing a framework for the implementation of an effective environmental management system (EMS) to achieve these goals.
The key requirements of ISO 14000 include:
- Creation of an environmental policy
- Appreciation of environmental issues and their potential impact
- Formalising control systems and monitoring processes
- Communication of policy and approach to staff and stakeholders
- Setting objectives and targets
- Compliance with relevant legislation
Businesses implementing ISO 14000 can clearly show a visible demonstration of environmental commitment which is nearly as important as the products and services they offer. Because ISO 14000 doesn't lay down required levels of environmental performance, the standard can be implemented by a company of any size, whatever its current level of environmental maturity. What is required to successfully implement the standard is a commitment to continual improvement—for which the EMS provides the framework.
ISO 14000's compatibility with ISO 9001 (quality management) and OHSAS 18001 (health and safety) not only helps businesses achieve better environmental performance in an efficient manner but  allows them to integrate quality, environmental and occupational health and safety management systems throughout everything they do, enabling organisations to offer high quality services that are safe and great for the environment.
The path to ISO 14000 certification, and the actions needed to achieve it, may seem a minefield to some. But it doesn't have to be difficult. Certification International is a global organisation with 5,000 clients in 26 countries, providing assessment, analysis and certification to companies of all sizes and working in all sectors. Over the last few years we've seen more companies successfully integrate environmental standards into their existing management systems. In fact, since 2008, the number of certificates issued for ISO 14001:2004 for environmental management has increased 300 per cent. In an increasingly competitive marketplace, to be seen as a trusted organisation is critical. And this significant increase in demand for certification can be attributed to companies seeing the benefits of conforming to an internationally recognised environmental standard.
Being 'green' should not be considered a necessary evil imposed upon business by obsessed environmentalists. Instead it is something that needs to move to centre stage of a business strategy because the legacy of our actions today will undoubtedly determine the sort of world our children will inherit tomorrow. As time moves on, I believe there will be a time when it is impossible to win business without being able to show commitment to environmental policies. Some clients are already seeing this, and there is no doubt it will become universal. http://www.cert-int.com/