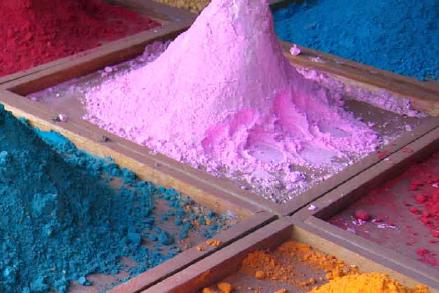 Ashish Vij, chief operating officer of Sudarshan Chemical Industries, talks to Jayne Flannery about the company's drive to become a leading global pigment producer whilst adhering to the highest international safety and environmental standards.
The Sudarshan name has been synonymous with colour in India for over half a century. Sudarshan's colour and special effect pigment division is the flagship of the Rathi Group which owns the business, contributing US$155 million over the last financial year. With a 35 per cent market share, Sudarshan is already India's leading player in the sector which supports a myriad of ink, paint, cosmetics and dye manufacturers.
The extensive range of products includes organic and inorganic pigments and mica-based effect pigments as well as chemical intermediates, pesticides and fungicides; but Ashish Vij, COO, explains that colour lies at the core of the business.
"Colour was the focus of the business at its inception. Then came a steady process of diversification into other product areas. However, at the turn of the century, we recognized that our depth of expertise and experience in the manufacture of pigments was our major strength. It was also an area where we saw opportunities for forward and backward integration.
"From another perspective, we recognized that although our success in India was striking," he continues. "India only accounts for approximately three per cent of the global pigment market. There was a clear opportunity to use our domination of the domestic market as a springboard to replicate the business globally. Hence the journey of globalization has begun and now we have operations in North America, Europe and will soon open offices in China and South America. Our aspiration is to reach the no. 4 position in the world by 2013-14 and for this the other major focus will be to turn our facilities in India into world class manufacturing facilities and set up a robust global supply chain."
Sudarshan has aggressively expanded its exports throughout the last decade, achieving consistent growth despite the economic downturn. The company has just received an award for Excellent Performance in Exports of Pigments by the Dyestuffs Manufacturers Association of India, which works to promote the pigment industry.
Now, the pace of growth is accelerating ever-faster; and Vij sees the company´s Indian operations as sitting at the centre of a global network connected by advanced planning tools like SAP and CRM. Sudarshan has state of the art manufacturing facilities in Roha and Mahad in India, but global expansion is likely to require global manufacturing, too. "Beyond 2013-14 we are definitely looking at setting up manufacturing facilities outside India, especially China," says Vij.
Sudarshan's pigment technology is developed in-house and Vij sees this and the company's heavy investment in research and development as great assets. "It means we can take full control in bringing customers the best products in the world," he says.
"All our products are aligned with current international market standards and we have a very comprehensive range. It is important that we can meet every conceivable need from a single source and offer a wider range than our competitors; so the current focus is on identifying and filling gaps. Then we will leverage our talent for innovation to focus on the next generation of new, high performance products," he adds.
The quality of its manufacturing operations in India led to Sudarshan becoming the first chemical company in India to receive the ISO 9001 certificate in 1993. Since then, it has gone on to achieve the ISO 14001, ISO 18000 and ISO 17025 international quality standards. Adoption of six sigma began back in 2004 and since then, every layer of the organisation has acquired trained 'black belts'. 5S has also been implemented throughout the organisation. 
Sudarshan has a long-term relationship with the performance improvement consultancy BMGI India in its drive to achieve total business excellence. An immediate shared challenge is to triple capacity with a greater focus on flexibility and fast changeovers. In particular, Vij sees a need to respond to soaring demand for high performance pigments where output must be quadrupled.
"Our relationship with BMGI India has become very close," he declares. "We do not view them as external consultants, but as an integral part of this business. BMGI helped us develop our Sudarshan Business Excellence Model and our balanced scorecard. Both of these have proved to be extremely useful in driving improvements in Sudarshan.
"There is a continuous debate on the best ways to involve all our staff and change mindsets," he continues. "It is an ongoing process and fine tuning is very important, because all improvement programmes need to be monitored, evaluated and refined with continuous motivation of those involved.
"Complacency is never an option," he adds. "Our major competitors are world class businesses in the West and from that point of view, we always have room for further improvements and innovation in our processes."
Of all the advances made within the business in recent years, Vij is most proud of the company's outstanding safety and environmental track record. The Roha plant recently won a prestigious Silver award in the large-scale category of the FICCI Safety Excellence Awards 2011; and all manufacturing operations have achieved a four-star rating from the British Safety Council. One million dollars is spent annually on environmental compliance and $3.4 million on effluent treatment plants.
"Two areas are of paramount importance to us: the safety of our people and processes, and our stewardship of the environment. They will never be compromised in our manufacturing operations and are always the first priority," Vij states. "We are growing very rapidly, but we are determined to retain our environmental and ethical focus. Unlike many companies in this sector, we do not assess our performance solely by financial means. We have a deep commitment to protecting and caring for our local and global environment.
"It is also very important to us that all our stakeholders are properly informed and can participate with us in our growth story," he continues. "Obviously our customers and shareholders are involved—but equally, so are our suppliers, employees and the communities they come from. We want it to be an exciting journey and we love what we do, but we still have to ensure that our people can cope with the pressure of rapid growth. Happy, satisfied employees are absolutely fundamental to our success, both now and in the future," he concludes. http://www.sudarshan.com