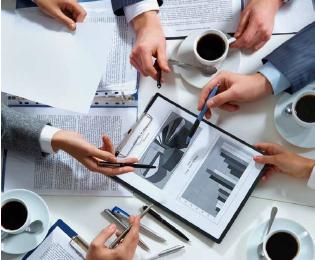 When business performance is under pressure, the working day can often become more draining than motivating. Kate Lanz of Sandler Lanz outlines how senior executives can lead their battle-weary teams to a place of renewed resilience and vigour.
Constant change is the current reality in most organisations. As William Bridges says in his writing on the psychological transition through change, we move through a "neutral zone". This is a kind of no-man's land between the old familiar world that's gone and a new beginning, when work feels more settled and the future clear again. Once arrived, the new beginning engenders a renewed vigour. Yet for most of us, this new beginning is proving a long time coming and renewed vigour remains a distant dream.
Operating for a long time in this neutral zone is enormously draining and invokes anxiety, especially when business performance is also under pressure. Many senior executives find themselves in this position where both themselves and their teams can best be described as being battle-weary.
Another contributing factor to this sense of battle weariness is being asked to do more with less resource. This exacerbates the feeling that there just are not enough hours in the day to get the job done. It is hard to stay at one's best and most resourceful in these circumstances and it requires additional leadership energy to encourage and motivate others across the organisation to do the same.
How can leaders motivate themselves in the first instance and lead their battle-weary teams to a place of feeling more motivated and resilient?
David was an exceptionally driven alpha type. His ruthless focus and drive to deliver fantastic work was almost scary. He was leading process improvement for a large pharmaceutical organisation and had won awards for the design of his quality improvement processes. He and his team were highly motivated.
Then the parent company decided to merge several business units into one. David's work in his area became lost in the general chaos of a poorly managed change process. He expressed how incredibly demotivating he found it to spend large chunks of the day unable to identify how his work was adding value to the whole. He had lost his sense of purpose and measurable outputs. If this driven alpha was feeling like this, then how must his team be feeling?
There are some key psychological and emotional levers that senior executives can use to reduce the effects of demotivation and low task energy and help their people navigate a long-term neutral zone.
People need a contextual anchor by which they can measure their own value-add. In the turbulence of ongoing change, leaders can create micro-moments of clarity. These put the individual or team effort into an immediate context where employees can clearly see how their contribution adds value. This sense of purpose is a critical ingredient to feeling motivated. In their 2008 HBR research report Nohria, Groysberg, and Eling Lee talk about the need to comprehend as a fundamental motivator: "We are frustrated when things seem senseless, and we are invigorated, typically, by the challenge of working out answers. In the workplace, the drive to comprehend accounts for the desire to make a meaningful contribution."
David looked at ways he could demonstrate to the team that their work was making a difference to the immediate environment. This meant upping his communication around the impact of the work streams. He did this with the team as a whole and to varying degrees with individual team members. By doing this, he not only helped the team, but his own motivation was increased. He took back a degree of control from the organisational chaos. This involved him referencing success more internally than previously.
In these individual sessions David was doing another important thing in relation to motivating his battle-weary, worried team. He was creating the opportunity to tune in to each person's internal work life. This is the close link between our own thoughts and feelings and their connection with the detailed reality of what happens during the working day. We are all consistently driven to make sense and interpret events as they occur. Research by Amabile & Kramer (2007) demonstrated the powerful effect that one's internal work life has on motivation and resulting performance.
If we have a negative internal work life and it remains unchecked, the sense of battle weariness will increase. The leader plays a critical role in setting the tone and language of the internal working life of the team. By staying highly tuned in to others, the leader can help individuals to reframe their view and create the habit of positive sense making for their teams.
Human beings need to feel they belong. When an organisation creates change in a way that feels senseless, the psychological contract and bond of identification with the organisation is broken. Leaders need to find a fast way of regenerating a new psychological and emotional bond again at a level that is tangible. Creating a close connection within the team is a great way of creating this bond. It is a fine balancing act though, as it is important that this doesn't become an 'us against the world' feeling.
A senior team was under performance pressure due to current economic conditions. They were an example of going too far on team identification. They consistently put out such a tight team party line to other departments that the business stopped trusting what they were saying. They became isolated with a limited contribution. While they needed to feel a sufficient bond, they had to do this without shutting out others. They could see that they were over-identifying with the immediate team because they felt that the wider organisation had let them down.
By recognising these factors, leaders can increase the individual and collective feelings of psychological and emotional safety. While the business environment around them remains in constant change, leaders can create resourcefulness and resilience within their teams. By creating mini new beginnings, renewed vigour can be found and maintained for leaders and their people.
Kate Lanz is executive director of Sandler Lanz, specialists in executive coaching. Kate is a leading practitioner in the field both in the UK and abroad, and over the past 14 years has built a reputation as a first-class executive coach, combining 12 years of corporate experience with psychological training to help senior business leaders achieve lasting behavioural change. Kate specialises in coaching senior individuals, teams and undertakes board development work. www.sandlerlanz.com