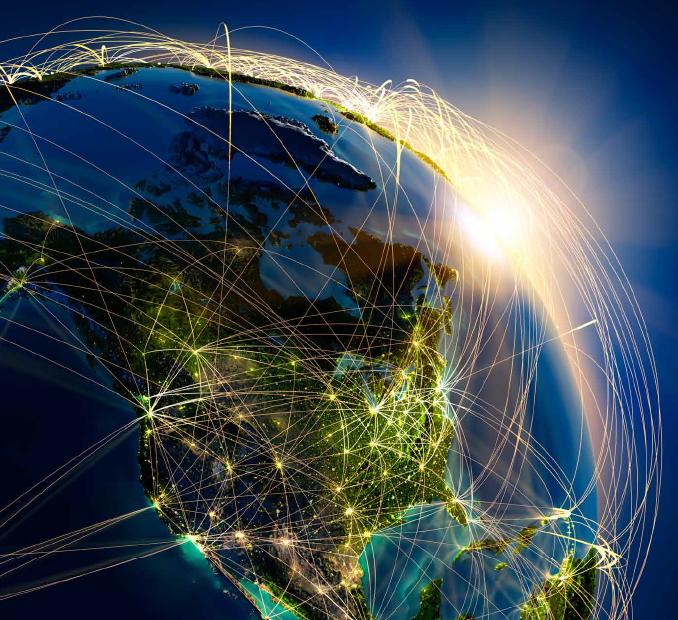 John J. Capela offers expert advice on how to cash in on the expanding global marketplace by becoming a successful exporter.
The global marketplace is a rapidly changing field. International business is growing as a direct result of changes in technology, expanding economies, and international trade agreements. In fact, in 2010 alone, the United States imported $1.3 trillion and exported $1.277 trillion in goods.
"We're living in an exciting time!" says John Capela, author of Import/Export Kit for Dummies. "In the past, opportunities for many small businesses ended within the borders of their own country, and international trade was only for large multinational corporations.
"Today, the global marketplace provides opportunities not just for multinational corporations but also for small to medium companies. The Internet, affordable changes in technology, and increased access to information have all made it easier for firms of all sizes to engage in international trade. Today, US businesses are seeing increases in exports to developing countries, especially in Latin America, Central Europe, Eastern Europe, the Middle East, and Asia."
Import/Export Kit For Dummies provides entrepreneurs and small to mid-sized businesses with the critical entry-point information to begin exporting their products around the world and importing goods to sell in the US.
Identify your market. If you're interested in exporting, you need to identify foreign export markets for your product. Thorough market research helps you understand the economic, political, and cultural factors that will impact your ability to successfully sell your product. This kind of information is readily available through government agencies and business-related organizations such as foreign trade associations, chambers of commerce, and trade commission offices.
Visit www.export.gov and register to become part of the user community. The site provides a wealth of readily accessible data at no cost, and it can assist you in identifying overseas markets for US goods and services. The advantage of these resources is that they come from trade experts located in countries around the world. Because their expertise comes from hands-on involvement (as opposed to second-hand information), you can be assured that the data they provide is good.
Product potential. As an exporter, you need to focus on what your product does and identify what needs it will satisfy in the foreign market. You also need to identify the strengths and weaknesses of your product in comparison to available competitive products. A product may be successful in the US, but that isn't any guarantee that it'll be successful in a foreign market.
"Preparing a product for export requires not just knowledge of the product but also an awareness of the unique characteristics of each of the different markets you may be targeting," explains Capela. "Cultural differences and local customs may also require product modifications in areas such as branding, packaging, and labeling. Awareness of sensitivity to cultural differences is critical to a successful product introduction.
"Different countries can have different product standards, and you need to understand the need to conform if you want to do business internationally," he adds. "The US Department of Commerce's National Center of Standards and Certification Information (NCSCI) provides this information for non-agricultural products; visit its website at http://ts.nist.gov/standards/information/index.cfm."
Export controls and licensing requirements. Exporting can expose your business to laws and regulations that you may not be familiar with. All kinds of different rules can impact your ability to successfully do business in foreign markets. One of these is US export controls, which take the form of prohibitions, restrictions, and licensing requirements.
"A key to being a successful exporter is being aware of these issues," says Capela. "Violation of these laws can have significant repercussions, from the government seizing your products to a denial of your privilege to export to fines and imprisonment."
Import controls. Before exporting your product to a foreign market, you need to identify whether the country you're exporting to has any import controls related to the sale of your product. These controls can include prohibitions, restrictions, or import licensing requirements, and they can be based on country of origin, product type, or product characteristics. Products that violate these controls are generally not allowed to enter the importing country.
"Import documentation requirements and other regulations imposed by foreign governments vary from one country to the next," says Capela. "You need to be aware of the regulations that apply to your own operations and transactions."
US export laws. You have to be aware of your responsibilities when it comes to US export laws. "These laws are designed to make sure that US exports go only to legally authorized destinations," explains Capela. "For example, the Foreign Corrupt Practices Act prohibits a US exporter from offering to pay a commission to a foreign government official, friend, or relative to get the business. The Anti-Boycott Act prohibits Americans from participating in foreign boycotts or taking actions that further or support such boycotts against countries friendly to the US."
Incoterms. As an exporter, you need to understand the costs, responsibilities, rights, and obligations that accompany the use of a specific incoterm. "Every time you prepare a quotation for a customer, the quotation must include a term of sale," notes Capela. "If you fail to clearly identify the specific incoterm to your customer, it can lead to an overestimation or underestimation of costs associated with the goods that you'll be selling, which can ultimately lead to the loss of a sale."
Insurance. You need to analyze the amount of insurance on your export transaction. Weather, rough handling of cargo by carriers, long distances, and other common hazards make it important that you determine the type, amount, and extent of coverage required. Also, make sure that you identify who'll be responsible for insurance against loss or damage while the goods are in transit.
"If you quote to your customer and use the term "CIF" (short for cost, insurance and freight), you're the one responsible for obtaining the insurance, and you must include a certificate of insurance with all the other required shipping documents that you send to the importer," says Capela. "If you're quoting with a term of CIF and you don't have an international insurance carrier, contact your freight forwarder and discuss the option of using its cargo insurance policy. If any other shipping term is used, the importer is responsible for securing the insurance."
Risk factors. When you're selecting a method of payment in an export transaction, you need to identify the primary risk factors and then evaluate them to choose the one that's best for you. "Remember: Getting an order is only one step in the process," notes Capela. "You also have to make sure that you're going to get paid. Being paid in full and on time is critical to success, and the level of risk in extending credit is a major consideration."
The two primary risk factors you need to be aware of are country risks, including economic and political stability, the legal system, and the foreign exchange rate, and commercial risks, including company ownership/management, financial performance, market share, and payment history.
Documentation. Even though the actual purchase order you receive from your overseas customer is the most important document that you'll receive, you have to get familiar with many other documents before exporting your goods. A wide variety of documents are used in exporting; which of them is required in specific transactions depends on the requirements of the US government and the government of the importing country.
"Because the processing of these documents can be a formidable task, consider having a freight forwarder handle this portion of the transaction," advises Capela. "Freight forwarders are specialists in this process."
Hiring a freight forwarder. An international freight forwarder acts as an agent on your behalf and assists in moving the cargo from the point of origin to the ultimate overseas destination. Freight forwarders are familiar with the import rules and regulations of foreign countries, US export regulations, methods of shipment, and required documents relating to foreign trade.
"A freight forwarder can assist you in preparing price quotations by advising on freight costs, port charges, consular fees, costs of special documentation, insurance costs, and handling fees," explains Capela. "They recommend the packing methods that will protect the merchandise during transit or can arrange to have the merchandise packed at the port or put in containers.
"If you use the services of a freight forwarder, you won't have to deal with many of the details involved with the exporting of your goods," he adds. "Fees charged by forwarders are modest, and forwarders have access to shipping discounts. The experience and constant attention to detail provided by the forwarder is a good investment and a key to success."
Exporting is a challenge and it isn't as easy as it may initially appear. "You have to take the time to select the right product, understand the applicable rules and regulations in both the United States and the importing country, identify your customers, and find out about the different payment and shipping alternatives. However you choose to export, developing a detailed and thorough strategy is an important part of the planning process. But once you get it down, you open your company up to great new opportunities."
*          *          *
John J. Capela is an international business consultant who has taught marketing, management, and other business courses for more than 20 years. He also conducts import/export seminars throughout the New York metropolitan area. He is author of Import/Export Kit For Dummies.