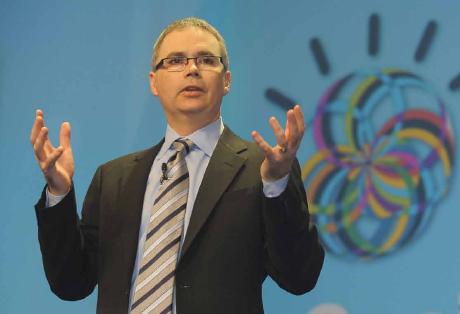 Social business will make a transformational impact on the way we work in the 21st century, even more than email and the internet did 20 years ago. Ofer Guetta, social collaboration sales leader for IBM Collaborations Solutions, explains the concept to Martin Ashcroft.
Anyone who worked in an office before email will remember the impact it made. In my early years as a magazine editor my freelance writers would deliver their articles on a floppy disk—and we thought that was a marvellous improvement over printed copy.
But now we are part of an international business communications portal, collaborating with writers, designers and customers all over the world, the miracle of email is showing its limitations. When multiple recipients return attachments with individual comments, it's the devil's own job to coordinate them into a cohesive final document. Magnify my problems into the world of corporations of all shapes and sizes trying to introduce new products or services ahead of their competitors and it makes you think—there must be a better way!
Well, now we have it, and IBM calls it "social business"—the application of social media techniques to business improvement. Adults were initially blinkered by the trivial content that teenagers uploaded to Facebook and Twitter, but there's nothing new in the principle of adapting technologies from the personal consumer world into the business landscape. Now we understand how social media applications can be used as brand management, marketing and collaboration tools, social business is poised for take-off.
"For us, social business is not a single product or a single technology," says Ofer Guetta, social collaboration sales leader for IBM Collaborations Solutions. "It's a concept."
There are many enabling technologies that make that concept a reality, he says, but it's important to understand first what the concept can deliver. "It's about enabling people to be more innovative, more productive and more efficient in collaborating with each other, using social networking techniques," he says. In other words, social business will help teams of all kinds to work better together, both locally and globally.
As the second largest publicly traded technology company in the world, with over 400,000 employees (known as IBMers), IBM understands the challenges of organisations spread out over multiple locations, because it is one.
IBM celebrated a century in business last year (although the name International Business Machines was not adopted until 1924), and has many life-changing inventions to its credit, including the automated teller machine (ATM), the floppy disk, the hard disk drive, the magnetic stripe card, and the universal product code (UPC). Now known as much for its service offerings as its hardware, IBM is understandably at the forefront of new ways of working.
Incoming CEO Ginni Rometty (appointed 1 January 2012) set the tone for her stewardship by introducing herself with a video uploaded to the IBM Intranet, instead of an email. Her message encouraged the development of IBM's transformational technology by extending it beyond the IT community into direct engagement with business.
"The main message we're taking to market in 2012 is that social is about delivering business value," says Guetta. "What's really important is to tie the collaborative capability with business processes. That's when you deliver real value to the users."
Email is not dead, he insists, but we have abused it for too long."Over the last 20 years we've all tried to use email as a multi-purpose tool. We've tried to use it as a file storage tool and a project management tool, but when we work in teams, email doesn't deal with multiple participants very well."
A simple, practical introduction to the capabilities of social business can start with a single individual, working for any enterprise. Let's suppose that person is you, my reader, and that you have a problem you'd like help with. You're not sure if anyone in your own workplace can help, but there's a good chance that someone, somewhere in your organisation will have had the same problem before, and fixed it. How can you find them?
If your company has adopted social business it will have a network similar to Facebook, with profiles of all its employees available for all to see. This will have search functions so you can type in a few key words describing your problem and recover a list of people who might be able to help. Once you have identified the most likely "suspects" you could also pull up a list of all the files those people have shared publicly within the organisation. With a few clicks of the mouse, you're almost there.
You can tell if the person you'd like to speak to is online, because there will be a mark next to his or her name to show this. Now you can start an instant messaging conversation to find out whether this person can help, and you can escalate the interaction from text to voice to video without opening new applications, if you need to.
"The next big exciting thing," says Guetta, "is mobile. Mobile sales surpassed PC sales for the first time last year. The smart phone has become the access device for collaborating, so it's a massive focus for us in 2012.
"For any organisation looking at a social business strategy, mobile is a massively important component. We cannot assume any more that these tools will be consumed on traditional PCs or laptops. We've got to provide the same seamless integrated experience that we've had in the consumer world for the past few years."
Going back to our example, you might now be talking to the person you found, but you need to leave the office for an appointment. You want to continue the conversation without breaking off and calling back later, so you switch the call to your mobile phone. How cool is that?
"Whatever kind of device it might be, a BlackBerry, an Android or an iOS device, we would provide you with the same capability across all of the most commonly used platforms, and that would include Windows and Nokia as well," says Guetta.
"So in 2012 we're going to emphasise the concept of "so-lo-mo" (social, location, mobile)," he continues. "It's about tying social collaboration with location services and then also with mobile capability to provide the experience on the device of your choice. In the last quarter of 2011 we released seven new mobile clients for Android and iOS, so you can now have the same experience with our social business platform on a mobile as you would on a traditional PC or a Mac or a Linux machine."
Once people in an organisation begin to interact in this way, the next essential is to add analytics. "You can now start getting intelligence about how people are collaborating and where the talent lies in your organisation," says Guetta, "by analysing nuggets of network interaction. Analytics is an incredibly important part of making social business a reality."
The potential of social business extends far beyond simple one to one communication between employees, of course. It can bring together the whole value chain, including suppliers, customers, consultants or anybody else who can help with your issue. IBM customer China Telecom used what Guetta calls "ideation blogs" when it wanted to find the most viable 3G services opportunities to roll out in the Chinese market. "They used it to deliver their products and significantly cut their time to market."
Another customer, the international cement company CEMEX, with employees in 50 countries, created a social network initiative called Shift, for open collaboration across its entire workforce. Within a year, over 20,000 employees were engaged, over 500 communities had formed, nine global innovation initiatives were underway, and ideas started flowing around the world among specialists in all areas and levels of the company. This level of collaboration allowed CEMEX to launch the first brand of its Ready Mix product in less than four months.
The final part of the IBM strategy is the concept of open integration. "We make no assumptions about the customer's existing investment," says Guetta. "We provide the same level of integration, the same value proposition, whatever investment the customer has made and irrespective of company size. There's no rip and replace. We simply layer our capabilities on top of their infrastructure—and I mean all of the capabilities.
"Our approach is about being able to deliver our capability to our customers in a way that makes sense to them.So if the organisation has an investment in Windows or Mac or Linux, we provide the same capability across all three platforms. The same principle applies to all of the mobile operating systems."
Bring it on!