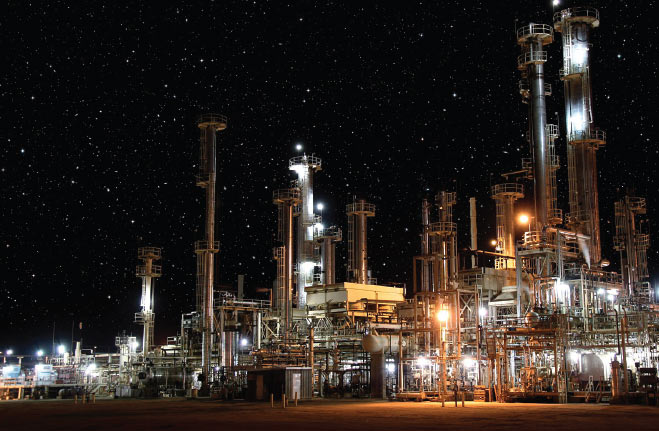 The original refinery was built in 1938 and purchased by San Joaquin Oil Co. in 1968. In 1979 the refinery became San Joaquin Refining Co., Inc.,a privately heldcompany located in Bakersfield, California. Major upgrades were accomplished in 1975, 1987, and again in 2001. Bakersfield is in Kern County, located in the San Joaquin Valley. Kern County contains about 31,000 oil wells (approximately 90 percent of which are owned by Chevron, Occidental and AERA) that produce about 425,000 barrels of light and heavy crude daily, which is about two-thirds of the crude produced in California and 8 percent of the crude produced in the United States.
Today SJR processes heavy crude (which is less desirable for transportation fuel production) from leases in Kern County into premium naphthenic oils that are in turn utilized by other companies for use in specialty applications, including printing inks, lubricants, rubber and plastics, adhesives, paints and coatings, electrical insulating oils, asphalt recycling and roofing. The major portion of SJR's business is the manufacture of several types of paving asphalt, which are delivered mostly to customers in California, Nevada and Arizona. The specialty naphthenic products are distributed nationwide, and some are exported to Mexico, Canada, China and India.
The company has just completed its annual pre-spring plant maintenance, which is done to ensure that all machinery and equipment is operating properly and safely. "We're very safety-oriented toward our employees," says Mark Del Papa, vice president of supply and distribution.
"We don't need unexpected equipment failures during our peak season, which is summer, because it would disrupt product flow to our customers," adds Ed Starbuck, vice president of operations. "We've always tried to ensure the quality of our products, to make certain that our customers always get the same material they're expecting, so that they don't need to reformulate it or have unexpected problems when it comes time to use the products. One of the reasons we decided to utilize a consistent source ofheavy naphthenic crude oil is to have consistency and unique properties in the products we produce."
"Unlike a lot of other refiners who can run multiple crude slates and focus on being able to obtain the best value for crude based on the market," says Del Papa, "we concentrate on the consistency of the type of crude we use, which allows us to do the things Ed mentioned and maintain a very consistent product quality, whether it's our asphalt or our naphthenic specialty oils."
There are a number of regulatory programs that refiners have to comply with at all government levels—federal, state, county and municipal—and SJR tries to be ahead of the regulatory curve, doing what it needs to do to be more sustainable and environmentally friendly. "We always remain active with the regulatory community," says Starbuck. "We stay proactive in trying to meet the various requirements head-on, rather than trying to catch up to them. Since most refineries in the United States are aging, they probably started off with pneumatic control systems, and most, including this one, have upgraded to a computerized system of operation, which allows us to better control the many variables that affect product quality and output. We're always trying to improve the energy efficiency of the plant and ensure the consistent quality of our products. We always do initial and refresher training of employees on the control systems."
Del Papa notes that the owners of the company have been aggressive about investing in new equipment and technology, hardware and software, to stay in step with the future and maintain product quality. "In the 1980s we invested in solventextraction, a lube oil plant, which allowed us to make non-label products," adds Starbuck. "In the 1990s we invested in hydro-treating capabilities, so we can reduce the sulphur and aromatic content in some of our products to enable us to comply with some stringent regulations. So we've always been willing to invest in the technology and upgrades to stay in step with future product demand."
He says SJR's next project is a green initiative, installing a cogeneration plant that will produce more electricity than the refinery can consume. "We'll return the excess electricity to the grid system owned by the local public utility. The thermal output from the co-gen will enable us to shut down 14 of our heaters, which will reduce our NOx [nitrogen oxide] and CO [carbon monoxide] emissions as well as our greenhouse gas [carbon dioxide, CO2] emissions, and we'll be able to capture additional CO2 from the exhaust gas. Since we're adjacent to an oil field, our plans are to use that CO2 for enhanced oil recovery. So our purpose for the co-gen is to get ahead of the curve on NOx and CO emissions, and to take advantage of the opportunity to reduce CO2 emissions and the future capture of additional CO2 emissions. This plant is about a year and a half to two years away; we're in the engineering, planning and bid quotation stage right now."
Del Papa sees one of the key highlights for the success of the company being the interrelationships and communication between the people in the various operating groups. "It's people working together for a common cause. Being a small, independently held refinery, we're able to make adjustments rather quickly to try to work to generate the best economics. The operations group and the marketing and supply group meet every week, and we look for adjustments we can make to operations to maximize our profitability and to ensure that the right products are available at the right time. So there's a constant tweaking of crude runs, changing the product slate a bit, to ensure that we're as good as we can be. Quality control is paramount, and our large database serves as a very effective marketing tool. If there's ever a question on quality, we have information from our lab samples to compare to the results in a customer's lab. For example, in our asphalt business, the people who run hot plants and lay the asphalt may have a question about the aggregate asphalt oil mix, and we can help, because of the information that we accumulate and retain." http://www.sjr.com