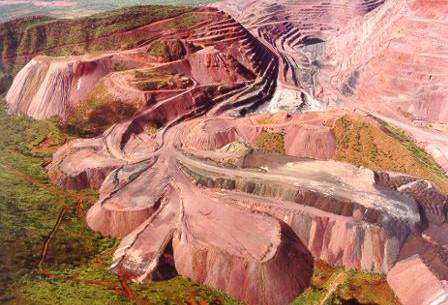 London-based miner Rio Tinto has said it will spend £518 million expanding its diamond operations.
The mining group's diamond business is often overlooked, due to the success of its primary iron ore, copper and coal operations. However, its diamond unit is the third-largest in the world behind industry leaders De Beers and Alrosa.
Rio Tinto's diamond division is based on three mines, including Argyle in the north-western desert area of Australia.
Rio will spend £518 million on constructing an underground mine at Argyle, a plan it authorised in 2005 but put on hold following the global financial crisis. The expansion will increase Argyle's productivity from 10.6 million carats last year to approximately 20 million carats per year until the mine closes in 2019.
The company has said it is targeting nine million tons of raw production by 2013.
Producing large volumes of small, relatively low-quality diamonds, Argyle is one of the world's largest diamond mines and the largest supplier of gem diamonds to the mass-market jewellery industry in Japan, south-east Asia and the US. Chinese diamond demand is shifting from bridal jewellery to fashion jewellery as disposable incomes rise—a trend that has influenced the decision to ramp up production at Argyle.
Argyle accounts for around 20 per cent of global diamond supply and more than 90 per cent of the world's production of pink diamonds, a rare variety popular in India. It also produces champagne, cognac and white diamond varieties.
In the first half of this year, diamonds contributed $75 million to total earnings at Rio Tinto—compared with a loss of $6 million in the first half of 2009. By contrast, iron ore contributed $6.7 billion to total earnings.
South Africa-based De Beers, which controls about 40 per cent of the world's diamond supply, more than doubled production of diamonds in the same period from a year earlier, to 15.4 million carats. The company said that the rise in sales was driven by double-digit growth in demand from emerging markets such as China and India.
Last month, De Beers invested $922 million in expanding its Namibian mining operations.