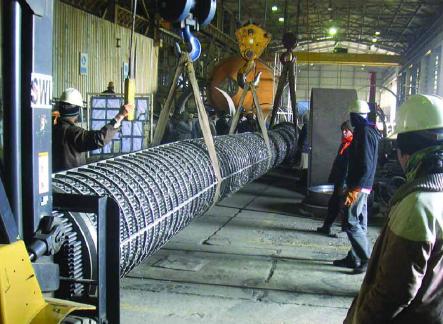 Olayan Descon is continuing to expand its industrial construction and maintenance capabilities to support the industrialisation of Saudi Arabia. Muhammad Naveed talks to Gay Sutton about the latest move: to provide end-to-end engineering, procurement and construction services.
If your image of Saudi Arabia is of a vast desert nation made rich by oil and relying on the import of every commodity required to make life comfortable, you would be wrong. For the past 40 years a significant portion of the Saudi oil revenue has been ploughed into building a national infrastructure, into providing education, and above all, into building a solid industrial base. Today, Saudi boasts two purpose-built industrial cities that rival anything found elsewhere in the world. Jubail, located on the east coast, is the world's largest industrial city, importing and exporting goods and materials around the world from its busy port on the shores of the Arabian Gulf. Meanwhile, the city of Yanbu, located on the west coast of Saudi Arabia on the Red Sea, is ideally located to provide access to the Indian Ocean and Mediterranean.  
One company providing a wide range of support services for this industrialisation is Olayan Descon, established in 1981 as a joint venture between Olayan Saudi Holding Company and Pakistan-based Descon Engineering Limited. "Descon is one of the largest engineering concerns in the private sector in Pakistan, operating throughout Pakistan and the GCC countries," explains marketing and business development manager, Muhammad Naveed. "It has huge resources across the areas of mechanical, electrical and instrumentation, and civil engineering. And these are the skill sets which we have brought to Saudi Arabia."
Originally launched in 1981 as a plant maintenance company in Jubail, Olayan Descon quickly expanded and opened offices and facilities in Jubail's west-coast counterpart, Yanbu. From this solid foundation at the heart of Saudi's industrial base, the company then diversified into manufacturing, opening a manufacturing workshop in Jubail capable of supplying much of the equipment needed for its expanding operations, including pressure vessels, heat exchangers, tanks and storage facilities.
Then about 15 years ago the company took the strategic decision to diversify into the industrial construction sector, and followed this up recently expanding that offering to include full LSTK (lump sum turnkey) and EPC (engineering, procurement and construction) services anywhere within the Kingdom of Saudi Arabia.
"Our first EPC is now nearing completion," Naveed says. "By the time we hand the facilities over to Ma'aden in October this year, we will have constructed a magnesite mineral processing plant at Medina, and a complete mine facility on the Al Gazalah magnesite deposit at Zarghat about 300 kilometres from Medina." The contract is worth SAR95 million. Construction began about 18 months ago, and during the peak period there were some 2,000 people employed on-site.
"Our second EPC project is currently at the engineering phase, and is for a chemical storage facility at Jubail Commercial Port," Naveed continues. "When completed, the facility will be capable of handling 63,000 cubic metres of liquid chemicals a year, and will be the first of its kind in Saudi Arabia." The engineering work, which began in April this year, includes a new jetty, lifting and loading equipment, storage and truck loading facilities, and the interconnections between the jetty and storage. Construction work will begin shortly and is due for completion in 18 months.
Operating in the arid conditions of Saudi does present some interesting challenges. Perhaps the most complex of these is the mobilisation of the workforce and equipment required for projects in isolated desert areas, such as the Zarghat mine. "We either construct the living quarters on site or lease them—if they're available locally. We then have to transport all the food and water required by the workforce on a daily basis, and then dispose of the waste in a safe and suitable way—again transporting it out by truck," Naveed says. "It's a challenge, but it has become standard practice across Saudi Arabia."
The company has a pool of some 5,000 highly skilled engineering, construction and manufacturing staff across its two main sites, and deploys them as required to undertake the bulk of the construction work, and to provide plant maintenance services to facilities around the country. "We use sub contractors, but these are largely for specialised services such as non destructive testing and evaluation or to operate hired heavy lifting equipment, or if our resources are already fully utilised," Naveed explains. 
Like many companies operating in Saudi Arabia, Olayan Descon recruits from around the world, sourcing the relevant skills from countries such as Bangladesh, Pakistan, India, Vietnam and Sri Lanka, and occasionally from the more expensive work pools of Europe. "We then take responsibility to mobilise the new staff efficiently and legally under the licence permitted by the government of Saudi Arabia," he says.
The company has an independent training department which manages the training needs of the business and continually updates the knowledge base. Junior engineers, for example, are appointed to jobs that will expand and build upon their professional knowledge and experience, and they are moved from job to job in a planned manner to provide comprehensive training. "And this is an ongoing process."
The company is also committed to training and employing Saudi nationals where it can. "And this is a huge responsibility. We take semi-skilled and unskilled people from the local community, and provide instruction at our training centre at Jubail," Naveed explains. "They then work on our projects as assistants, developing their skills in a whole range of areas such as fabrication, instrumentation, electrical, health and safety, and environment."
Continuous improvement plays a large part in the company's development, and the processes by which this is managed are driven by the experience and standard procedures of parent company Descon. The Saudi company benchmarks its performance annually, and continuously works to improve its performance by refining and developing new and more efficient procedures and processes. Once proven, these then become part of the standard management manual.
Development and growth continues to be high on the corporate agenda, and the company sees many opportunities ahead within the industrial sector in Saudi Arabia. "In each area where we see opportunities, we are enhancing our resources accordingly, and bringing the knowledge base into the company. And alongside this," Naveed concludes, "we are looking to develop a new kind of vision within the Kingdom of Saudi Arabia, to help us grow our employees." www.olayandescon.com