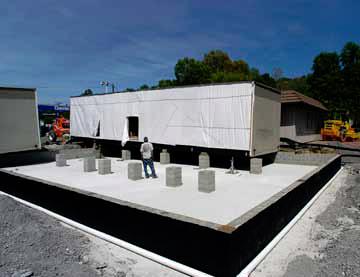 Three years ago the North American modular building industry witnessed the creation of its biggest organization when Modular Space Corporation came to life. Andrew Pelis talks with ModSpace senior vice president Kevin Bremer about the secrets behind the company's success.
Modular Space Corporation (ModSpace) emerged in April 2007 from Resun Corporation's acquisition of General Electric Capital Corporation's North American modular space business. The acquisition created the country's largest US-owned supplier of permanent modular construction and temporary modular space.
At that time, Kevin Bremer was working at GE Capital; today he is senior vice president for ModSpace's US field operations. "The creation of ModSpace in 2007 has been a good blending of the two companies' cultures," Bremer says. "On the one side was a very structured GE culture, whereas Resun had more of an entrepreneurial approach to business. I think we've kept the best of both cultures, and we never get too big for our customers.
"ModSpace has allowed us to look at new opportunities," he continues, "and we now have a bigger cross-section of customers than in the past, which has enabled us to become more innovative with our product lines. At ModSpace we provide both temporary and permanent facility space to virtually every market, including energy, commercial, construction, medical, federal and education customers. We have more than $1 billion of buildings in over 80 branch locations across the US and Canada."
The company delivers a wide range of products, including office trailers, designer series buildings, portable storage units, classrooms, modular complexes, fiberglass enclosures, new custom buildings and emergency space to the commercial, construction, education, government, healthcare, industrial/energy and special events sectors. Services include steps, decks and ramps (OSHA, CAL OSHA and general code options); furniture, from just the basics to professional office; insurance (optional commercial general liability and damage waiver options); communications services (pre-wiring for voice and data); plug-and-play services (utility hook-ups, HVAC, bottled water delivery, etc.); and turnkey services project management, design/build services, financing options).
Over the years the Berwyn, Pennsylvania–based company has completed major modular building projects and related services for many prestigious clients including Pfizer, Boeing, Eli Lilly, General Motors, Motorola and the US Army.
Innovation is what really sets ModSpace apart, in Bremer's opinion. "Our approach helped us grow as the market started to shrink in 2008," he comments. "Innovation is one of the four pillars of our culture [along with quality, service and value], and we looked beyond the crisis at how to better invest time and resources to improve products, product performance, service delivery and overall operational efficiency—all done with the customer in mind."
An example of innovation and the entrepreneurial ModSpace spirit has been the launch of the company's new website in late June. The new site provides additional customer applications including service requests and online billing, and it opens the door to new business opportunities. "From our standpoint, internally our teams will link up a lot more, and we have so many assets we can utilize around North America that the new website offers exciting possibilities," Bremer asserts.
"We also doubled efforts to improve an already-strong sales force," Bremer adds. "The entire sales team went through an intense one-week course on how to better understand our customers, the markets they serve, and how we can better address their needs and concerns. The results have shown that, even in a declining market, our sales team has improved year over year."
He further cites quality as one of ModSpace's key selling points. "We're very proud of our stringent qualification process. There are hundreds of manufacturers out there, and we're highly selective on which ones we use; they must meet our quality requirements, and we regularly talk with them to ensure quality and on-time delivery are met. We also use a customer quality tool called the Net Promoter Score where, using an independent third party, customers are contacted and give a rating and feedback on the level of service they received. The feedback indicates that 90 percent of customers would recommend us to a colleague or friend."
With as much as 70 percent of business coming by way of repeat customers, positive feedback is crucial given the overall decline in demand for space, and Bremer describes the challenge as a tough fight for a bigger piece of the pie.
Looking ahead, he feels that there remains enormous potential for a bigger slice, given the buoyancy of certain sectors such as energy and medical, though the sales focus is very much aimed at promoting the diversity of services and sectors that ModSpace can accommodate.
"The new website (www.modspace.com) will help us enormously in this area, and we also operate a call center to cater to customers' needs. Innovation remains our major priority, and we have several new products due for launch later this year, while we'll take into account customer suggestions as part of our quality drive. Even though the market is slow at the moment, we're expecting to penetrate our markets further. We've got a national presence yet operate locally with a portfolio of high-quality products. Our motto is, 'We are ModSpace: one team, one mission, winning with integrity'."