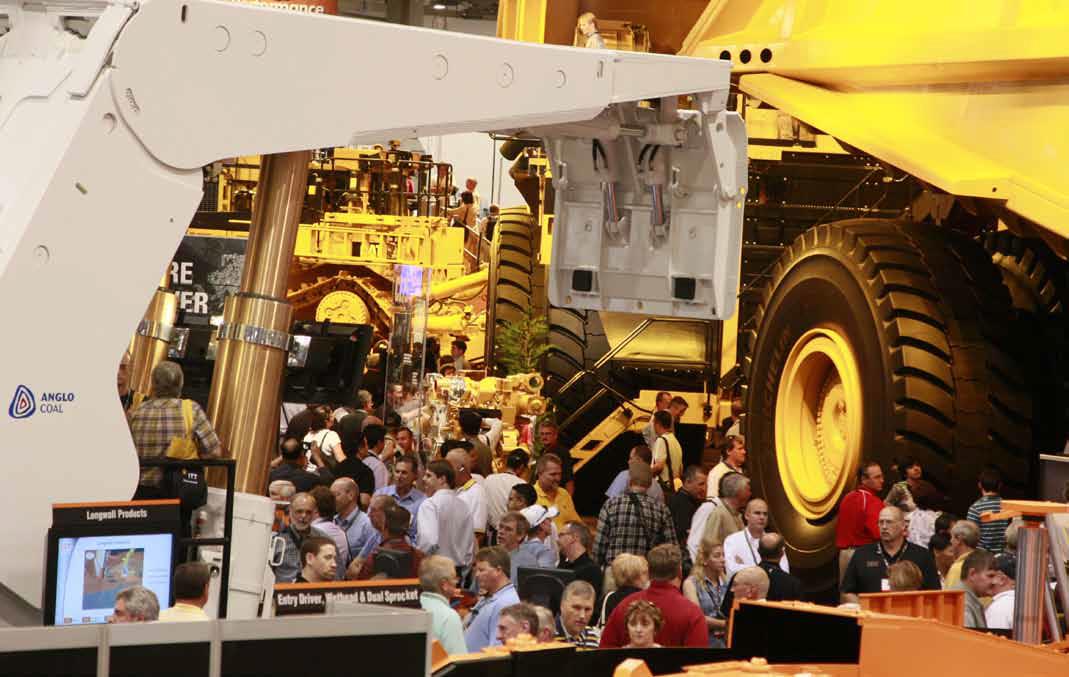 MINExpo International 2012
24-26 September 2012
Las Vegas Convention Center
Las Vegas, Nevada, USA
The Olympic event for the mining industry, MINExpo International takes place every four years. Unlike the Olympics, however, the venue has not changed since it was first held in Las Vegas, Nevada in 1996.The 2008 MINExpo drew over 44,000 people (an increase of over 44 percent from the previous show in 2004), and was the largest mining trade show in the world. With your help, this year's event could be even bigger.
MINExpo International 2012, sponsored by the National Mining Association, is a three day event being held in the Las Vegas Convention Center from 24-26 September. The show's footprint this year is the biggest ever, with more than 850,000 square feet, 12 indoor halls and outdoor areas and 1800 companies exhibiting everything from the largest haulage and extraction equipment to the most sophisticated electronics and the most sought-after mining services.
The need for more efficient, innovative and productive equipment, technology, and processing methods is universal and only likely to grow. The demand for coal and minerals in all sectors— especially electricity, telecommunications, computers, medical technology and transportation—is worldwide. Mining is the first link in the global supply chain for the metals, minerals and energy required to sustain economic growth and MINExpo is a showcase for it all, in one place.
From an exhibitor's point of view, MINExpo International is the one event where mining's most influential buyers come to see new products, learn about new technologies and make buying decisions. They are seeking everything from large excavators to the smallest equipment components. Whether you're trying to reach surface mining, underground, hard rock or coal, no other event offers a better face-to-face opportunity to showcase your equipment and services before the worldwide mining industry.
Historically, attendees have an average planned expenditure of $9.3 million for the equipment, products and services exhibited at MINExpo, with 89 percent of attendees having buying power. Apart from new products and services, attendees enjoy first hand demonstrations, learning from experts to resolve daily challenges, and networking with people from the worldwide global mining community.
MINExpo is an exclusive marketplace of domestic and international buyers, providing a rare opportunity to tap thousands of worldwide buyers at one location. According to the Center for Exhibition Industry Research (CEIR), 42 percent of MINExpo buyers do not attend any other show. The CEIR also reports that the cost of making first face-to-face contact with a potential customer through an exhibition lead is $96, compared to $1,039 without. Moreover, nearly 40 percent of prospective customers become new customers with an in-person meeting, compared to just 16 percent without such a meeting.
Every segment of the mining industry is always well-represented and looking for products or services. Buyers visit MINExpo on the lookout for material handling equipment, drilling equipment, processing equipment, engineering, construction and mining services, components, hand tools and electrical equipment and supplies—and it's all there. Every kind of mining operation and every stage of development is represented, too, be it open pit, underground, mine site development, exploration & surveying, processing, smelting or refining. If you're looking for safety improvements, innovation, productivity, the latest technology, whatever it may be, someone at MINExpo will have it.
MINExpo is more than an exhibition, of course; it's also a conference. With experts from all segments of mining, MINExpo's highly rated conference program provides valuable information on new technologies and innovations, safety and productivity improvements, environmental techniques, and trends that form an integral part of modern mining practices.
The Opening Session of MINExpo's conference program is included in the registration fee and all show attendees are invited to hear a select group of industry leaders discuss the development of the mining industry and its role in the global supply chain. Tickets are not required, but seating is first come, first-served—so get there early. The panel of speakers are: Richard Adkerson, president and CEO, Freeport-McMoRan Copper and Gold; Gregory Boyce, chairman and CEO, Peabody Energy Company; Richard O'Brien, CEO, Newmont Mining Corporation, and Mike Sutherlin, president and CEO, Joy Global.
An education program with 20 sessions will tackle the most timely and pressing issues affecting the mining industry, with many of the industry's top professionals leading the discussions. The two hour sessions will be held on the Tuesday and Wednesday of the conference, from 8am-10am, and from 10.15am-12.15pm. Subjects to be covered on Tuesday include bulk materials handling, safety, exploration, markets, automation, surface mining, underground mining, and water. On Wednesday the subject matter includes maintenance, processing, coal, new mine developments, and solid waste.
A special service available to overseas attendees is the International Buyer Program (IBP), supported by the US Department of Commerce. The IBP facilitates partnerships between show exhibitors and buyers who want to grow their businesses. As part of the registration process, MINExpo attendees had the opportunity to indicate specific areas of interest and products they want to see at the show. A few weeks beforehand, each attendee receives a list of the exhibitors matching the products on the list. At the show, they can then check in at the International Business Center where Department of Commerce officials will put them in direct contact with the exhibitors they wish to visit.
Another handy service is the International Business Center (IBC). Located in Room N245 (Upper Concourse) this will provide internet access and private rooms to conduct business. US Department of Commerce international trade experts will be available to provide counseling, answer import/export questions and facilitate contacts with specific show exhibitors. A translation service is also provided in the IBC, to facilitate communications in Chinese, French, German, Portuguese, Russian and Spanish.
MINExpo is recognized as the premier international mining exposition. We hope you all enjoy it, and do some good business.