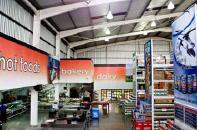 Sometimes success brings problems rather than rewards; but as Alan Swaby learns, the resourceful manager will find ways of solving them.
Lecturers on business management courses, looking for interesting new case studies—or novelists, for that matter, wanting an intriguing plotline—could do a lot worse than consider the ups and downs of Metro Cash & Carry. This South African business has everything—a rapid rise in fortune, boardroom fallouts, international takeovers, equally rapid decline and a fight for survival.
Metcash (the name under which the business most commonly trades) was set up in 1969 by Natie Kirsh—one of the country's most successful entrepreneurs—as the first food cash & carry wholesaler serving the black population of South Africa. Although the retail scene has progressed and become more westernised, in the townships they haven't completely changed. Now, and very definitely then, the multi-layered retail scene might see goods being sold from a recognisable shop or—just as likely—from the front room of someone's township home.
In the 1970s Kirsh sold out and moved to the United States, adapting the Metro model into Jetro Cash & Carry, one of the largest private companies in the US, worth more than US$3.5 billion. For another decade Metcash continued to prosper under its new management until a bust up in the 1980s caused a key group of directors to split off and set up Score supermarkets. Later, Score merged with Metro and continued to grow to the point where it took over Davids—a once successful but then ailing Australian wholesaler—turning it around in just 18 months.
So far, so good; but when the major institutional shareholders in Metro wanted to divest their interest, Metro was first forced into selling Davids (bought for R1 billion, sold for R6 billion, currently worth R36 billion) and then into a management buyout with associated de-listing from the stock exchange in 2004.
"It's at this point when the company's fortunes began to decline," explains Metro's recently appointed CEO, Peter Dodson. "Public companies receive credit from suppliers without the need of guarantees; but not so for private concerns. On top of the debt incurred in buying out Standard Bank and Liberty Life, we were then hit with the need to provide guarantees for the goods being traded."
Despite growing 45 per cent between 2005 and 2008, the situation got worse. A squeeze on cash flow meant payment to suppliers was delayed, which in turn resulted in supplies being suspended, shelves going empty and dissatisfied customers deserting the brand. 
In 2009 Dodson almost found the injection of funds he needed when the black group Fabcos was keen to buy. In the end it didn't happen and the banks were reluctant to invest more into a model it only saw as already having a hard time surviving.
But Dodson did have one more card to play. Ten years earlier, he had been running ICC, a competitive wholesaler that had hit upon a new business model—the hybrid wholesaler/retailer. Commercial customers want to buy in bulk, while private individuals are more inclined to buy in ones and twos. The hybrid model caters for both sectors.
"This was going to be a major shift in strategy for Metro," says Dodson, "but the banks could see the value in investing in a business on the crest of a new commercial wave. We were able to convert the debt into equity and get the money needed to make the necessary changes to our premises."
Metcash has 140 stores but 90 of them have been identified as being in the wrong place. Once an industrial park would have been an acceptable location for a wholesaler; but these days, something closer to the High Street is more desirable—even when customers are buying by the pallet. As such, conversion will have to wait until these leases have expired and Metcash can move into more appropriate quarters. However, the latest completion will have been made within five years.
In the meantime, the other 50 are under active conversion, in tranches of 15 at a time and at an initial cost of around R700 million. The stores themselves will look much different—even to other hybrid outlets. Not only will there be a new corporate identity but Metcash is catering for consumer needs, with a bakery and butcher as well as ready-to-eat hot foods and all the usual frozen and chilled offerings that need good refrigerated cabinets. On top of all that is a much expanded product range, akin to a conventional supermarket.
But a hybrid store also needs exceedingly sophisticated IT systems, not least because every item on sale has four different prices, depending on the quantity purchased—singles, multiples and even pallet loads. A new business management package from SAP is taking care of that side of things.
Switching from purely wholesale to catering for consumers is going to mean a whole new outlook for the 5,500 employees. Dodson has already restructured the business and 400 lost jobs last year have made it leaner. With new attitudes to learn, as well as new procedures and equipment to master, training is a high priority at the moment.
But Dodson is confident he is onto a winner. Metro currently turns over R12 billion a year out of a total nationwide spend of R260 billion, of which 40 per cent is classified as wholesale. In five years' time, he confidently expects it to have doubled in size and with a good wind, it may well have tripled.
Catering 100 per cent for the black market is a strategy that hasn't changed in the life of the business. It's taken Metro to success in neighbouring countries as well as further afield. Dodson is possibly looking at plans to take the business into Nigeria—a huge, affluent and potentially rewarding venture. But that is another chapter for the business educationalist or novelist. www.metcash.co.za