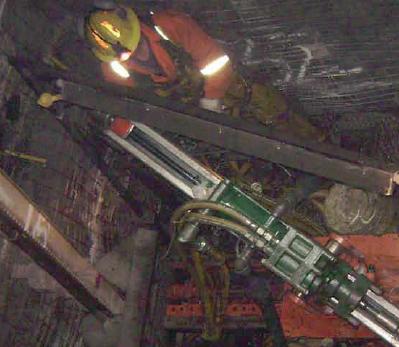 As Canadian mining companies continue to prosper from high mineral prices, more technically-challenging mining projects have become attractive. Andy Keough at Manroc Developments tells Andrew Pelis how the Ontario-based contractor is enjoying its own boom as a result of its specialty mining services.
The continued buoyancy of the metals markets is great news for Canadian mining companies, although mining particular ores can still present a major challenge. When the only way to reach the ore is vertically upwards, Manroc Developments delivers technology that can make a project safer and more cost-effective.
"We are a mining contract company and excel at specialty mining for vertical development," says Andy Keough, General Manager at the Ontario-based company. "Our main service is Alimak mining through raising and narrow vein mining."
Manroc has built its reputation through partnerships with some of the world's largest mining companies, including Goldcorp and Barrick Gold, extracting narrow ore bodies in Peru, Ghana and the United States. At present the company is working on four projects in Canada, including a diamond mine for DeBeers, although most of its business is on gold mines like the David Bell Mine and the Williams Mine for Barrick Gold.
"We like to call ourselves the partner of choice," says Keough. "The majority of our narrow vein mining has been with Barrick and we have worked extremely closely with them over the years to understand the ore body and ground control challenges. They have been so receptive to our input and it has been a mutually beneficial relationship."
Headquartered in Manitouwadge, Manroc was founded in 1985 by Don Simoneau; since then it has been actively involved in underground contract mining, an area he has extensive experience in. "Don had been involved in Alimak mining for several years and when he bought the business our focus became Alimak raises," says Keough. "Then in early 2001 the company really took off as a result of our narrow vein mining capabilities at the David Bell Mine and the Williams Mine, where we became a part of their budget."
The Alimak is a type of raise climber vehicle which transports up to three people (usually two on Manroc projects) down to the ore face using raised climbers. The mining is then carried out on a type of platform, using hand-held tools. "The unit is rail-driven and used for vertical mining," Keough explains. "As the miner advances up the raise he supports the Alimak raise with standard bolting patterns. It is a very safe way of mining and is best suited to tabular narrow vein ore bodies where it is most cost-effective.
"We own thirty Alimaks, including several which are ten to fifteen years old; and we buy units from Wilson Mining Products. Each one is made from steel and we modify every unit to build up the rails, improve the braking and to beef-up some of the welding to Manroc standards."
Raise mining is a method that allows drilling, loading and blasting from the safety of the platform on a raise climber; it is a "longhole" method of bulk mining tabular narrow vein ore bodies where the main ore access is gained by driving a raise up dip. The process gives underground access to create a variety of essential escape ways, ventilation shafts, waste passages and ore passes underground, by raising between levels in a controlled fashion.
However, it is narrow vein mining that has built Manroc's reputation, as Keough explains. "We have worked for the past twenty years on continuously improving our Alimak narrow vein mining process and while the whole mining sector is competitive in Canada at the moment (and I would consider us a mid-sized company), we are the leaders when it comes to narrow vein mining. We can safely put in a vertical raise in the ore body and drill and blast out a long length."
The process involves mining narrow ore bodies in geologically challenging environments and Keough says there are a number of advantages to Manroc's approach. "You are just drilling and blasting ore rather than drilling long holes. We add deep support cable bolts which hold the wall in place so that when the blasting takes place the waste rock is held in place resulting in less dilution—that in turn results in more ore and less waste, which is a huge cost saving."
The work is highly technical and a lack of Alimak-specific skilled labour has seen Manroc develop its own on the job training. "We have around 120 miners and each one has to meet stringent training qualifications to work in Ontario—but our own standards exceed those," Keough explains. "A good Alimak miner takes five years to develop and will work with a leader, following the standards and procedures within Manroc.
"Our in-house training covers the whole gamut of activities including safety, mechanics, blasting, setting up the long-hole machine and the procedures that have to be carried out each day, such as check lists, and we have trained our experienced miners to become trainers and sign-off other miners," he continues.
With a limited pool of Alimak-experienced miners in Canada, employee retention is paramount to Manroc, and the company's safety and performance incentive schemes have helped to keep its team together, along with a raft of ideas. A prime example has been the creation of a two-post canopy (Alimaks generally use four-post canopies) which has improved safety, while Manroc has also developed better retrieval systems (in case somebody falls off a platform) as a result of employee ideas.
Despite its success, recent investments indicate that the company is starting to broaden its services by thinking laterally, as Keough confirms: "In the last twelve months we have invested roughly $5 million on capital equipment. We have bought a couple of jumbos (big drills) and two scoop trams, which increases our capacity to work on lateral development projects. We recently completed a 2,700 meter lateral project at Goldcorp's Musselwhite Mine and have taken the opportunity to further enhance our fleet."
Looking to the more immediate future, he says that Manroc's existing relationships may yield opportunities outside of Canada. "We are now waiting to hear whether we have been successful on a new contract with Barrick to work in Tanzania, somewhere we have successfully mined before."
Meanwhile, reputation is also a key to opening new territories. "We have nine people from Kazakhstan visiting our headquarters over the next couple of days to look at what we do and that is a developing region of the world which also offers exciting business possibilities," Keough concludes. www.manroc.com