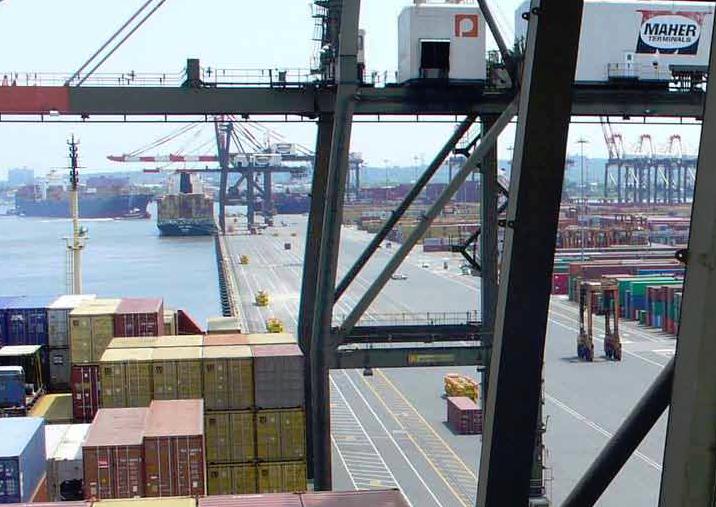 Already a trusted partner to the world's major ocean carriers, Maher Terminals has kept its sights set on growth, using the economic slowdown to further improve its operations and prepare for a longer-term phased expansion of capacity as necessary, Keith Regan learns.
The port terminal operations that Maher Terminals LLC run at the Port of New York and New Jersey may well be more than 2,000 miles from the Panama Canal, but the fortunes of the cargo handling business and many others in ports up and down both US seacoasts will undoubtedly be impacted by the construction work now taking place to expand the century-old canal across Central America.
Just how closely linked those two locations are became apparent recently when Panama's president, Ricardo Martinelli Berrocal, visited the Maher Terminal facilities.
"It was very significant for us, of course, as it underscored Panama's commitment to completing the expansion of the Canal by 2014," says Frans van Riemsdyk, executive vice president of corporate development and strategy for Maher Terminals. "The president made it clear that completing the Canal expansion by 2014 on what will be the 100th anniversary of its original opening in 1914 is an important milestone for Panama." Additionally, New Jersey governor Chris Christie has committed to "fix" a height clearance problem with the Bayonne Bridge to ensure that the much larger vessels transiting the Panama Canal upon completion of its expansion will not be restricted in accessing marine terminals in the Port of NYNJ.
The completion of that project is likely to be good news for Maher, which currently also operates a terminal at the Port of Prince Rupert in British Columbia, Canada, and is expanding into Nova Scotia through a commitment it made to a project known as the Maher Melford Terminal.
Maher is well positioned to enjoy the benefits of increasingly larger vessels moving its cargoes from Asia to the Port of NYNJ via an expanded Panama Canal. "It's all about capacity, and we have the capacity to handle that growth now, having recently completed a major expansion and modernization of our NYNJ terminal," says van Riemsdyk, who has been with Maher for 30 years.
"The major ocean carriers have committed to an enormous expansion of their container ship fleets by building increasingly larger vessels. When the global economy went into its dramatic downturn, the world's container vessel fleet suffered through significant idling of capacity, with harbors such as Hong Kong and Singapore littered with vessels at anchor. The ocean carriers are eager to re-deploy their larger vessels in order to benefit from their improved economies of scale. Many of these vessels currently exceed the capacity of the Canal. Completion of the Panama Canal expansion will allow these much larger vessels to transit via 'all water' routes to the Port of NYNJ, which represents a significant growth opportunity."  
That opportunity may extend to Maher in particular. "In the Port of NYNJ we have what is arguably North America's largest marine container terminal," he adds. "Just before the economic downturn, we had completed an extensive modernization and expansion of our facilities there, so we're ready to accommodate significant volume increases immediately and can quickly implement plans for further capacity expansion when necessary."
Maher's terminal in the Port of Prince Rupert can handle 750,000 TEUs (each TEU represents the equivalent of a 20-foot cargo container), a capacity that Maher has grown by 50 percent since it acquired the operations. Prince Rupert is the deepest harbor in North America and is strategically located on the Great Circle Route, which provides the quickest ocean transit times between the Far East and the West Coast of North America. With direct rail access, Maher's customers are shipping goods from Asia to major North American cities, helping to reduce the time it takes to reach those markets. Although the Prince Rupert terminal currently has ample capacity for future growth, Maher is already working on plans to further increase capacity at Prince Rupert as conditions may require.
Maher services ocean carriers who in turn are providing service to the likes of major retailers such as Walmart and Target. Maher is responsible for the loading and discharging of container vessels and handling such container shipments between vessel and either truck or railcar for ultimate distribution to the beneficial cargo owners.   
Meanwhile, coming out of the economic slowdown Maher is ready to capitalize on work it has done to reorganize and refocus its operations on providing absolute satisfaction to the clients it serves, van Riemsdyk points out.
"When you go through these difficult economic periods, there's good news and bad news. The bad news is obvious, but the plus side is that it gives you an opportunity to re-evaluate the way you're handling your business, and it puts you in a position to redesign and prepare yourself for recovery. We are very well positioned to handle substantial container volume increases."
Maher's New Jersey operations recently received another major boost with the State of New Jersey and the Port Authority of NYNJ announcing a commitment of $1billion to fix the air draft (the distance between the waterline and the highest point of a ship) restrictions on the Bayonne Bridge by 2014, which will allow the much larger vessels to enter the Port without restriction and significantly enhance the Port's competitive position.
The Maher Melford (Nova Scotia) facility will be well positioned to handle cargo heading to and from Southeast Asia, India and the Indian subcontinent. Container shipments moving via the Suez Canal and the Maher Melford terminal will benefit from the quickest transit times between Southeast Asia and the East Coast of North America. "Melford is in some respects a North American East Coast 'sister port' to Prince Rupert, as it is also strategically located on the Great Circle Route with the potential to provide industry-best transit times to and from key inland markets," van Riemsdyk says.
Maher Melford is being developed on a 14,000-acre industrial reserve in the Strait of Canso, a port that features water depths of more than 90 feet and no air restrictions, and it remains ice-free year-round. Like Prince Rupert on the West Coast, the port is designed to be an intermodal facility, with direct, on-dock access to the CN Rail network. Initially, the operation will have a capacity of more than 1.5 million TEUs.
That new facility, scheduled to begin operations in 2014, in turn helps make the company's overall portfolio of terminal operations all the more powerful.
"It's quite strategic," van Riemsdyk says. "Vessels from Asia can come across the Pacific to the West Coast and call on our facility in Prince Rupert. If they decide to come through the Panama Canal, they can come to our terminal in the Port of NYNJ. Vessels that go through the Suez Canal can be handled very competitively via both NYNJ and Melford. We think we're positioning the business well regardless of which shipping routes our customers choose." www.maherterminals.com