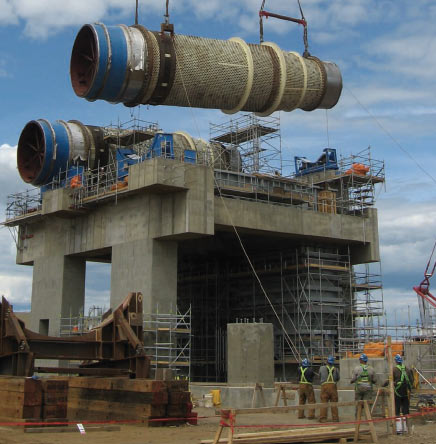 The Ledcor Group has roots as deep as the oil, gas and natural resources it has long helped its clients mine from beneath the earth in Western Canada. The company got its start in 1947 when founder William Lede built the access road and well site for Leduc No. 1, the rig that led to Imperial Oil's famous discovery of oil in the province of Alberta.
As the amount of heavy construction work it performed for clients in the oil, gas, pulp & paper, mining and petrochemical industries grew, Ledcor created its industrial division in 1989. Ledcor Industrial now stands beside the company's five other divisions: Commercial Building, Civil/Mining/Infrastructure, Pipeline and Telecommunications spanning across North America and Hawaii.
Ledcor Industrial handles all aspects of heavy construction, leveraging over 60 years of construction experience to complete site development work, concrete and structural steel erection, mechanical, piping, electrical and instrumentation as well as commissioning and startup assistance.
Ledcor Industrial has enjoyed several busy years as it helped clients build out facilities across Western Canada, particularly in the oil sands region. As work ebbed, Ledcor stepped up efforts to improve internal systems and enhance already robust training and safety programs. Ledcor Industrial is also exploring possible partnerships to help it meet client demands for new contracting models and pursuing diversification into areas such as ongoing maintenance of the facilities it helps construct.
"We are using this time to improve our internal control systems and invest in the training of our people," says Ledcor President Don Breen. "We plan to take advantage of this slower time to get ready for the next wave of demand."
Those internal improvements, which include quality management systems (QMS), enhance a strong portfolio of past projects, including extensive work on multiple projects for Suncor Energy at one of the world's largest oil sands facilities in Fort McMurray, Alberta and work on the Long Lake Project, a joint venture between OPTI Canada and Nexen, where Ledcor Industrial was one of the major general contractors that constructed the 70,000 barrel per day production facility. Another longtime client of Ledcor Industrial is DeBeers, with Ledcor performing all the above ground construction of its process facilities at its diamond mine in the Northwest Territories. Currently, Ledcor is wrapping up completion and startup of major portions of the new 100,000 barrel per day, Shell – Albian Oilsands Plant in Fort McMurray as well as another large project, again for Suncor, completion of the next phase of Suncor Energy's existing Firebag SAGD (Steam Assisted Gravity Draining In Situ) oil facility also in Fort McMurray.
As the next wave of work approaches, many clients are changing the way they approach large-scale projects, notes Al Beaudry, chief operating officer of Ledcor's Industrial Division, with an eye toward mitigating their risk by sharing it with the teams that engineer and build their facilities. With its experience in large-scale projects and the resources of its parent company, Ledcor can take on work that many other contractors may not be able to handle. "We're talking about construction contracts north of $100 million," says Beaudry. "Owners are trying to get cost certainty and economics that generate an acceptable rate of return from their projects. As contractors, we need to work with our clients to find a balance where we can align pricing and risk under acceptable terms. As a service company, there are risks that we are able to accept and risks that may simply be outside of our business guidelines where we do not have the reserves to be able to accept such risk allocation."
Ledcor Industrial is willing to work with its clients to develop a contracting strategy that shares risk, and believes that to ensure the lowest final project cost, it is best when risk is taken by the party that controls it or has the best ability to manage and influence; some risk taken by the owner, some by the engineer and some by the contractor.
In addition to its experience and technical capabilities, Ledcor Industrial brings a carefully developed workforce strategy to large-scale projects. Over time, Ledcor expects the labor market to tighten up significantly as work begins to present itself once again. The company has been proactive in addressing labour needs by investing significantly in post secondary institutions with scholarships and bursaries as well as various apprenticeships and trade development training. The company also has experience in handling labour shortages, having supplemented their workforce in the past with a significant number of qualified temporary foreign workers from overseas locations such as the Philippines, India and South Africa.
Ledcor has also pursued external partnerships with post secondary institutions to address impacts on the environment. By collaborating with experts in the field, Ledcor is proactively working towards implementing more sustainable operating practices and procedures to ensure the company's long term viability in the oil sands sector.
Going forward, Ledcor will present a more-unified corporate image to its clients by closely aligning its various divisions, which often partner to complete projects. "As each division grew independently, although we were operating under the same logo we may have appeared to be different in terms of company culture and the way people acted on a job site," says Breen. Over the last 18 months, Ledcor has focused on creating a more unified culture of safety, openness and quality service. "It takes a while to embed those ideas, but our strong lines of communication with our employees have made it easier," adds Beaudry.
Internally, Ledcor has also put to use what Breen calls "powerful control systems," from off-the-shelf software to custom solutions to ensure quality and efficiency in delivery of projects of all sizes. Meanwhile, six senior executives, including Breen, are spearheading a committee focusing on how to improve internal training and leadership development to maximize the workforce it already has and attract the best talent during this slower period and in the future.
"There's a lot of focus on how to capture all the energy and enthusiasm of the next generations and find what motivates them to do great work," says Breen. "We have been in business for a long time and we see this effort as the backbone and the foundation for the future. We look to continue to under promise and over deliver for our clients and demonstrate our ability to handle projects that only a few contractors have the capability to perform." www.ledcor.com