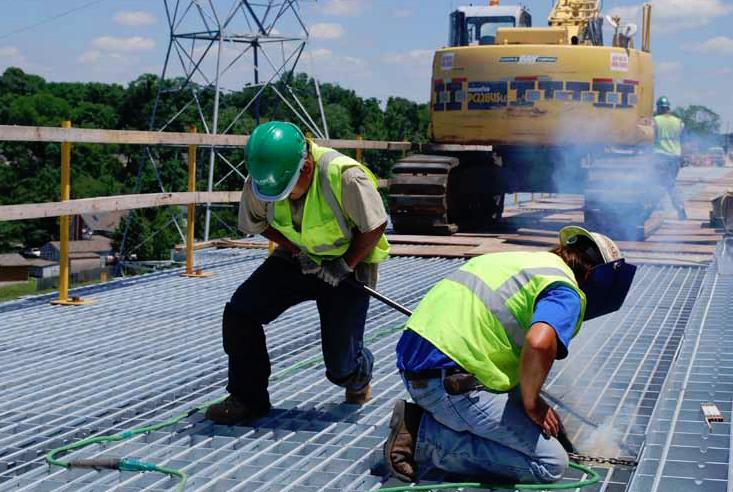 L.B. Foster Company has a long history as a key provider of materials to the rail, construction, energy and utility industries. Keith Regan learns how a lean journey that began several years ago is paying dividends even amid an economic slowdown.
For over a century, L.B. Foster Company has supplied the materials used for the core infrastructure that is the backbone of economies in North America and around the world. From concrete railroad ties and steel rails to bridge components and pilings, the company has had a hand in building key infrastructure for generations.
Today's L.B. Foster bears the imprint of that lengthy history but also a more recent internal push to become as lean and efficient as possible, something the company recognized it needed to do in order to match its internal operational excellence with the high level of customer service excellence it has always pursued, according to Don Foster, senior vice president for the company's construction products group.
Pittsburgh-based L.B. Foster now gets about 50 percent of its revenue from manufacturing and the other half from the distribution side of the business, Foster says. The company is organized into three main divisions selling rail, construction and tubular products with some eight distinct business units in all. "It's a nice range of diversity in the product lines," he says. "We strive to make it a great place to work, and we've got engaged employees and very high customer satisfaction ratings as well as a respectable balance sheet with our debts well under control."
That strong balance sheet means Foster is always looking for acquisition targets when they make sense. The company is currently close to closing on a deal to acquire a firm in the rail products arena and recently acquired a smaller firm in the bridge steel arena that will help it gain work on high-profile projects such as Stimulus Act–funded work on the Brooklyn Bridge. The company also has plans to expand its already far-reaching overseas footprint.
Foster credits the company's strong profit profile to a large-scale lean effort that began in 2003, when senior vice president of manufacturing operations John Kasel joined the company. Previously there had been some attempts to overhaul processes, but "nothing really stuck," says Kasel. "There was very good customer focus and service, but they were not managing the income statement very well. Scrap, waste, safety, quality—it was all moving in the wrong direction."
Kasel says a difficult year in 2003 provided the "burning platform" needed for more abrupt change to be embraced. "We trained the entire workforce and found out quickly that we had the right people on the bus, but they weren't in the right seats," he adds.
Safety was one glaring symptom of the operational malaise. "It wasn't a core competency, and it showed," Kasel says. In 2002 the company had a recordable incident rate of 20. In 2009, the level was 3. The company's DART rate (days away, restrictions and transfers) was 9, while today it is well under 2.
The changes were made by targeting individual facilities and picking specific projects. While investments were being made in systems to support the changes, plants and distribution centers were told they had to think their way out of the problems, not spend their way out. After a couple days of workshops and kaizen events, changes would be implemented, with the results tracked closely using the balanced scorecard approach to give more accurate readings on progress. "Financial performance is a lagging indicator," Kasel says. "We wanted to focus on leading indicators. That's what keeps us honest in the lean journey—setting aggressive targets for where you want to be and then measuring relentlessly."
With all changes, the company encouraged employees to think in small steps. "We asked them to be safe for a minute, then an hour, then a day and so on," Kasel adds. Reducing scrap and waste and creating cleaner work environments helped, as did the fun aspects of the campaign. For instance, facilities would conduct safety bingo games, in which a number would be drawn for every day that passed without an incident, and employees who filled their cards would win prizes. "It not only tells the employee to be engaged but gets them to watch out for others as well."
The bridge group alone went from having safety incident rates that were higher than the industry average to winning the Pennsylvania Governor's Safety Award in just two years. "That was a great early win for us, and we just built on it from there," says Foster.
The lean and six sigma push was extended beyond Foster's own walls to include major suppliers. One steel supplier, for instance, participated in programs focused on safety as well as inventory management. "If we are an extension of our customer, then our suppliers are an extension of us, so you have to take it back through the chain to get the most benefits," Kasel says.
Looking forward, L.B. Foster will continue to ride the ups and downs of the economy, with a lot of the company's top-line growth depending on the amount of infrastructure investment being made at the federal government level in the US. "A lot of the stimulus money that was put in place is already spoken for or being spent now," Foster says.
To help reduce its reliance on those funding sources, Foster continues to expand overseas. Work the company did in New Orleans with contractors such as Fluor and Bechtel has helped it qualify to bid on work on the Panama Canal expansion, a platform it hopes to use to expand into South American markets such as Brazil, Paraguay and Colombia. The rail side of the business remains active in Australia as well as across Europe, where a project-focused orientation is now being shifted into a more sustainable business model.
All the changes come with a strict customer focus and rely on a constant feedback loop, with an outside company recently hired to conduct customer satisfaction surveys in addition to the feedback already being received. "We know we need to be as lean internally as we can be so we can serve those customers how, when and exactly the way they want," Foster adds. http://www.lbfoster.com
*          *          *