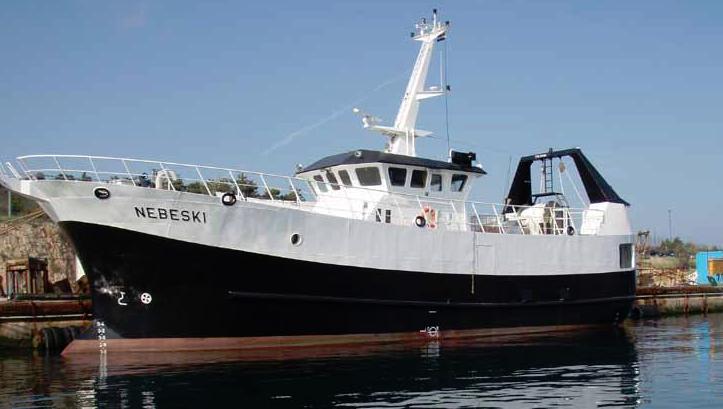 The Kraljevica Shipyard is the oldest continuously-running shipyard in the world. Sales manager Dragan Badzek talks to Andrew Pelis about the past, present and future for Croatia's shipbuilding industry.
For nearly 300 years, the Adriatic coastline has been home to what is now the world's oldest uninterrupted shipyard. Established in 1729, the Kraljevica Shipyard has survived wars and the multiple advances in technology and ship design; but today, it faces a new wind of change as Croatia ramps up for entry into the European Union.
"Our main objective is ship building, which accounts for around 90 per cent of our business. We also undertake ship repairs," states Dragan Badzek, the shipyard's sales manager.
"We can build almost anything below 125 metres in length from our three slipways including naval vessels, passenger vessels, oil tankers and fishing vessels. Over 95 per cent of the ships in the old Yugoslavian Navy were built here," he adds.
Badzek says that since the end of the Second World War, the shipyard has been responsible for producing over 150 vessels from facilities that now boast new buildings. It can provide retrofitting and repair work to naval vessels (gun boats, patrol vessels, missile corvettes), coastguard boats, special-purpose ships, fast crafts, light commercial crafts and yachts, built of ordinary or high strength shipbuilding steel and aluminium.
So what has been the secret to Kraljevica's continued success? "We have never had any complaints from owners; the excellent quality of our vessels means that owners give us our best endorsement by word of mouth," Badzek comments. "We have also always offered flexibility, and have been able to build all kinds of vessels, which helped us to find niches in the market. When times have been quiet (such as during the Balkan War when we could not find international work), we have been able to still carry out repair work." 
Whilst the Kraljevica Shipyard has survived all sorts of turmoil, it now faces a new challenge. The Croatian Shipbuilding Company Ltd was established in 1994; and in 1997, as a result of a decision made by the Croatian government, it was merged with the former Association Jadranbroad, forming Hrvatska Brodogradnja – Jadranbrod (the Croatian Shipbuilding Corporation – Jadanbrod), a joint company comprising five major Croatian shipyards, in which the Croatian government holds a majority share.
That organisation is about to change, however, as Croatia strives to join the European Union, as Badzek explains. "All Croatian shipyards are now going through commercialisation and we will eventually have a new owner as a result of this process. The Croatian government currently owns the shipyard and is working with the EU to help solve the shipbuilding problems in Europe. It has been decided that the issue will be better addressed by privately-owned ventures."
In the meantime, Kraljevica continues to develop, and is currently constructing a painting hall that will improve efficiency and introduce a new anti-corrosive treatment system once it has been officially opened later this year. Painting is one of the areas where the business relies on its 300 sub-contractors, hired not only to paint but also to undertake electrical installations and interior outfitting work.
The sub-contractors work alongside the shipyard's 530-strong workforce that focuses on steel and piping production and the installation of engines. The 100,000 square metre facility saw large investment at the start of the century in CNC lathe machines including two plasma engines: one for underwater work and the other for dry work. "We also operate the latest 3D modelling and documentation software that we can programme and send to the CNC machines," adds Badzek.
The nature of the work can vary and Badzek believes that the company's flexibility and willingness to take on smaller projects has given it a competitive edge. "Our vessels are custom-made and usually the customer will come to us with a specific idea and we will sit down with them to define the details. It is difficult for us to be too efficient, given that we will take orders for one or two vessels in a series but this gives us an advantage too—our average customer may not be welcomed by some of the bigger shipyards, for example in the Far East, because of the size of the order."
Steel prices have of course stabilised to some extent over the past five years and Kraljevica has the capacity to stockpile up to 2,000 tonnes of steel (enough to cover three months of work) at a time. Along with the propulsion systems, Badzek suggests that this is the biggest capital outlay at the shipyard.
As the shipyard prepares for the future, it is now undertaking the necessary measures to attain ISO quality certification. "We already operate an internal quality control department and two months ago, we signed the contract with the aim of achieving ISO standards. Of course we have to adhere to rigorous procedures when we are building Navy ships, so we are confident that we will achieve our goal in early 2011," Badzek explains.  
Lead times are always one of the biggest challenges operationally. "We operate to an average lead time of around 24 months on most vessels; but it is essential to us that we are able to deliver the ship on the right date, and this can be a challenge when we are receiving new orders all the time."
With Croatian interest rates higher than most European countries, Badzek says that the structure of financing is compromised to some extent. "At the moment we have a situation where interest rates are three to four per cent higher than other countries, which makes loans more expensive, particularly when you are working on a €20 million vessel. At present the only way we can address this problem is by introducing greater efficiency."
Despite the uncertainty, Badzek says that Kraljevica should have a new owner before the end of this year; and whoever takes over the company will be purchasing a business with an order book full through to the end of 2012. "We are currently working on a RO-PAX vessel for a Canadian customer—a one-off 95 metre yacht. At €40 million, it's the most complex project in the history of the shipyard. We have also signed a contract in Moscow and Tromso to build four fishing vessels, so our new owners will be busy for the next two years," he concludes.www.brodkr.hr