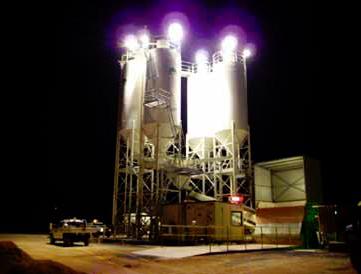 For more than 25 years, Jetcrete has been providing shaft wall building, ground stabilization and related services to mining and construction companies across the Australian continent. Now, thanks to a joint venture with Thyssen Mining, the company is aggressively entering the North American mining market, as Keith Regan learns from the joint venture's general manager.
Among a range of Australian mining companies, Jetcrete has been well known for close to three decades as a leading provider of shotcrete and related ground-stabilization solutions. From vent shaft construction to high-wall stabilization, bad-ground rehabilitation to shaft lining, remotespraying of horizontal development works to vent wall construction, Jetcrete has developed a reputation for safety, quality and innovation. Now it hopes to translate that experience and success into the robust North American marketplace.
The platform from which Jetcrete is making that push is a joint venture with Thyssen Mining Construction Canada, a Regina, Saskatchewan-based mining contractor that specializes in shaft sinking, horizontal development and production mining and that has a close relationship with Jetcrete's parent company, Byrnecut Mining, also a leading specialist underground contractor in Australia and around the world. Both are part of the mining and industrial conglomerate known as Thyssen Schachtbau GmbH of Germany.
According to the joint venture's general manager, Scott Johnston, Thyssen provides the back-office support and other infrastructure which made the launch into the new market possible. "Moving into this market was something we had looked at previously, and we've had a variety of inquiries for our services here in the past," says Johnston, who has about a decade's worth of experience with Jetcrete in Australia. With a letter of intent to provide contract services to a client in hand, Jetcrete renewed those efforts during 2008. "We decided that a joint venture would be the right way to work together to make this happen, because it would not require us to put the entire infrastructure in place we would need to operate here."
The joint venture formed in the fall of 2008, and by early 2010 Jetcrete had about 20 employees in the field with plans to further ramp up hiring as demand increases heading into 2010.
Although Jetcrete technology may not seem that different from most other providers of shotcrete spraying, which is essentially the application of concrete or other mortar products applied through a high-pressure concrete pump and then directed- placed through either a hand-held or robotically operated nozzle to the surface as required. However, Johnston says, what sets Jetcrete apart from its competitors is the company's commitment to safety and attention to detail along with its procedures for varying tasks it has developed over its long history.
Shotcrete and fibrecrete are often used as replacements for traditional wall-stabilization methods, including steel mesh that is bolted into place over any exposed rock that may pose a hazard to the workers and equipment. The ability of a contractor such as Jetcrete to offer a faster alternative to that painstaking process makes it compelling to mining companies that are eager to reach their ore bodies and begin generating cash for their shareholders.
"We've developed techniques and equipment over the years that may not have been used here in North America in the past," Johnston adds. "Shotcrete itself is not a new process, but the way you can go about applying it is where there have been a lot of advances that we hope to bring into this market. Certainly mining company owners and operators are always looking for ways to get their underground development works and shafts completed more quickly so they can start the actual mining of the ore body sooner. Building mines is an expensive endeavor, and mining companies will embrace any approach that is safer and of higher quality but also faster than what they have traditionally done."
Recent technological advancements in the industry that Jetcrete has helped advance or embraced include hydro scaling to prepare the surface areas for the application of fibrecrete and the use of robotic equipment to reach dangerous spaces. "We're always trying to continually improve on what we have," Johnston says. "There's always room for improvement, and we're constantly getting feedback from our sprayers and our clients about ways we can do that."
Other value-added services offered include customized shotcrete mixes and blends, often mixed on-site from locally sourced materials, and the ability to apply shotcrete to shafts currently up to 500 meters deep without sending workers into the space. That process uses a control room connected via closed-circuit television, where highly trained operators conduct the entire process remotely, eliminating the need to put workers at risk before the shaft walls are through being stabilized. The technology used has applications in a range of mining settings, especially in underground mines where shafts predominantly are used for ventilation, emergency egress or for ore passes used to get material out of the ground.
Some of the differences encountered in the North American market include the prevalence of owner-operator mines in the new market, whereas "in Australia you find more contractors running mines for the owners and also the use of in-cycle fibrecrete and post bolting more widely utilized for standard ground support as opposed to traditional bolt-and-mesh application," Johnston points out, "as well as varied environmental conditions in a market that stretches from the Arctic Circle to the deserts of the southwestern US. We're also dealing with a wider range of temperatures here, and that poses its own challenges that have to be addressed in terms of getting the material mix correct in the field so it can meet and exceed the client's requirements in terms of minimum strength and the quality of the application."
One of the areas for constant monitoring and improvement is safety, with mine operators demanding excellence from their contractors of choice. "You have to be safer than your competitors," Johnston says. That means having the latest equipment and technology as well as highly trained operators. All Jetcrete sprayer operators receive extensive training, including mandatory apprenticeships in other positions, such as material delivery and equipment setup, before they are authorized to do the actual material applications.
Some of Jetcrete's first North American engagements include work on uranium mines in northern Saskatchewan with Cameco, and other clients include Xstrata Nickel Rim operations in Sudbury, Ontario. For the time being, Johnston and his team are focused on getting the word out to North American mining companies about Jetcrete and telling the story about the company's long and successful history in Australia. "Mining is a fairly small industry, so there are people in North America who know about our work Down Under," says Johnston. "Our job now is to keep building that reputation one project at a time."