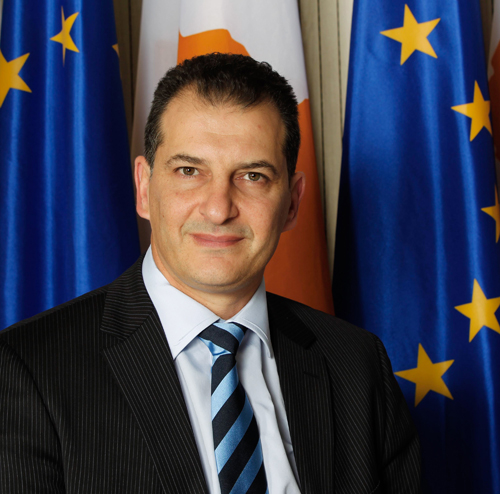 The economy of Cyprus in recent years has largely depended on tourism and financial services. The fundamentals of these industries are still sound despite the well documented financial and banking crisis that affected the island in 2012 and Cyprus is now making every effort to restore its economic stability.
That should be its principal concern, laying aside all thought of revenues from hydrocarbons, says Yiorgos Lakkotrypis. But it's impossible to ignore the fact that trillions of cubic feet (tcf) of gas have been found within the exclusive economic zone (EEZ) off the south coast of Cyprus. Leaving aside the question of direct revenues, Cyprus is ideally placed to be an energy hub for the whole of the eastern Mediterranean. With turmoil the order of the day from Egypt all the way round to Lebanon, where else would investors feel confident in basing their operations? "We would like Cyprus to be a fixed point of stability in the region. We have good relations with of all these countries. That's a fact that will help to attract investment for sure, and build a positive role for Cyprus in the energy supply chain to the European Union."
So his government's strategy has been above all to manage these hydrocarbon discoveries very responsibly and avoid falling into a resource trap in which long term sustainable industries and ways of life succumb to euphoria. "Our goal is to rebuild the economy in a balanced way with the right strategies and the right structural reforms and then we will have the hydrocarbons as the cherry on the cake so to speak!"
Still, it is some cherry. In the short term, six blocks in the EEZ have been licensed to date, one to Noble Energy from the USA, three to Italian-South Korean consortium Eni-Kogas and two to the French group Total. "At the same time we have been working very hard to position Cyprus as a regional hub, or base, for offshore drilling operations," says Lakkotrypis. "By that I mean that Cyprus is in an ideal geographical and political position for servicing the offshore drilling not only of Cyprus but also of Israel, Egypt and Lebanon. Any company that is based in Cyprus can service all these countries, and that wouldn't be the case if they were based in any one of them alone." Global giants such as Halliburton and Schlumberger have already established a presence on the island, he adds.
Naturally Cyprus also wants to see monetary returns from its own gas reserves and is considering how best to achieve this. "We already have a proven reserve of around five tcf in the Aphrodite field but we are very confident that there is a lot more coming after about October 2014." Assuming even a low average hit rate of plus or minus 25 percent in each case, the sheer number of prospects the island controls guarantees large volume flows, he believes.
The plan is to process the gas at a new onshore liquid natural gas (LNG) terminal and sell it on the export market. Memoranda of understanding have been signed with Total, and with Noble Energy and its Israeli partners Delek and Avner, for constructing the new plant at Vasilikos. The LNG plant will initially process natural gas from the Aphrodite Field and other fields that may be discovered in Block 12 of the EEZ. It could be expanded to accommodate additional natural gas discovered whether in Block 12 or other blocks, as well as natural gas from neighbouring countries.
A final investment decision will be taken in 2015 – until then the donkey work will be in exploration, resource definition and finance raising. "As far as we can plan it right now, we should be able to start exporting at some point in 2020."
One sustainable spin-off from the gas discoveries will be the opportunity to make the island energy independent. In the absence of its own primary sources of power Cyprus depends exclusively on imported fuels, mainly crude oil, for generating electricity. "If we can start to create cheap electricity in Cyprus, we will be able to develop more energy intensive industries which have been out of our reach thus far," says Lakkotrypis. These would definitely include the establishment of downstream hydrocarbon-related industries, but every kind of manufacturing or process business would become competitive, and even agriculture and tourism would benefit.
Another challenge for Cyprus, as a new entrant to the business of hydrocarbons, will be creating and growing a skills base on the island. Currently those who need to know about the industry are going elsewhere but Yiorgos Lakkotrypis would like to create a knowledge based O&G economy and to do that Cyprus's public and private universities and schools will have to start putting courses on their syllabi, starting with basic skills like high pressure welding, fabrication and pipework.
It's not that Cyprus hasn't enough bright people qualified to degree level, whose very presence should be a draw to incoming businesses. They may lack the specialised skills but will quickly acquire them. With 17 percent unemployment – 40 percent among those under 25 – conditions are right for getting new industries up and running. The government will do all it takes to achieve business growth over the coming five to seven years and to encourage local energy related investment in areas like offshore drilling support and logistics.
Even in terms of energy Cyprus does not want a gadarene charge into becoming a hydrocarbon-based economy. The country has plenty of sun so it has set a target of raising the renewable segment of the energy it uses from the current level of around 7.5 percent to 13 percent by 2020. That will help to peg the cost of electricity until natural gas comes on stream, says Lakkotrypis. "The less oil and natural gas I need for domestic electricity generation the more I can export! We have embarked on a very aggressive strategy to develop renewables."
He's equally determined to protect the tourist industry, though he does not think it is under much threat from energy development. "The offshore installations are many kilometres from the coast and we have carefully selected the area in which our Energy Centre will be created. Though it is on the coast it is not in a tourist area."
Looking at the map one can see how perfect Cyprus is as a low risk jurisdiction, ideally situated to deliver support services to operators who might prefer not to pipe the gas they obtain to any one of several mainland alternatives at loggerheads with each other. Aphrodite may not have expected to have an oilfield named after her but she would surely approve of Cyprus her homeland finding such a pacific role.
Written by John O'Hanlon, research by Richard Halfhide