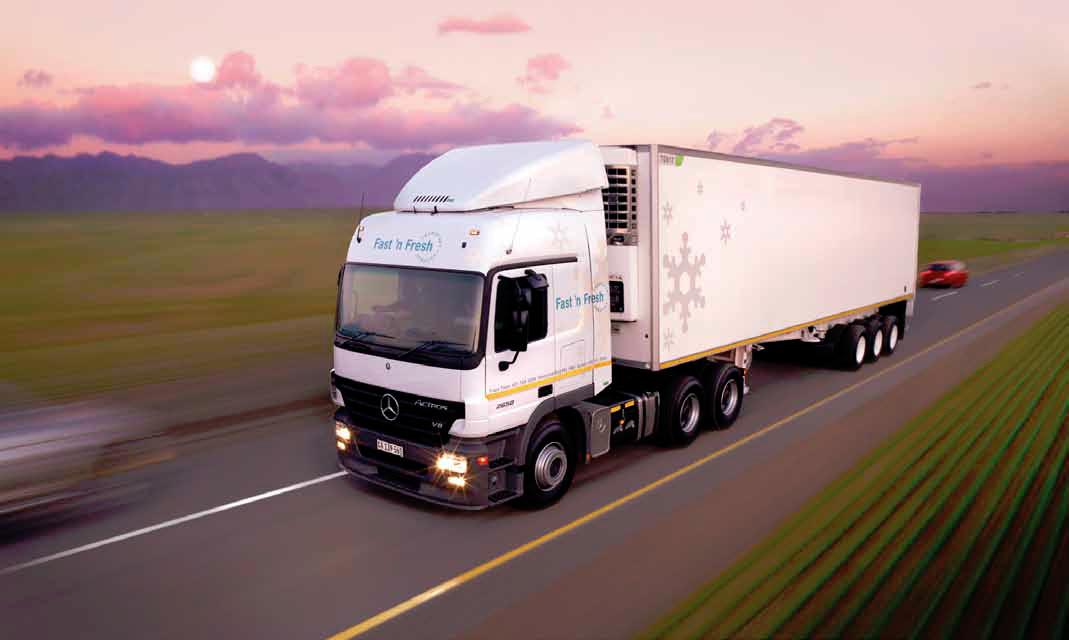 Boasting a national footprint in South Africa, with transport depots in Cape Town, Durban, Johannesburg and Tzaneen, Imperial Logistics Refrigerated Services (ILRS) today exists as South Africa's 'first to market' service provider.
Formed in July 2010, following the consolidation of Fast 'n Fresh, Liebentrans, Kobus Minnaar Transport and the broking division of Wilco Transport into one entity, ILRS was created specifically to package the service offering of Imperial Logistics Consumer Products for the temperature controlled FMCG market. This work requires the handling and transportation of time and temperature sensitive products, a task ILRS is able to expertly manage by providing an integrated, comprehensive service to its customers.
ILRS is a part of the wider IMPERIAL Group, a diversified industrial services and retail organisation, operating in Africa, Europe and Australia, and listed on the Johannesburg stock exchange. Run on a decentralised management structure that actively encourages innovation, entrepreneurship and the use of industry specific best practices, IMPERIAL employs more than 40,000 people around the world who it credits with responsibility for the growth and continued prosperity of the group.
By providing primary and secondary refrigerated transport services, tactical planning and detailed business analysis of current supply chains, ILRS has, in a short space of time, created a proven track record in successfully managing and maintaining the integrity of the cold chain. In addition to the company's strict adherence to, and management of, Service Level Agreements (SLAs) relating to time and temperature sensitive perishable goods, ILRS' operations are further supported by its flexible fleet of vehicles that provide it with the ability to upscale in order to handle work during the most demanding of peak periods.
Upon the company's formation in 2010, it put into action a new strategy for growth that has since gone on to revolutionise South Africa's refrigerated logistics market. This strategy saw the company introduce a fourth party logistics provider to its operations. Consisting of what is essentially a single office, the providers task is to match companies looking for transport with those that have said transport facilities and are looking for commodities to move.
The use of this service has allowed ILRS to improve its return on investment ratios and ensure that its vehicles are filled for their return journeys. Perhaps more importantly, this service has helped the company build even stronger relationships with reliable smaller operators. This in turn has resulted in ILRS being able to utilise the services of these operators without having to invest further in its own assets.
By taking a wider view of both the global logistics market and the rapid growth of that same sector within Southern Africa, ILRS has identified the next big area of growth to be the complete outsourcing of logistics services. In the vast majority of developed countries, and an ever increasing number of developing territories, this model already operates extremely well, delivering significant efficiency and cost savings.
The particular model that ILRS has developed includes providing in-depth analysis of the logistic requirements of its existing customers, based on the detailed information provided by the company in question and ILRS' own experience of current operational processes. The company has also been able to draw on the expertise of other divisions within the Imperial Group such as the Integration Services division, which has particular expertise in supply chain optimisation, and amalgamate all the findings to devise a detailed total logistics offering.
As one of the first such proposals to appear in South Africa, perfecting this strategy has been a huge undertaking for ILRS, with the company drawing on the theory and practice developed by world leading organisations such as Walmart, as well as the skills and knowledge of the Imperial Group. Going forward, the plan is to continue with well-established customers where a relationship of trust has developed over a long period of time, and then ultimately to take the concept out into the wider marketplace.
As a relatively new company still, ILRS not only has an ambitious vision for the future, but it has also spent a considerable amount of time and effort aligning the four original companies into a single entity, managed from its head office in Cape Town. Much of this work has involved the softer issues of bringing together the different cultures and approaches.
Alongside this the company has tackled some of the basic structural integration issues by analysing the IT systems and operational requirements of the four original companies and drawing up a plan that will allow them to completely harmonise their processes and cultures while continuing to provide a top quality service.
More recently the company has invested in a fleet of vehicles that are the first trucks in South Africa to possess Euro V specification engines. Moves such as this are allowing ILRS to make an impact in 'green logistics' by leveraging a biofuel blend, zero emission refrigeration technology and bio-degradable cleaning detergents.
Today, ILRS is a thriving business, boasting a long list of satisfied customers including the likes of Capespan, Dairybelle, Famous Brands, Freys Food Brands, Nestle South Africa and Rhodes Food Group. What makes this list all the more impressive is that it has been accumulated over the course of less than three years and is only likely to grow as time goes by.
Written by Will Daynes, research by Candice Nice