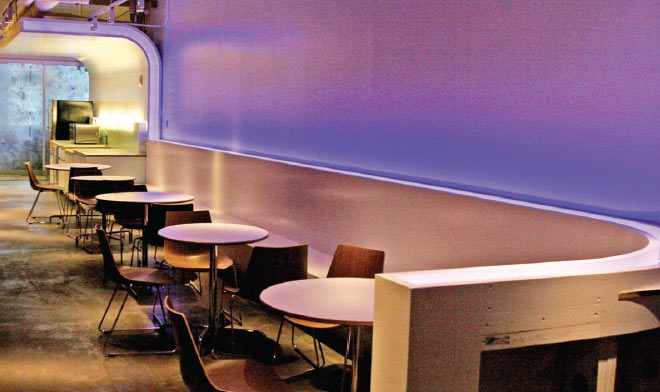 The founders of Hunter Roberts Construction Group all gained high-level experience while working for a large, local company and shared a common vision: to apply their knowledge in a flexible, more client-focused environment.
"We saw a need in the marketplace for another mid-sized to large general contractor," says Kevin Barrett, a senior vice president and director of operations in Hunter Roberts' New York office. "We saw a need for a mid-sized, privately held firm that could offer increased flexibility and senior management involvement in ways that a larger company could not."
Hunter Roberts' demonstrated growth suggests that the founders were correct in their evaluation of the marketplace. After doing $50 million worth of work in its first year, the firm kept increasing its revenue, securing $300 million the following year and $700 million just three years after inception. The company now has a workforce of roughly 260 people, all of whom Barrett credits for the rapid growth and success.
"I attribute that growth to the talent of our staff," he says. "At this point, we're starting to accumulate a number of repeat customers. Our clients have provided us with opportunities, and we've made the most of them."
To position itself for success, Hunter Roberts focuses heavily on safety, quality, scheduling and cost-control processes. Over the past two-plus years, the firm has implemented an Incident and Injury-Free (IIF) workplace safety program that has its roots in heavy industry and manufacturing settings. "The program is consistent with our corporate culture and a lot of our ideas," Barrett says.
Approximately 90 percent of the Hunter Roberts workforce participated in two full days of IIF training to get the program started. From there, the firm reached out to subcontractors and trades people to get them on board. "The program encourages employees to view their workplace as a partnership and not a dictatorship. Previous safety initiatives were full of mandates and punishments for unsafe behavior, but IIF engages subs and trades in a dialogue, allowing them to have feedback and input. The results have been steadily improving, and we believe our subs appreciate the approach we're using."
While Hunter Roberts believes that safety and quality are important, the firm understands that they aren't solely sufficient for ultimate client satisfaction. "We want it to be a pleasant experience for clients to work with us," Barrett says. "Even if you do a great job with things like safety and quality, clients can still walk away feeling unsatisfied with their experience. If they find our employees difficult and unpleasant to work with, it won't matter if the job was done on time and within budget."
The primary way to ensure client satisfaction is to listen, communicate and deliver. "We really stress listening to clients and personalizing our approach to accommodate their particular objectives and preferences. While our professionalism and industry knowledge always remain the same, our completed projects are widely diverse, as they each uniquely reflect their owners' needs."
Hunter Roberts has found success across a range of sectors, completing projects in the commercial, residential, healthcare, corporate interiors, sports, educational and institutional markets. The bulk of its current portfolio reflects recent economic activity and has shifted from privately funded residential work to publicly funded projects for a variety of New York City–based agencies.
For example, the firm is currently constructing the new Fiterman Hall, an academic building at the Borough of Manhattan Community College campus, which is part of the City University of New York (CUNY) system. The building, located at 30 West Broadway, was damaged by falling debris from the collapse of the World Trade Center on September 11, 2001. The $200 million project will require the extensive implementation of 4,400 tons of structural steel, a process that is expected to last through most of 2010.
The 400,000-square-foot project features a number of complexities, including state-of-the-art systems designed to help ventilate smoke in the event of a fire. Work is scheduled to be completed in 2012. "It's a very high-profile project with a lot of constituencies, and we think our approach will help make it a smooth project all the way through," says Barrett.
Hunter Roberts is also providing ongoing construction management services to the Mount Sinai Medical Center and is helping to build two New York–based charter schools, which further develop a portfolio that already includes work on the World Trade Center transportation hub, a new training center for the NFL's New York Jets, corporate interior renovation work for Viacom and MTV Networks, a modernization of the Gouverneur healthcare facility in Lower Manhattan, and Red Bull Arena, the official facility of the New York Red Bulls professional soccer team.