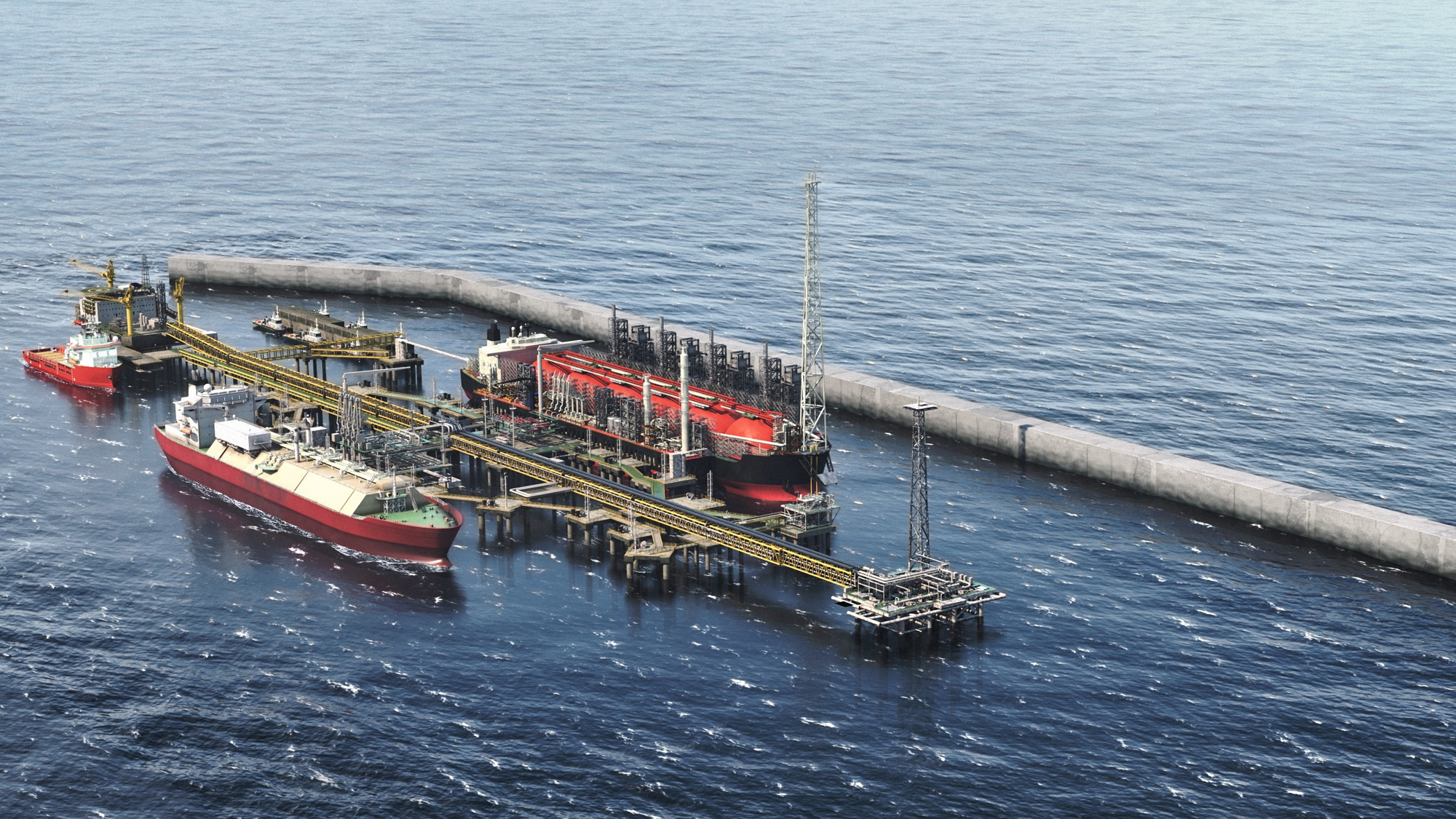 Liquified natural gas (LNG) has been universally recognized as a stepping stone in the energy transition. Thanks to its 25 percent lower carbon emissions than traditional fuels, LNG finds are now usually treated with more fanfare than the discovery of oil wells. It is wholly understandable in this context then, the enthusiasm that surrounds the Greater Tortue Ahmeyim (GTA) LNG project off the coast of Senegal and Mauritania.
Between 2014 and 2017, an estimated 15 trillion cubic feet of gas were found in the waters of the two West African nations, a find large enough to justifiably call the region a 'future hub of world LNG production.' As the first phase of the project nears completion, Business Excellence decided to provide an overview of a project with the potential to transform the long-term fortunes of the region and the citizens of Senegal and Mauritania.
 
Overview of the GTA Project
The statistics that define the GTA project confirm that it has the potential to transform West Africa into a new global energy hub. The 15 trillion cubic feet of gas found means that production can continue for at least 30 years. One of the project's sponsors,  bp, believes that extensions of the project could locate up to 100 trillion cubic feet of gas - pushing the region into the top 15 LNG fields in the world.
Located around 115 kilometres from the coast of Senegal and Mauritania, phase one of GTA will produce around 2.5 million tonnes of gas per year. The project incorporates a large-bore gas subsea production system (SPS), which is the deepest subsea system installed by bp to date. The investment of bp (60% stake) and its partner on the project, Kosmos (30% stake), in phase one of the project is estimated to have been in the region of $3.6 billion. The national oil companies Petrosen and SMHPM complete the partnership with a combined 10% stake. 
Key Facts
- GTA is a gas project on the maritime border between Mauritania and Senegal.
- The field is located 120 kms offshore, in a water depth of 2850m, the deepest subsea infrastructure in Africa.
- Phase 1 is the first step in establishing the basin as a world-class gas province and major LNG Hub.
- It is set to produce around 2.5 million tonnes of LNG per year.
- Phase 1 is designed for over 20 years of production, with the potential to extend.
- It is granted the status of National Project of Strategic Importance by the Presidents of Mauritania and Senegal.
- The subsea network includes 310km of pipe line, 91km of controls umbilicals, 80km of fibre optic cables and over 100 fabricated structures connecting the wells to the FPSO and then to the Hub.
Milestones Achieved
In February 2022, a major milestone was reached on the road to delivering the first phase of GTA: a breakwater comprised of 21 concrete caissons - totaling 340,000 tonnes - was completed. Each of the caissons weighs more than 16,200 tonnes, with a length of 55 meters, a width of 28 metres, and 28 metres in height. The breakwater is crucial as its will protect the project's key infrastructure - the floating LNG vessel, its utilities, and accommodation - from the Atlantic.
The completion of the breakwater at GTA also frees up the team behind construction to start pipe rack outfitting and equipment installation and testing. As of May 2022, the project is approximately 75% complete, with mooring piles for the floating production storage and offloading already installed offshore and the vessel itself undergoing dry tests in the shipyard. The hub terminal is also on schedule, and drilling on top holes has been completed on two of the four initial wells. In short, everything is on track for the first gas in the latter half of 2023.
Overcoming COVID-19
The fact that the project is being delivered over a year after the initially planned deadline is a consequence of Covid-19, although perhaps in a more roundabout fashion than you might expect. In mid-2021, the project's FPSO suffered a 3-month delay owing to labour shortages at the COSCO yard in China, where it was being constructed. When work resumed, further delays - albeit ones that the project sponsors were happy to digest - occurred as bp and Kosmos insisted on the highest standards of safety and sanitation possible.
Broad Impact
Over the course of the project life, it is conservatively estimated that GTA can deliver $80-$90 billion in revenues to Senegal and Mauritania. To put this figure in context, in 2020, the combined GDP of both countries was somewhere in the region of $31 billion. So $90 billion over 30 years would mean a boost of around 10% to each of the economies and their populations. To reiterate, these figures are conservative.
What scale of impact does this promise? Immense. It's also worthwhile to emphasize that bp and Kosmos bring significant combined experience in maximizing the impact of projects like GTA in region which they domiciled. Before the project has even started, it has initiated a series of community engagement programs in both Mauritania and Senegal. Consultation with community leaders regarding how the project will and can impact the communities from a socio-economic and environmental perspective has led to programmes including that in St. Louis, Senegal, where local women received training in fish processing and a "mobile education" programme that has contributed over 1300 equipment and benefited over 8000 students.  
bp has also set up a national technician apprentice programme which is currently giving 49 participants an opportunity to be trained locally and internationally (Forth Valley College in Glasgow, Scotland), developed, and prepared to work safely and compliantly on GTA phase-1 operations over the course of four years. Another 8 masters' students have also been sponsored by bp to be trained in Malaysia (INSTEP and PETRONAS) as well. These programmes are particularly very important as it helps builds the long-term capability required to develop the energy industry in Mauritania and Senegal. A community health program has also been founded.
Local content engagement is another important element of this project. Though bp and its parties come with international world-class experience the GTA team will be engaging well-established providers in both countries and the region as well. The project supplier portal was developed to encourage local content participation and promote transparency of opportunities in the GTA project's supply chain. It gives the local providers a place to register their interest directly with bp, learn to participate, and enhance competitiveness; and allows bp's global procurement practitioners to use it as a source for potential suppliers.
On the environmental side, GTA also brings clean energy to Senegal and Mauritania. As of 2022, only around 60% of their combined populations have access to electricity and less still clean access to fuels for cooking. The GTA project will not only give them a level of energy independence that they haven't known before but also give both countries the revenues from millions of tonnes of gas exports every year, fuelling the west of Africa with a much cleaner fuel than many had been using till now.
Suppliers and Partners
When an O&G major like bp and a highly respected partner firm like Kosmos seek out partners to work on a project like GTA, there are generally no shortage of takers. Such was the case here. The team was able to call in expertise from the likes of Petrofac, who have developed operational procedures for GTA 1,  TechnipFMC plc, a newly-formed French company that delivered the project's FPSLO, and Havfram, a Norwegian sub-contractor of Technip's that provided pre-installation and hook up of the subsea mooring system for the FPSO.,
The huge task of constructing the 21 mega caissons was delegated to Eiffage Génie Civil, a French engineering team that built the caissons on two Dakar sites, bringing in more than 130,000 m3 of concrete and 30,000 tonnes of steel. Its subcontractor, AMC Travaux, ensured a constant supply of rocks from a Senegalese quarry over two years, which were then used in the project's breakwater. The subsequent construction of the jetty was delivered by the Fugro.
The fact that there were so many moving parts - and as mentioned, some delayed owing to Covid-19 - demanded plenty of multinational collaboration. Other participants who merit mention in this category include Eurogrues Afrique, Amaranth - which delivered multiple orders of centrifugal pumps for the FPSO, Nexans, and Keppel Offshore and Marine. Last but certainly not least, AMOG is supporting bp on the project's rise verification system.
Local and regional suppliers and sub-contractors were also engaged across board both countries through the project supplier portal.
The Future
The world is a different place in 2022 to the one that the team behind GTA faced when this project first got moving in 2016. Post-covid, new issues seemingly appear on an ongoing basis: war and rising inflation among them. The positive news for this corner of Africa is that LNG is a fuel with a guaranteed long-term future, and that means revenue streams and energy security for both countries for decades to come. For the world, GTA represents a new energy hub. For Senegal and Mauritania, it represents a new horizon.