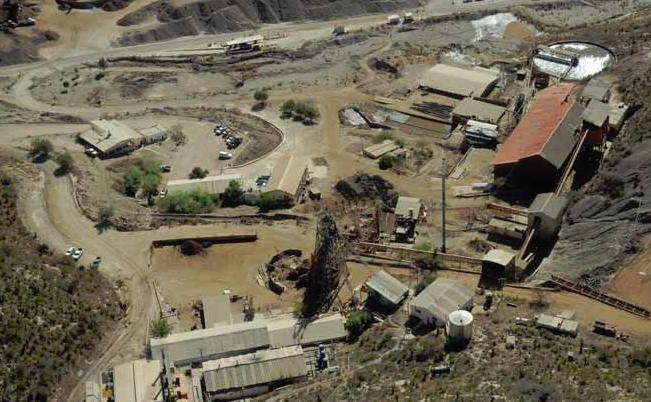 First Majestic Silver Corp. is committed to building a senior silver-producing mining company based on an aggressive development and acquisition plan with a focus on Mexico. COO Ramon Davila takes David Hendricks on a virtual tour of the company's three producing silver mines.
First Majestic Silver Corp. was established in Vancouver, British Columbia, in 2002 as a silver mining company focused on Mexico. The company currently has three underground mines in production and is nurturing two other projects for future production.
Ramon Davila, First Majestic's chief operating officer in Mexico, is based in Durango. He has an engineering degree in mining and metallurgy and a master's degree in minerals economics. He worked for Industrias Penoles, the largest silver producer in Mexico from 1978 to 1987 and then became vice president of mining operations for Luismin until 1993. Five years later Davila became president of Plata Panamericana SA de CV, a wholly owned subsidiary of Pan American Silver Corp., where he was in charge of exploration and production of its Mexican operations. He's a past president of the Association of Mining Engineers, Metallurgists and Geologists of Mexico, and he is currently a director of the board of Mexico's Chamber of Mines and a member of the Society for Mining, Metallurgy and Exploration.
Davila says the La Encantada Silver Mine—located in the Sierra Madre Oriental mountain range in the state of Coahuila in the northern part of central Mexico, fairly close to the US border—is First Majestic's main operating asset at the moment. It's in an isolated area, so it's important to the local communities as a source of jobs. The infrastructure includes an airstrip, housing, offices, ancillary buildings, a laboratory, restaurant, general store, school and recreation facility. The mine is situated within First Majestic's land package of approximately 4,000 hectares (about 10,000 acres).
"Last November we completed a major construction project there," Davila says, "a cyanidation [a metallurgical technique for extracting precious metals from oxide ore] mill upgraded from 800 to 3,500 tons per day capacity. The plan there is to reprocess all tailings left behind, because the previous companies operating that mine over the past 30 years didn't perform the correct process for the type of ore. There are plenty of valuable tailings, so three-quarters of our current production is coming from those, and one-quarter is coming from fresh ore, from the mine." The mineralogy of the deposits is predominantly iron oxides, carbonates and lead sulphates, with high concentrations of silver (argentite and native silver) values, as the result of an oxidation process and enrichment in a known vertical range of more than 400 meters.
The full production capacity of the La Encantada mine is more than 4 million ounces of silver in the form of dore bars. First Majestic currently has nearly 500 people working full time, and a further 1,500 are employed in indirect jobs. "In the next four years we're going to increase the capacity of this mine and reduce the amount of tailings that we feed to the plant. Our strategy from the start of this project was to construct the most up-to-date facility using the latest technologies. Currently over 80 percent of all water used is recycled, including a large portion of the cyanide. The result is one of the cleanest operations in Mexico." The silver dore bars are shipped to Toreon in Mexico and will also be shipped to the US and Europe eventually.
La Parrilla Silver Mine and mill sit within First Majestic's land package of more than 53,000 hectares located in the state of Durago, about 75 kilometers from the city of Durango, in the western part of the Mexican Altiplano, an extensive volcanic plateau characterized by narrow, northwest-trending, fault-controlled ranges separated by wide, flat-floored basins. The town of San Jose de La Parrilla is just north of the property, and Vicente Guerrero is 16 km to the southeast.
The La Parrilla mine is currently producing about 1.8 million ounces of silver equivalent per year. The current mill runs with twin circuits, each 425 tons per day: one to handle oxide ore, and the other to handle sulphide ore. "In the flotation circuit we produce zinc and lead concentrate, which also contains silver," says Davila. "In the cyanidation circuit we produce oxide ore and silver dore bars. The mine is close to a community called La Parrilla, and we've been working closely with the community and the local government to maintain a good relationship with them. We've been doing projects with them like paving the road and other public works. And despite being a mine, we are also certified as a clean industry in Mexico."
The San Martín Silver Mine is located 250 km north of Guadalajara in the northern part of Jalisco State. "It produces about 1.2 million ounces of silver equivalent per year with a cyanidation process. It's been a mine operated by other companies for the last 20 years, and we are now exploring it in order to try to increase the reserves and the capacity. We have a good relationship with the local community." The San Martín mine suffered from a lack of reinvestment for several years. First Majestic identified an opportunity to make investments in development, exploration and mill improvements, and it took control of operations of the mine in June 2006 by purchasing a majority stake in First Silver Reserve Inc. In September 2006 First Majestic purchased the remaining shares of First Silver, resulting in 100 percent ownership.
First Majestic also has two projects in consideration of development. One is Del Toro Silver Mine, which consists of numerous areas of interest for mineral exploration within the Chalchihuites mining district in Zacatecas State, including the San Juan and the Perseverancia mines. Both were historic mines; the Perseverancia was mined for high-grade silver-rich sulphide ore, and the San Juan is believed to be the oldest mine in the district, dating back possibly 500 years. "Del Toro could become our next mine," Davila says. "The other is Real de Catorce, a relatively new mine that we acquired in November 2009 as a result of the purchase of all the issued and outstanding shares of Montreal-based Normabec Mining. The property consists of 22 mining concessions covering 6,327 hectares. It's still somewhere in the future for us."  www.firstmajestic.com