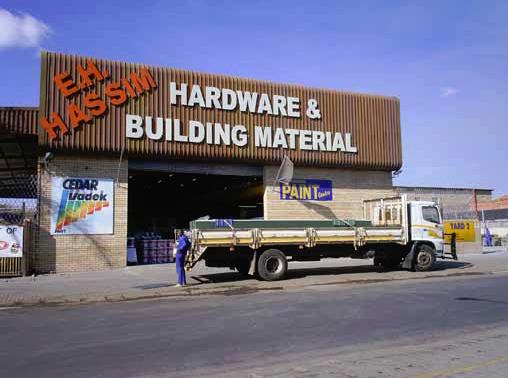 E.H. Hassim Builders World is one of a number of Indian owned businesses that has successfully steered its way through South Africa's turbulent history for over     100 years.
Alan Swaby talks to business development director Hassim I. Dockrat to find out more.
Historically, many Indians from the south of their home country first arrived in South Africa as indentured labourers to carry out unskilled work on sugar plantations. But a smaller, more entrepreneurial group of traders also arrived there from northern India, looking for opportunities to make a living.
One such trader was E.H. Hassim, who opened his doors for business in 1895. Potgietersrus, situated in the far north of the country, must then have been no more than a village catering for the local rural population, settlers and mineral prospectors. Over the years, the business has managed to survive by morphing as and when the market moved and the town grew in regional importance. But since the fall of apartheid, it has positively blossomed.
"In the past 15 years," says senior manager responsible for corporate development Hassim I. Dockrat (no relation), "the business has grown more than in the previous 75 years."
When the ANC took control of South Africa in 1994, one of the promises it made was to build enough new houses to cater for the underprivileged black majority. Although many thousands of houses have been erected since the inception of the government's Reconstruction and Development Programme (RDP), the promise has yet to be kept in its entirety and housing remains a major issue for many black South Africans. Nevertheless, E.H. Hassim has grown to become the largest builders' merchant in Limpopo province, employing 550 people and supplying building materials for the general construction industry and the private home building industry.
However, it is not only low cost housing that dominates the government's development drive. Civil projects such as roads, rail, harbour and general service infrastructure, as well as utilities such as hospitals, schools and social facilities, are high on the agenda. The 2010 Fifa World Cup stadia development and the new Gautrain Rapid Rail system are developments of note. E.H. Hassim has matured and benefited through this development strategy not only as a supplier but a contractor as well.
RDP and the government's second major policy of black economic empowerment (BEE) have both been catalysts for economic growth in South Africa and, as a result, E.H. Hassim's success. "It's easy to be critical," says Dockrat, "but the government was on an exploratory path. To work, the programme needs black entrepreneurs to step forward but just like the government, they too had little experience."
A lack of experience and no track record are not incentives enough to encourage banks to finance would-be builders, so E.H. Hassim took the initiative to bridge the gap. By assuming the role of early risk taker, the company has enabled black entrepreneurship to enter the construction industry and as a result, assist the provincial government in rolling out its low cost housing programme.
"At least 40 per cent of all successful emerging contractors in the province have taken their first steps with us," says Dockrat. "By extending generous credit lines with no added finance charges on the supply of raw materials, we develop a level of trust and customer loyalty that conventional financial institutions cannot match."
Of course there have been failures and E.H. Hassim had to absorb some of the resultant losses; but there is no doubt that it has been instrumental in helping the Limpopo provincial government achieve its goals. In return, it is viewed with affection within the local authorities and has become the government's first choice to help rescue failed building contracts. Indeed the company is a winner of the coveted Govan Mbeki Award for the best building material supplier in the province, among other industry awards.
Running in parallel with the government's BEE programme is a series of training provisions for emerging contractors legislated by government as a prerequisite for awarding contracts to entrepreneurs. With this in mind, new start-up customers of E.H. Hassim are taken under the company's wing and put through an incubation programme during which it will arrange suitable training and mentoring in order to minimise failures and ensure sustainability. This process normally lasts for the duration of a particular project.
With its traditional ability to morph as the case requires, E.H. Hassim has branched out into various other activities as well as retailing. There is now a subsidiary manufacturing roof trusses and a plant hire division. As well as having depots in Makopane (formerly known as Potgietersrus) and the Limpopo provincial capital of Polokwane (Pietersburg), it has extended its influence into neighbouring provinces and even over the border into Zimbabwe and Botswana. Other affiliate business entities within the group deal with general construction and civil projects.   
Perhaps flying in the face of conventional wisdom, E.H. Hassim prides itself on the variety and quantity of stock it holds. Furthermore, it promises to source what it doesn't hold and delivers to the remotest corners of a remote province. For over 100 years, the company has beaten the political odds by developing good customer relations and knows that its future depends on more of the same. 
While E.H. Hassim dominates at the professional end of the spectrum, it has identified a need to do more at the DIY end. "In South Africa," says Dockrat, "70 per cent of all retail sales is monopolised by the chain store industry. We are among the 30 per cent of independent businesses that can pride ourselves in our ability to retain a fair share of the market in our industry. We can't work on the basis that demand from RDP will be indefinite: E.H. Hassim has to make a bigger impact on the mass market."
Put together an emerging middle class, who now have the money to upgrade their homes, and first-time home builders, who all seem to have a plot of land somewhere, and the DIY market becomes significant. However, direct financing from conventional sources is still a restrictive means for most mass market individuals. Consequently, E.H. Hassim is marketing its services to just such a group. "We can't play the role of bank," says Dockrat, "but we can help the customer with a comprehensive range of services which includes the draughting of plans, calculation of costs, recommending builders, putting together a financial package and supplying the material. It's unlikely that we'll extend interest-free loans to the mass market but our range of services will ultimately have a positive cost benefit for the customer. Compared with building contractors, it means proportionally more work but it's a segment of the market we can't ignore."
Dockrat is also hoping that the prospects for Mokopane will improve in the next few years. Although Limpopo is undergoing something of a mining boom, Mokopane itself is not benefiting greatly, due to a lack of sufficient water to satisfy mining needs. This, however, should be rectified in 2012 when a new water pipeline will be completed.
As with the rest of the country, Dockrat feels that one of the greatest challenges facing expanding business such as E.H. Hassim is attracting and securing suitable talent. "It's often said that Limpopo's greatest export is its brain power," he says. "Providing a sufficiently attractive package to retain the best people who are otherwise attracted to the largest cities is a constant battle."
Nevertheless the company has a well honed in-service training scheme which ensures the constant upgrading of skills among its employees, while a substantial amount of resources are spent improving management capacity and capability. For E.H. Hassim, venturing into a dynamic industry previously closed to non-whites in the apartheid era has been a leap of faith; while embracing the principles of BEE has been an act of faith. This more than adequately defines the essence of E.H. Hassim Builders World and its affiliate companies: it is known as a company that has helped build a province and is now ready to extend its capacity nationally and within the SADC region.