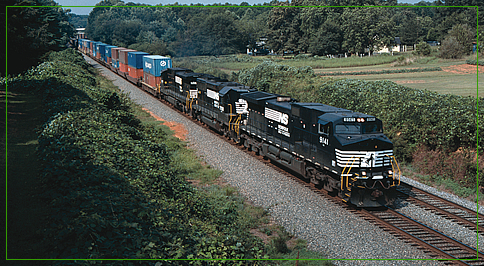 Intermodal transportation is becoming increasing popular in the United States, with the price of road fuel likely to stay high for some time, and new government road safety regulations putting pressure on truck carriers.
Intermodal transportation integrates rail and truck services to move product to market more efficiently, using the rail network to carry cargo that would otherwise move via tractor trailer.
"We capitalize on the fact that one train pulled by two locomotives can haul the same amount of freight as 300 tractor-trailers hauled by 300 drivers," said Robert Rich III, President of ROAR Logistics, a mid-sized intermodal marketing company, third party logistics provider, and subsidiary of Rich Products Corporation.
"The door-to-door transit time may be extended by 2-3 extra days, but the cost savings can be substantial over traditional truckload shipping. When these savings are coupled with the environmental and highway safety benefits, intermodal transportation is gaining significant momentum and is clearly a mode of transportation that manufacturers should be looking at very closely.
"We can typically save our customers 15-20 percent over highway transportation on a coast-to-coast shipment," continued Rich. "Given the escalating conflicts in the Middle East, the price of oil could remain high for quite some time."
Another attraction of intermodal transportation stems from the new Compliance, Safety, Accountability (CSA2010) regulations introduced by the Federal Motor Carrier Safety Administration in December 2010.
CSA is an initiative to improve large truck and bus safety, and ultimately reduce crashes, injuries and fatalities related to commercial motor vehicles. However beneficial this might be in terms of safety, however, it's bound to add to the operating costs of truck carriers through extra driver training commitments and restrictions on driver hours, which will ultimately filter through to customers.
*          *          *