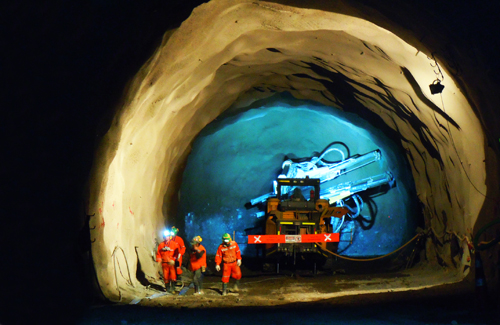 If you were to set out today from Chile's capital city, Santiago, and head 1,650 kilometres north you would eventually come to what is the world's largest open pit mine. Based 2,870 metres above sea level, the Chuquicamata Mine is without question one of the jewels in the crown of Codelco, the planet's largest producer of copper.
In its possession Codelco holds approximately ten percent of the world's total copper reserves, producing some 1.75 million tonnes of refined copper in 2012 alone. This massive amount of copper stems through the company's seven mining divisions, one of which is Chuquicamata, which itself is responsible for producing around 366,000 tonnes of fine copper per annum.
Although mining at Chuquicamata commenced in 1910, its mining properties had been known for centuries by the prehispanic cultures present in the region. Said properties continue to be exploited to this very day with Codelco currently embarking on a structural expansion of the site in order to mine the resources located under the last open pit at Chuquicamata.
This pit has successfully delivered wealth and prosperity to Chile for the better part of 100 years, and yet in its current state it will no longer be profitable by the end of this decade. It is with that in mind that the company embarked on its plan to transform the world's largest open-pit mine into an underground operation and one with a projected output rate of 140,000 tonnes per day.
"In recent years," explains Sergio Bustamante, Project Director for Chuquicamata, "further explorations have been made which have confirmed that beneath the pit exist 4,200 million tonnes of resources."
This figure translates into around 1,700 million tonnes of copper ore reserves and molybdenum (512 ppm), which represents over 60 percent of all mined resources in the last 100 years. It has subsequently been decided by the company that exploiting the reserves through the construction of an underground mine, which will be one of the largest and most modern and efficient in the world, is the most economical option going forward.
Such a large undertaking, especially one that is unprecedented anywhere in the industry, obviously throws out its own technical challenges, all of which have been taken into account by the mine operators. The material handling system for example will be unique in that it will run entirely through belts, with the main strap having two sections of approximately three kilometres of belt each.
Elsewhere, technical operations on the early stages of the mine's structural design, which comprises of four levels of production, include the construction of a main access tunnel measuring 7.5 kilometres, a similar tunnel system that will be used to transport ore, five clean air injection ramps, two air extraction shafts and numerous other works.
Despite the obvious scale of the task at hand Bustamante and the company have a clear target in mind when it comes to the timescale for the expansion project. "Underground operations are due to commence from 2019. After that will be a ramp up period that will take about seven years to reach a production level of 140,000 tonnes of ore per day which converts into 366,000 tonnes of fine copper a year."
As the home of both the largest open pit mine and the biggest producer of copper in the world, it really goes without saying that Chile is a hugely important location when it comes to the health and future growth of the mining sector, not only in South America but on a global scale. It therefore stands perfectly to reason that the State of Chile assigns a great deal of important to the industry.
By breaking down the figure it becomes clear very quickly indeed how important Codelco's operations are to the country and the wider region. In 2012 the state-owned company generated more than $7,500 million in income and since it was created in 1971 it has generated wealth equivalent to more than $100 billion. A sizeable percentage of this is in turn assigned by the state to areas such as health, education, public services and infrastructure projects, all for the benefit of the Chilean people, particularly those classed as being the most deprived. This makes the fact that the industry is continuing to grow rapidly and robustly a hugely positive one, with a least five structural projects in different stages of development presently underway under the Codelco banner alone.
As well as supporting Chileans on a national scale, Codelco's Chuquicamata mine has long been a vital source of support for the local Calama community. "Here," Bustamante states, "the company has led a very important program called Calama Plus. Together with the support of various private companies the program centred on a voluntary citizens' consultation, in which more than 20,000 residents participated, with the aim being to create a master plan to improve the standard of life in the community."
Looking at future of the mine and its underground expansion, the biggest challenges for Codelco when it comes to managing and constructing a mega-mining project valued at over $4,000 million will be to ensure that it continues to capture the enormous potential of the Chuquicamata site for many years to come, something that must be done within time and cost limits, and without serious accidents. This last point is critically important to the company as it has long placed emphasis on the fact that safety is its top priority and that it believes that there is no target it could reach that would ever justify placing its employees at risk.
"The next five to ten years are arguably going to be this project's most vital period of time," Bustamante concludes. "This is the period in which we are going to be building the project, and then it will be put into operation and subsequently we will advance with the productive scaling (ramp up). Our primary goal throughout will be to materialise a good project to benefit Chile and all the people of Chile."
Written by Will Daynes, research by Candice Nice