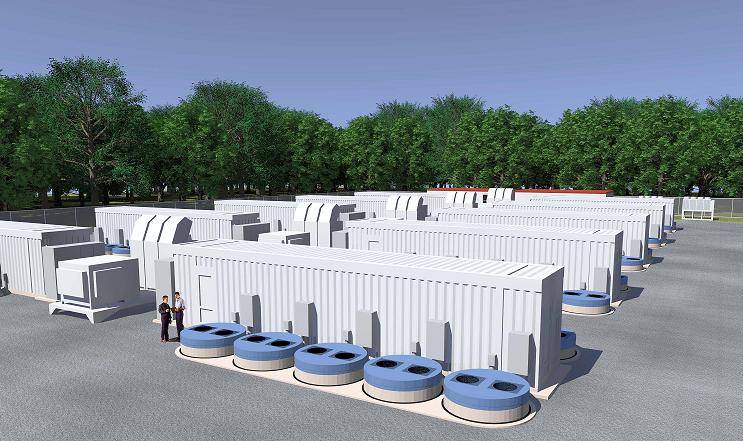 The US Department of Energy has finalized a $43 million loan guarantee for a company's flywheel energy storage plant, which is expected to enable greater use of solar and wind power.
Beacon Power Corp., based in Tyngsboro, Massachusetts, is building the 20-megawatt plant in Stephentown, New York, about 20 miles east of Albany.
The Stephentown plant is the first of its kind in the world. Beacon Power says its flywheel systems will provide frequency regulation services to help stabilize and enhance the performance of the New York power grid and enable greater use of renewable energy sources like wind and solar.
Frequency regulation is an essential grid service that is performed by maintaining a tight balance between electricity supply and demand. Beacon's plant provides frequency regulation services by absorbing electricity from the grid when there is too much, and storing it as kinetic energy in a matrix of flywheel systems. When there is not enough power to meet demand, the flywheels inject energy back into the grid, thus helping to maintain proper electricity frequency (60 cycles per second).
The facility will provide approximately 10 per cent of New York's total frequency regulation capacity on a typical day. As more intermittent renewable energy resources are added to the grid, the regulation market is expected to grow.
The flywheel plant's emissions-free operation will also greatly reduce CO2 levels compared with current fossil fuel-based regulation methods.
Four megawatts of capacity at the plant are expected to be online and generating revenue by the end of this year. The plant is scheduled to have the full 20 megawatts online and generating revenue by the end of the first quarter of 2011.
Bill Capp, Beacon's president and CEO, commented: "With the closing of this financing for our first 20 megawatt plant, we look forward to growing the company, creating jobs, and continuing to deploy our technology in the US.
"We believe that there is no better way to provide efficient, grid-scale frequency regulation than our flywheel systems, and we're grateful to DOE, through the Loan Programs Office, for its continued strong support and validation of this breakthrough technology."
Congresswoman Niki Tsongas (MA-5th), added: "Beacon Power should be recognized for their contributions to our local economy and for this considerable accomplishment. This exciting announcement also highlights the support for innovative companies contained in the recovery package, which has provided needed access to capital so that small businesses can continue to grow and lead us out of this difficult economy."
The federal government has been promoting projects to advance the storage and seamless grid integration of renewable energy sources such as wind and solar. A number of companies are now working on a range of technologies to facilitate this.