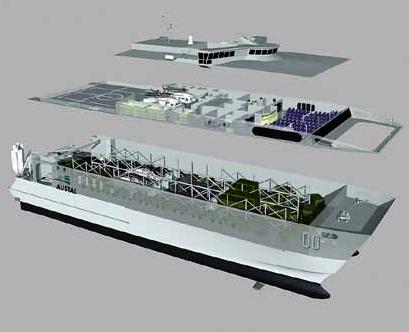 Andrew Bellamy, CEO of Austal, one of the world's leading aluminium shipbuilders, talks to Jayne Alverca about the winds of change that are blowing in the wake of a major defence contract with the US Navy.
Austal, headquartered in Henderson, Western Australia, is the largest builder of aluminium fast ferries in the world, with a customer base that spans the globe. The company has reached this level of success in just over 20 years—an achievement that CEO Andrew Bellamy attributes to three key factors.
"First and foremost, we have a wonderful team of some of the most highly skilled and dedicated people to be found anywhere in the industry," he states. "Secondly, we have always cultivated a culture of innovation, excellence and continuous improvement. Thirdly, we have developed great skill in customisation: we strive to understand the requirements of our customers from the outset and customise a solution to fit their needs. If you define a problem well, it becomes much easier to find the right solution."
Bellamy believes that Austal now has the most efficient aluminium ship-building processes in the world. "We have adopted a modular build process according to lean manufacturing principles. However, because of our focus on customisation, these processes have to be inherently flexible, which demands a lot of additional time and up-front investment in the initial design phase," he explains.
Austal's team of naval architects make use of a full array of advanced computer design tools including computational fluid dynamics (CFD), sea keeping analysis, three dimensional modelling and detailed global finite element analysis. Data is transferred electronically from the start of the design process from complex three dimensional models used for resistance and hydrostatic calculations into structural analysis and then translated into final definition and cutting instructions. This preserves accuracy in design, minimises wastage and reduces lead time.
The company's strong focus on customisation can be attributed to its expertise in the technical complexities of designing sea-going vessels. Austal's design team work closely with the client throughout the design process, and can customise almost every aspect of the vessel to best suit operational requirements and comply with regulations ranging from environmental noise and emissions through to safety and ergonomic standards. The interiors of the vessel can also be fully customised, including the ceiling panels, carpet and flooring, bulkheads, cabinetry work and seating. Austal employs a team of skilled craftspeople to provide customised furniture from state-of-the-art facilities, with close liaison throughout the production process ensuring that the individual requirements of each client are taken into account.
To date, the company has built over 220 vessels for its international clientele, ranging from high-speed ferries to patrol boats to leisure craft —all at the cutting edge of naval architecture. The recently completed 113 metre "Leonora Christina", for example, is the largest catamaran to be built in Australia to date, and will shortly be in operation between Denmark and Sweden, transporting up to 1,400 passengers and 357 cars at speeds of up to 40 knots. 
Austal's success in the commercial marketplace has acted as a catalyst for penetration of an entirely different market. Earlier this year, the US Navy announced the award of a contract to build a fourth 127-metre trimaran independence-class Littoral Combat Ship (LCS). It is a landmark contract valued at US$368.6 million, with the build programme to be executed at Austal's USA shipyard located in Mobile, Alabama.  
This is the second ship awarded under part of a larger contract announced in December 2010 for the design and construction of up to 10 Littoral Combat Ships for the US Navy. Once completed, these vessels will join the Austal-built USS Independence (LCS 2) which was commissioned in January 2010.
The 10-vessel contract will require Austal to more than double its US workforce to approximately 3,800 employees in order to fulfill the contracts, which have a total value in excess of US$3.5 billion.
During the programme, Austal will be working in partnership with General Dynamics Advanced Information Systems, a business unit of General Dynamics, which will act as the ship systems integrator, responsible for the design, integration and testing of the ship's mission systems.
Bellamy is delighted at the contract and aware of the shift in focus that is taking place within the company. "We began by building relatively simple commercial vessels and now we are at the forefront of designing revolutionary defence vessels. We see it as a great accolade to our achievements and also as a great growth opportunity for the company."  
However, he explains that Austal's commercial work will always remain a significant part of the company's future plans. "Our commercial work is so important to us because it gives us the opportunity to extensively trial, test and develop viable prototypes. Working in the defence arena, we must have proven design concepts as our foundation. The nature of the applications for these vessels means that defence contractors don't want anything but tried and tested technologies."
He adds that the inspiration for the Littoral Combat Ships, which will be placed within the US Navy, came from a Fred Olsen 137 metre trimaran vehicle passenger ferry, currently in operation off the Canary Islands. "The US Navy could see its performance in action and we were able to prove that the trimaran hullform could meet all their requirements."
Looking to the future, Bellamy hopes that the contract will now enable Austal to gain momentum as a supplier of choice with other defence forces throughout the world. "I see it as a starting point for the further internationalisation of this business, which is in line with Australia´s growing role in the defence industry globally," he says.
He also envisages geographic expansion through a regionalisation of Austal's manufacturing base. "It makes sense to match our growing global footprint with a regional manufacturing strategy.
"The other facet of the business that we are working hard on is growing our regional service hubs. Already, there are Austal service points in Oman, Spain, Trinidad and Darwin, Australia, and we plan to add many more. That network will expand as our ships mature and need greater service and maintenance input," he concludes.