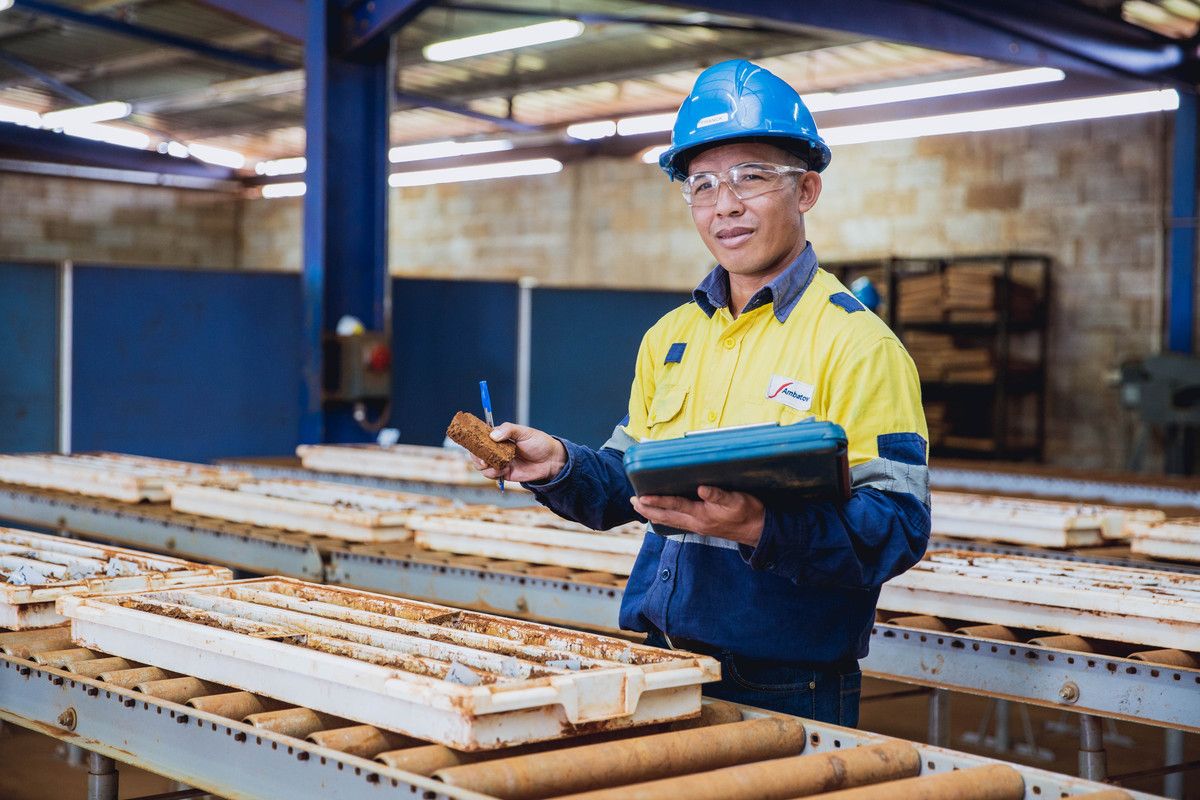 It is ten years since Business Excellence first visited Ambatovy Joint Venture Project in Madagascar. At that time, the mine was still at the preparatory phase, albeit with serious ambition. With total funding for the project crossing the $5.5 billion threshold, it was, and remains to this day, the largest investment in Madagascar's history, and has contributed nearly a quarter of the country's tax revenues since it become operational.
To mark this milestone, Business Excellence revisited the project, which has become something of an icon for the world nickel industry in the interim period. And as Russia's war with Ukraine shows no signs of abating, the Ambatovy mine's steady production of nickel and cobalt has become even more central to global mineral security. All evidence is that ten years on, the ambition we witnessed back in 2012 was more than justified.

Overview
The Ambatovy Project is not only notable for its output - approximately 5,600 tonnes of refined cobalt and almost 60,000 tonnes of refined nickel every year - but also for how it produces those metals. The mine features an integrated production system that encompasses the entire mining value chain - from mining to refinery - within Madagascar. And of course, in doing so, it has been able to sustain a far larger local mining economy, more of which later.
Although the project was initially funded by nearly 20 individual investors and organizations, for the past number of years, it has been controlled by Sumitomo Corporation and a South Korean mineral resource company (KOMIR). As the first-ever Japan-South Korea partnership in resource development, the mine is significant on another level and could be a spur for future cooperation between the two countries.
Socioeconomic Impact
"I have witnessed the benefits that mining can bring to the economic and social development of a country", said CEO, Gustavo Gomes. Some of the most ambitious projections made by Ambatovy ten years ago were around its planned socioeconomic impact. At that time, the operational phase was expected to provide employment for around 6,000 people, with 2,500 being hired directly by Ambatovy and the remainder being external contractors. Currently, the project sustains about 10,000 jobs with local staff members working in roughly 90% of direct employment contracts.
Furthermore, of the employees at Ambatovy, around 90% are Malagasy nationals. But this understates the socioeconomic impact the mere presence of the mine makes. The large-scale infrastructure work undertaken and completed around the mine is just one example. This has included the rehabilitation of the National road between Ambatovy and the Port of Toamasina and even the construction of a railway line from the plant to the seaport.
The African Development Bank (AfDB) estimates that Ambatovy contributes around 32% of Madagascar's entire foreign exchange - a phenomenal figure reflecting another side to its socioeconomic impact on the country. Ambatovy also established a social investment fund to finance 17 projects, including roads to technical schools, fire trucks for local communities, and the rehabilitation of power generators.  "Ambatovy will continue to meet its commitments," said CEO Mr. Gustavo Gomes
Employment and Development
"I am even more confident about the human resources we have at Ambatovy. We are proud of the competent and dedicated employees of our company. I have met many of them since my arrival and I can already tell you that I am impressed. Ambatovy has a great team" CEO Mr. Gustavo Gomes. As stated earlier Ambatovy currently contributes to just over 10,000 direct and indirect jobs, with 90% locals and 12% of which are women as well. Ambatovy places significant emphasis on the quality of its workforce and staff development. The company recognizes the importance of having a qualified and skilled workforce that can effectively meet its operational needs. To achieve this, Ambatovy has established the Ambatovy Training Center (CFA) in 2010 to provide additional technical training based on the specific requirements of its operations.
The CFA offers training programs to employees, focusing on enhancing their skills and qualifications. For instance, operators at the Ambatovy Plant and Mine have undergone training to obtain the necessary qualifications for their respective positions. This program aims to address the specific needs of the operations and ensure a high level of professional expertise among employees. Additionally, technicians specializing in various fields such as instrument technicians, welders, electricians, and mechanics have completed the maintenance training course known as the "Trades Training Program," which started in 2018. The content and organization of these training programs are tailored to meet the training requests from each department or the requirements of equipment suppliers.
Ambatovy's training programs are aligned with the strategic objectives of the company, aiming to enhance organizational and operational efficiency. The training is comprehensive, incorporating both theoretical and practical components. Participants receive mentorship and engage in on-the-job practice to ensure the practical application of their skills. The training process involves multiple courses and modules, totaling approximately 240 hours, with a significant portion of the time spent in workshops. The training is validated through final evaluations, followed by field coaching for a period of one to six months. The qualification of technicians is approved after successful on-the-job assessments.
It's worth noting that Ambatovy offers various other training programs to develop the skills and competence of its employees. These programs cover areas such as leadership, health and safety, and other responsibilities relevant to their roles. By prioritizing staff development and ensuring a qualified workforce, Ambatovy aims to enhance the overall performance and productivity of its operations.
Sustainable and Responsible Mining
The Ambatovy Nickel Mine plays a pivotal role in promoting sustainability, particularly in light of the ever-growing significance of nickel within the renewable energy sector. As the demand for clean energy solutions escalates, nickel has emerged as a crucial component in the production of batteries used in electric vehicles and energy storage systems. By ensuring a consistent and reliable supply of nickel from ethical sources, Ambatovy supports the development and expansion of renewable energy technologies, facilitating the transition towards a greener future. CEO Gustavo Gomes puts it best stating "The mining sector has been renewed with a critical task - to provide sustainable and responsible minerals required for this life-saving mission. A mission with a clear purpose"
This mine's contribution to sustainability extends beyond the renewable energy sector, as nickel is also essential for manufacturing various other eco-friendly products and materials. Thus, the Ambatovy assumes a vital role in fostering a sustainable and low-carbon economy by meeting the increasing demand for nickel and facilitating the global transition to clean energy sources.
In addition to its extraordinary levels of output - almost 2% of the entire nickel market - Ambatovy has gained a reputation as a mine that produces sustainably and is a leader in responsible mining. Much of Madagascar is covered in dense rainforest, so it has always been a priority for Ambatovy's owners to respect the mine's environment. In 2021, the company surpassed its ecological reforestation target rehabilitating an area of 25.87 ha with indigenous species over the Mine footprint. Since 2007, a cumulative area of 175.38 ha has been rehabilitated.
Ambatovy is also dedicated to biodiversity conservation and has implemented comprehensive environmental management plans to minimize its impact on local ecosystems in Madagascar. The company's notable effort is the Biodiversity Action Plan (BAP), which outlines strategies for protecting and enhancing biodiversity. The company has developed and implemented specialized programs to protect and preserve specific species of high quality and economic value prioritizing 438 out of 1,904 species, including 306 out of 691 general, and 79 out of 152 families for the basic floristic traits of ecological restoration including species of Flora and Fauna. These efforts are aimed at safeguarding targeted species such as Orchids, Lemurs, and critically endangered frogs and fish. The company is dedicated to the conservation of these species, recognizing their ecological importance and the need to ensure their long-term survival. Through these programs, Ambatovy contributes to the preservation of biodiversity and the protection of vulnerable and endangered species in the regions where it operates.
Its sustainability work is not only visible in environmental causes, however. Ambatovy works tirelessly in its support of local education. In the past five years, this has involved the construction of five new school buildings, school kits being donated to over 6,000 primary school children, and school nutrition programs being resumed - post-COVID - at six local school canteens. It has also developed a scholarship program for young girls from vulnerable families, which is being extended year on year.
Partners and Suppliers
Inevitably, becoming the Ambatovy of 2023 was achieved with the cooperation of a range of stakeholders including suppliers, contractors, and consultants. These are both international well-established mining service providers and over 400 local contractors have contributed to its success over the last decade of operation. For the considerable onsite mining, technical and construction works, these include important partners like MC Mining, R&M Electrical Group, and WBHO Construction. The engineering consultants at Ambatovy are Plus Natural Resources, which have provided invaluable services such as flow analysis DEM, structural and vibration analysis, and ore preparation process improvements.
Elsewhere, manufacturing and equipment are provided by local firms like Rema Tip Top African Group, GIF Products, and Sobatra. World-renowned legal firm Sullivan & Cromwell LLP was key in the $8 billion restructuring of the business in 2021, for which it won two significant awards from its peers. Laws of Attraction are a HR consultant that regularly works with Ambatovy in its employee engagement. Other partner firms, principally involved in fuel and logistics, include DHL, Madagascar Automobile, and Galana Distribution Petroliere SA.
The Future
As Ambatovy commemorates its 10th anniversary, it reflects on its remarkable accomplishments and anticipates the path ahead. With a steadfast commitment to sustainability, the mine has demonstrated exceptional productivity in its first decade and remains on course to achieve net forest loss reduction by 2030. This success speaks volumes about the adept management team, innovative methods, and unwavering dedication to sustainable practices. Ambatovy's offset strategy, recognized by the Business and Biodiversity Programme, has served as a pilot, shaping guidelines for minimizing biodiversity loss from development projects.
As one of the world's top five nickel and cobalt operations, Ambatovy stands not only as a mining landmark but also as a beacon for Madagascar. In line with the government's strategic plan, the country aims to elevate its status to a middle-income nation by 2030, significantly increasing GDP per capita. Ambatovy's steadfast pursuit of excellence in sustainable resource extraction creates opportunities for similar-sized investments, making Madagascar an appealing destination for future ventures.
Looking forward, Ambatovy envisions continued growth, driven by technological advancements and an intensified commitment to sustainability. The company will persist in adhering to responsible mining practices, engaging with local communities, and preserving biodiversity. By doing so, Ambatovy seeks to sustain its achievements while contributing to the social, economic, and environmental development of Madagascar. This 10-year milestone marks a pivotal moment in Ambatovy's journey, propelling the company towards a future brimming with further triumphs and positive impacts.