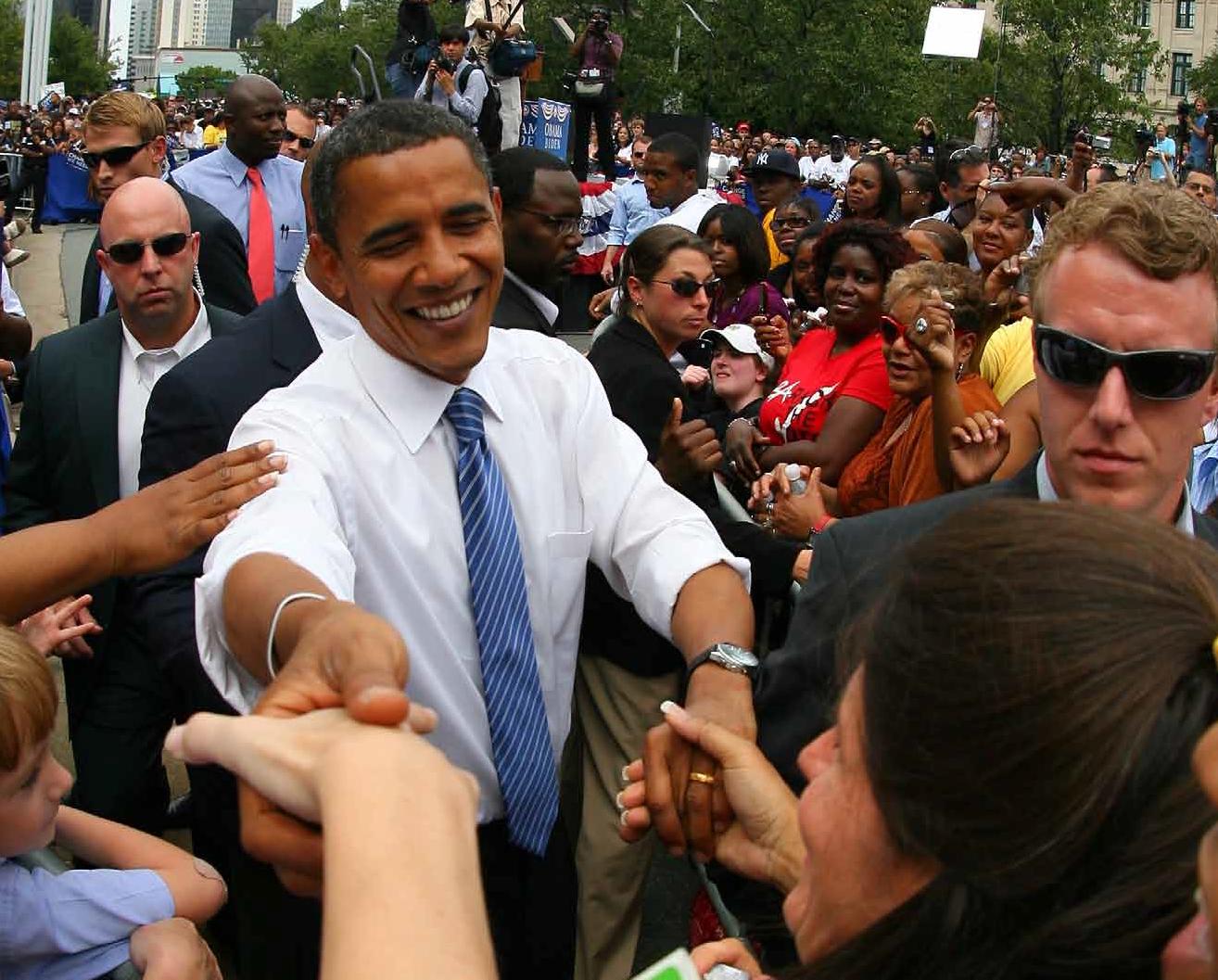 The Mayans predicted that 2012 would bring the end of days. Let's hope it doesn't, but it's sure to be a turbulent year, says Peter Leeds.
Whether the Mayans were right or not remains to be seen, but I am predicting a turbulent year in which major events will play out on the world stage that may forever alter our history. Based on analysis which I conduct for my financial newsletter, the following 12 points are what I'm expecting to see in 2012.
1. Republicans try to win back the White House with a ticket of Mitt Romney and JC Watts.
Based on information from a source with over 30 years in politics, I expect Romney's running mate to be little known JC Watts, an African-American politician from Oklahoma, former professional football star, and father of six. He is well spoken, likable, and a young 55.
2. Obama wins re-election.
By the time the election takes place, I expect there will have been an ongoing, albeit mild, recovery in America's employment situation, which will boost Obama's popularity.  
Also, based on the early percentages coming in for all nine battle ground states, and the number of Electoral College votes from each, I believe Obama would win if the election were held today. I expect his lead to increase as the campaign enters full swing.
3. Occupy Wall Street soldiers on, but in a dramatically different form.
The Occupy Wall Street movement will still be relevant in 2012, but not in its current form. It will need to reinvent itself to endure, as media interest, supporters, and activity are all on the decline. A cold winter may chase off the majority of its supporters.  
4. Unemployment rate slips in 2012 from 9 percent to 7.5 percent.
According to The Washington Post, over $1.8 trillion dollars is sitting idle in America's corporations. Much of this will finally start trickling back into the economy. 
The original reasons companies were hoarding cash, such as uncertainty of the economic environment and European debt contagions, are beginning to take a back seat to growth plans. These companies (such as Microsoft, with $40 billion cash on hand, Caterpillar with $3 billion, Harley Davidson with $1.5 billion, Exxon at over $11 billion, etc...) are very profitable now, and will look to use their cash to capture market share and expand. I expect this increased spending to result in a mild improvement in the unemployment rate, pushing it down from 9 percent to 7.5 percent in 2012.  
5. Greece leaves the euro behind, potentially followed by Spain, Italy, and Portugal.
Greece will eventually exit the euro, defaulting on its debt, and returning to using the drachma as its currency. Italy may follow suit, and perhaps Spain and Portugal. With debts that cannot mathematically be paid, and populations unwilling to accept punitive austerity measures, it will be a compelling political and financial decision to revert to their own currency, and default on their debts.
The end result will be a partial fragmentation of the euro zone, with powerful players (Germany, France) remaining, only after taking massive losses from the debtors.
6. Global civil unrest continues to increase, with violence overseas.
Civil unrest will continue worldwide, ranging from peaceful protests to gasoline bombs hurled at police vehicles. Violence will be lowest in America, based mainly on the widespread success of the peaceful Occupy Wall Street movement, but even they will see small groups eventually channeling their frustration into aggressive actions.
Overseas, crackdowns on the populations of Bahrain, Egypt, Syria, and Iran, among others, will continue to be bloody. Some may break down into civil war, as we saw in Libya. The underlying problems (inflation, scarcity of food and jobs, dictatorial control, wealth gaps) will only continue to get worse. The bloodshed in these nations will only end in one of two ways - either with the will of the populations being completely broken by way of violent crackdowns, or by complete civil war ending in a victory by the "rebels."  
7. Libya becomes much less stable.
Libya without Muammar Gaddafi, much like Iraq after the removal of Saddam Hussein, or Egypt with the digression of Mubarak, will be much less stable. Uncertainty and a power vacuum will result in Libya's divided tribal nation fragmenting into warring factions, set on competing for power, and settling old scores that they dared not do under the rule of Gaddafi. 
Meanwhile, America, Russia, and China will jostle for influence in this oil-rich flashpoint. China had 30,000 workers in Libya before the civil unrest began, and their eyes are squarely set on fulfilling their domestic energy demand. Russia has major influence in the region, and will not cede its interests to China and America easily. The US not only wants the oil coming out of Libya, but it also wants to keep it from China, as is evidenced by its Africa-wide positioning to lock down most of the oil-producing regions for American companies.
8. Expect an increase in municipal bankruptcies.
More municipal bankruptcies are on the way. With this will come domestic austerity measures, localized defaults, and credit-rating downgrades.
Either filing for bankruptcy, or on the edge of it, are locations such as Harrisburg, Pennsylvania, Jefferson County, Alabama, Vallejo, California and Central Falls, Rhode Island. Others will join these in 2012, as budget shortfalls come to light.
9. Serious action against Iran.
We may see serious military action against Iran, led by either Israel alone, or with support from the US. This may include tactical military strikes against ground targets, or dramatically tightened sanctions and trade embargoes (assuming the US can gain support from Russia and China).
You can gauge the seriousness of the situation less by what Iran, the US and Israel are saying publicly, but rather by the statements coming out of Russia and Europe. The more these third party nations issue statements and warnings, the closer we are to potential conflict.
10. Demand on the world's food and water supplies drive prices higher.
A growing population (7 billion according to the World's Population Clock by Worldometers), and an increasingly sophisticated diet in China and other developing nations, have created rapidly increasing global food demand.  
According to Food and Agriculture Organization (FAO) data, China's per capita intake of calories, protein, and fat were all well below the world average in 1975, but each of these intakes is now well above the world average. Expect this trend to continue, if not accelerate, in China, and be mimicked in India, Pakistan, and other developing nations. This will manifest in the US with higher food prices at the grocery store.
11. The US enters a period of stagflation.
Inflation currently near 10 percent (according to ShadowStats and also MIT's Billion Prices Project) continues to gain momentum. At the same time, the US (and most of the world) sees its mildly positive growth rates turn negative. 
The combination of inflation and negative growth is stagflation, and just as we witnessed Japan's "lost decade" (actually now two decades), we may see a similar period of extended ongoing economic weakness here in the US.
12. Precious metals prices soar.
We are currently seeing currency devaluations, from the US to Switzerland, from South Korea to the euro zone. Consider that $1,000 worth of US goods in 1960 would now cost you $7,360.
This is causing the relative value of everything to increase. Since precious metals are bought and sold in American dollars, and they are also considered a method to preserve wealth as currency values fall, gold, silver, and platinum prices should rise significantly. If inflation increases, the demand for precious metals should increase as well.
Many of these events are likely to play out in the coming year, and they will have a direct impact on you, the economy, and global tensions. Whether you pay more for gasoline, see increased property taxes, or cancel that family vacation to Europe, you need to be aware of these events and how best to react to them.
Whatever form they take, and whenever they occur, one thing is for certain: 2012 will not be a quiet year.
Investment analyst Peter Leeds is the owner and founder of Peter Leeds Penny Stocks, one of the most popular financial newsletters in North America, and the author of the new book Invest in Penny Stocks: A Guide to Profitable Trading.
*          *          *