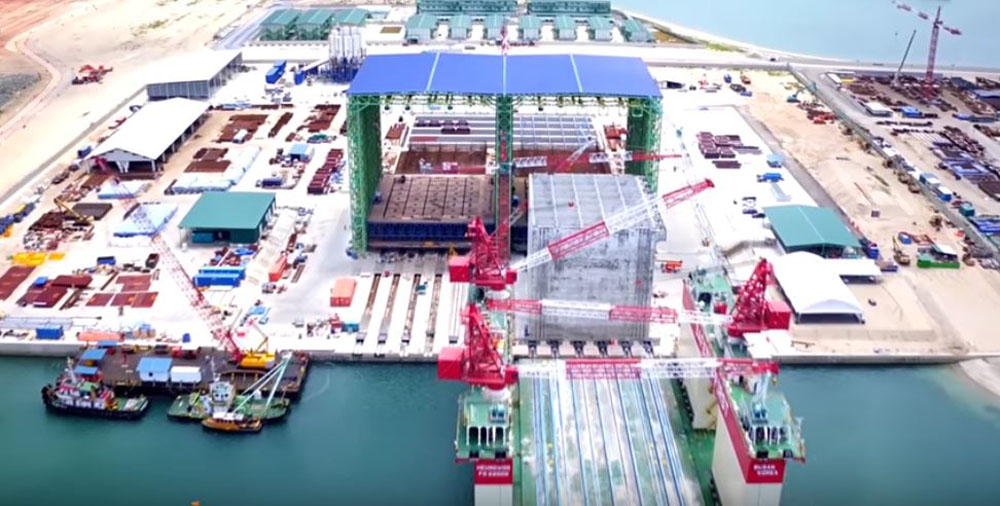 When it comes to openness to trade, few companies top the rankings as regularly as Singapore. This openness is reflected in the investments the country has made to its trading infrastructure, not least its ports. For example, despite being only a country of 5.7 million people, Singapore Port was the second largest container port based on cargo capacity in Asia in 2018 with 36.6 million TEUs, coming second only to Shanghai.
Singapore and shipping go hand-in-hand. Flying into the country, the first thing that strikes most visitors are the thousands of ships along its coastline. These are the lifeblood of the country's trade, which is why Singapore is building a new port on the main island's western coast - Tuas Port. When completed in 2040, it will be the world's largest fully automated port. Business Excellence decided to take a closer look at this groundbreaking project.
"Towards Tuas"
The port of Singapore has always been a cornerstone of the country's development. As far back as 200 years ago, the port was a small entrepot trading post in the British Empire. But what Singapore had that other ports didn't was a highly strategic location: It represented a key point on the trade routes between East and West. As maritime traffic grew, so did the port and ancillary services; soon, it added ship management, ship brokering, ship law and maritime law.
This growth also called for more shipping capacity. Over time, a total of five container terminals were developed in Singapore to cater for its ever-growing requirements. But with the lease for these terminals expiring in 2027, the PSA - the Port of Singapore Authority - had to make alternative plans for the future. In 2012, in conjunction with the Singapore Ministry for Transport, announced plans to consolidate all of its container port activities at a new port in Tuas.
The idea to consolidate wasn't just because of the end of the PSA's leases, however. It was also seen that moving all of Singapore's shipping activities into Tuas Port would generate greater efficiency and economies of scale. Previously, trucks had to move between different terminals to cater for logistics. Tuas Port will eliminate this requirement. And its proximity to the country's major industrial hub, combined with its deep waters, made it the ideal location for a port.
Singapore's Mega Port
Predictably, a project that costs almost $20 billion is an engineering challenge. The first stage of the project required land to be reclaimed from the sea. This involved the outline of the wharf being demarcated by over 200 caissons (10-storey high concrete pillars). Clay was then dredged from the marine bed to deepen the sea bed around the port. This same clay was subsequently used for the land reclamation element of the project.
While all of this engineering work is ongoing, the operations of the new port are also being carefully planned and implemented. The technology that has been planned for Tuas Port is already being tested on a daily basis at the PSA's existing terminals. This can currently be seen, for example, in the 30 driverless vehicles moving cargo containers around Pasir Panjang terminal. Over 1,000 of the same vehicles will be specially developed for Tuas Port.
The tem 'mega port' is the one most often associated with Tuas Port, and it is hardly surprising. When finished in 2040, it will  have 26 kilometres of deep water berths and capacity for 65 million TEUs per annum. It has also been designed to cater for the vessel ships of the future should they grow in size, as expected. The scale of the operation is truly remarkable for a country with a population of less than 6 million - smaller than the 20th biggest city in Asia.
Environmental Impact
The environment was also a concern when looking at Tuas Port project at the very outset. Thorough environmental impact assessments were conducted from day one, complying with the strictest environmental standards with the aim of protecting the surrounding marine biodiversity. Elsewhere, more than half of the clay used for reclamation was taken from dredging - another innovation which reduced the project's environmental impact.
Furthermore, as a country that is home to such intense international trade, Singapore has the potential to make a positive long-term impact through its work at Tuas Port, as well as setting an example for others in the industry. On virtually all metrics, Tuas Port sets new levels of efficiency, which translates into environmental sustainability. Among other innovations, the project incorporates automated technology, smart engineering and power management platforms.
Four Phases to Bright New Future
The first of four phases is due to be completed in 2021 at a cost of $1.8 billion. Although there have been some inevitable delays owing to the coronavirus pandemic, this milestone is still on course to be delivered. The second phase has already commenced and is projected to be the largest reclamation project of all four phases. It alone involves the construction of an 8.6 kilometre wharf - which would be a massive port in itself.
You come away from Tuas Port full of admiration for Singapore in general. Its openness to trade is an example for all of us. If economic historians can teach us anything, it is that trade is the key to peace and prosperity. Singapore is a shining example of this. And the Tuas Port is the centerpiece of its vision. At a time when many countries are turning inward, we should applaud the vision and ambition of the Tuas Port project.