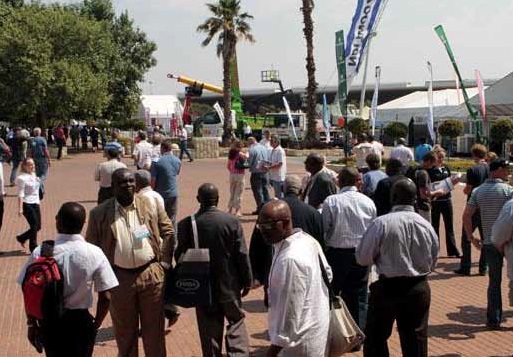 Electra Mining Africa opens its doors to the world once again this year from Johannesburg on 10 September; and the 2012 show looks set to be the biggest and most exciting ever.
On 10 to 14 September this year, the world's mining players will descend once again upon Johannesburg to feast their eyes upon the very latest products, services, technologies and trends in the mining world. Electra Mining Africa is ranked as the second largest mining show in the world; and as well as attracting a vast number of visitors from the mining world, also boasts broad appeal to the construction, industrial and power generation sectors.
In 2010, the exhibition attracted over 35,000 visitors, over 730 local and international exhibitors and filled the 33,000 cubic metres of floor space and outside display areas. Thousands of visitors attended from African countries, joined by attendees from Australia, Canada, China, France, Germany, India, Italy, the UK and the USA.
The show runs alongside co-located shows Elenex Africa, Machine Tools Africa and Transport Expo, improving the value proposition for visitors and exhibitors alike.
Independent research conducted over the 2004, 2006, 2008 and 2010 shows indicates that 64.45 per cent of visitors planned to buy capital items within one year of visiting the show; that visitors were interested in viewing all the halls and seeing all exhibits; and that 98 per cent of all respondents would visit the show again. Electra Mining Africa 2010, for example, generated a significant number of sales off the floor, valuable sales leads and excellent business connections.
In 2010, 40 per cent of visitors pre-registered online—the result of a growing trend towards online pre-registration and a response to the strong marketing drive and promotional campaigns in place prior to the start of the shows. Pre-registration to the 2012 show will open prior to the event opening, meaning that ease of access and the popular Business Matchmaking programme will be further enhanced. This is a meeting service that captures exhibitor and visitor profiles pre-event on an easy-to-search database system, which then enables business meetings to be set up in advance, saving delegates valuable time and ensuring they get the best value from the meetings. 
The show is held at the Expo Centre at Nasrec, which enjoys a convenient location close to highways and airports, just 15 minutes away from Johannesburg. The multi-purpose venue has the largest dedicated exhibition facilities in Africa, with over 42,000 square metres of covered space, an additional 80,000 square metres of outdoor, multi-purpose space, secure parking for up to 20,000 vehicles and services such as telecommunications, in-house catering, restaurants, entertainment areas and conference facilities. The Expo Centre may already be familiar to visitors new to the show, having played host to the International Broadcast Centre (IBC) for the 2010 football World Cup.
Electra Mining Africa will be showcasing a very wide range of products, services and equipment within the categories of mining and related products (leading-edge mining technology, machinery, equipment and supplies); industrial, engineering and manufacturing (general engineering and manufacturing); electrical engineering (electrical engineering equipment and supplies); materials handling (bulk materials handling equipment, storage and materials handling systems); safety, health and environment (SHE equipment, supplies and technology); and construction (earthmoving equipment).
Conferences, workshops and industry talks dealing with current topics and technologies across a broad spectrum of industries will be held alongside the exhibition.
The visitor profile for the event is truly wide-ranging, and will include directors, managers, mine technicians, procurement professionals, project managers, engineers, production managers, metallurgists, SHEQ officers, quality control specialists, analysts, training officers and government officials. Visitors will be drawn from an equally wide range of sectors including mining (underground, surface and open-cast), power generation, electrical engineering, civil engineering, mechanical engineering, general and specialised engineering, processing, machine tooling, manufacturing, foundries, iron and steel, armaments, automotive, oil & gas, petrochemical, plant contracting, public works, environmental, emergency services, occupational health, safety, transport, professional services, training and education, communications, and governmental/parastatal.
The list of confirmed exhibitors is extensive, but just a few of them include: AFS Group, Air Liquide Southern Africa, Alaska Structures, AEL Mining Services, Africa Truck Parts, Afgen, the Australian Trade Commission, Aveng Manufacturing Duraset, BP Southern Africa, Barloworld Power, Bateman Engineered Technologies, Bauer Maschinen GmbH, Becker Mining Systems, Beowolf Mining, Bearing Man Group, Cochrane Steel, Consortium Cables, Contract Engineering Services, Eickhoff, the Embassy of the Czech Republic, Enerpac Africa, Engen Petroleum, Euro Steel Services, Fanuc South Africa, Flow Electronics, Fuchs Lubricants, GEA Group, Indy Oil, InterAfrica Engineering, Intrepid Mining Equipment, Invest Northern Ireland, Kappa Engineering, KPMC, Liquid Automation Systems, M-Tool, Manitou SA, Martin Engineering, MBE Minerals, Metmeister, Minova RSA, MME Manufacturing, MTU South Africa, Nalco Africa, NOSA, Outec Controls, Parker Hannifin, Polysius, Rand Technical Services, Redman Engineering, Reinert-Ritz GmbH, Rema Tip Top, Renault Trucks South Africa, Rhino Plastics, Rockcrete Equipment, Rossi Southern Africa, Rotech Systems, Sandvik Mining and Construction, Schneider Electric SA, Sedgman, Siemens, SMT Scharf, South African Airways Technical, Sud Chemie Water, Tranter Energy and Mining Services, Tru-Trac Rollers, Waco Industries, WearCheck, and WEC Projects.
An on-site exhibitor service offered by the exhibition organisers includes carpeting, furniture hire, plants, telephone/fax hire, audio visual hire, security, forwarding and handling, unpacking and positioning of exhibits, budget analysis figures, staff training, travel and accommodation packages, restaurant and exhibitor catering, exhibitor briefing and updates, and a comprehensive exhibitor catalogue.
The show has made a firm effort to attract local and international exhibitors and visitors, drawing on the expertise and contacts of its relationships with industry associations, the Department of Mineral Resources, the Department of Trade and Industry, the South African Equipment Export Council (SACEEC), chambers of commerce, trade consuls, agencies, and local and international media publications. Marketing efforts have included digital marketing (websites, website links, online pre-registration, complimentary tickets and e-zines); direct mail; complimentary tickets distributed through associations, chambers of commerce and the media; publicity (trade, business news, dailies, online media, TV/radio and news agencies); advertising (trade, business news, dailies, radio); and roadside posters.
This year's show is promising to be the most comprehensive and valuable yet, so don't miss the opportunity to get right to the heart of the global mining industry in Johannesburg this September. http://www.electramining.co.za
Written by Catherine Dunlop; research by Luke Smith