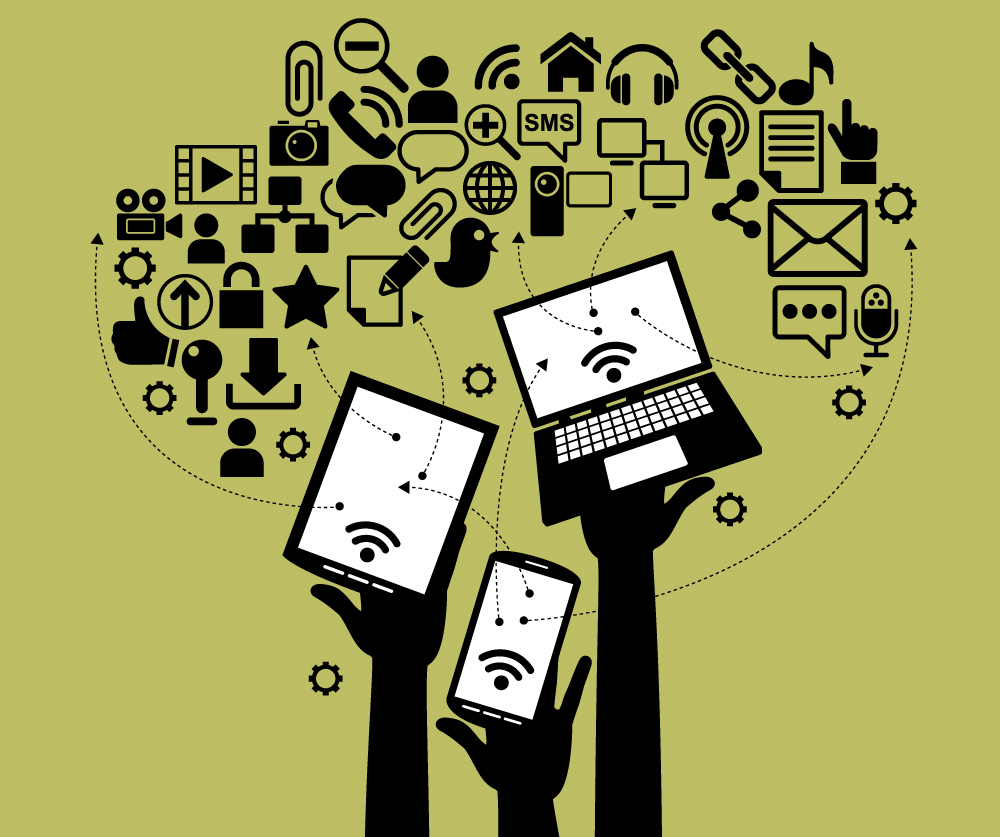 In a very short space of time – less than a decade really – technology has changed the way people live their lives. It has also changed the way they work. It was in 2008 that Kevin Roberts, the worldwide CEO of Saatchi & Saatchi, told me how his iPhone freed him from the constraints of geography, enabling him to run the business as effectively from his home in New Zealand as from his office in New York or Lancashire, where he happened to be at the time. Distinctions between work and leisure time had all but disappeared from him – the technology was beginning to enable a different approach to work and to the very structure of the organisation.
That was five years ago, since when platforms for accessing information have progressed beyond what was imaginable even then. In another five years the capability and reach of knowledge storage and capture systems will undoubtedly progress even faster. The futurologist James Gleick last month came up as he can be relied on to do, with an elegant insight when he said: "It is as if we were fish, which after aeons suddenly became aware of water!" Just imagine what will be available to us by 2018 – and imagine is all we can do.
Roberts and Gleick are far from being the only people who have been excited by the possibilities linking technology and life, of which business is just a part. But it seems to have been a hard sell at the corporate level. The public sector in particular seems to have spent millions on IT systems and then millions more on setting up firewalls and restrictions to access that limit their data geographically and departmentally within the organisation. The fact is that the real excitement of the digital age has been dampened by the entrenched conservatism of big businesses – tankers that are turning frustratingly slowly.
The problem is not just that workers are not allowed to use personal devices for work; managers think their job is to manage, and that to manage is to control. Despite all the talk of empowerment people management is seen as directing the behaviour of employees, not freeing them up to pursue the ultimate goals of the business. To do that would mean allowing access to information – allowing them to become iWorkers, a word which (no brand connotations here) could be defined as intelligent workers, intuitive workers, inspired workers: reliable and skilled employees who have 24/7 access to all the necessary information to meet the needs of the business and its clients.
According to new research commissioned by Ricoh Europe only four percent of business leaders would currently describe the majority of their staff as iWorkers. This is based on responses from 735 senior business and IT decision makers across eight vertical sectors, education, legal, utilities/energy, healthcare, public sector, retail, manufacturing and financial services sectors in the UK, Ireland, France, Germany, Spain, Italy, Netherlands, Belgium, the Nordics (Sweden, Finland, Norway and Denmark), Switzerland and Russia.
Things can't stay that way. Ineffective information sharing is having an enormous impact on the effectiveness of enterprises with lost revenues, lost customers and a lack of customer insight, in that order, identified as attributable to information bottlenecks. The people questioned predict significant change over the next five years, with 37 percent believing that by 2018 the majority of their workforce will be iWorkers.
The study also shows there are challenges to overcome prior to increasing the presence of the iWorker in European businesses. While almost three quarters are investing in new technologies to improve employee productivity inside and outside of the office, the majority highlight the need to review existing processes so that employees can access business critical information more easily. Over 70 percent believe the inability to access documents from a mobile device is holding their business back, while two-thirds say that unsuitable search functions are preventing employees from finding the information they need to help the business move forward. In addition 62 percent say that disjointed information silos are hindering the sharing of information.
David Mills, COO at Ricoh Europe says: "The population of iWorkers is forecast to rise significantly: the question is, are businesses ready? Business leaders are more aware than ever before of the need to further optimise the way they use technology and eliminate the information silos occurring across the business. There is an urgency to review and change traditional ways of working and keep up with technology-led change, which will continue to bring new challenges."
Ricoh is a good example of a company that has reinvented itself to survive. Known as a supplier of equipment like copiers and fax machines – not so long ago key vehicles for information sharing – it had to transition from its old manufacturing mindset and become a service company. David Mills modestly describes himself as a born again photocopier salesman but he is in reality as much a futurist as James Gleick. "The next five years are as much an opportunity for Ricoh as for our clients – we are in the fortunate position of having a soft landing ahead of us." By this he means that the company is still actually growing on the hardware side though that may not be the case by 2018.
As long ago as the 1980s Ricoh was confident that the future of the workplace was digital and set about re-engineering itself to focus on the technology that would support this vision, such as OCR, introduced in 1985. Now the company's technology and consultancy is already helping many businesses across the globe to receive, store, search, index, digitise and extract monetary value from critical information, unlocking the power of 'Big Data' by making it easier to manage and understand.
It is this topic and the issues surrounding it that formed the recent research report examining the next important questions in the 'Big Data' challenge for European businesses. As Mills puts it: "Now is the time for organisations across Europe to optimise critical business and document processes to prepare more effectively for the future. With greater innovations and technology led-change on the way, the establishment of the iWorker as a more informed workforce is essential to realising business growth, improved business agility, efficiency, productivity and responsiveness to client needs."
What this research confirms is that the majority of businesses are still in the digital dark ages. They are in no state to drive digital transformation. It's certain that a lot more technology-led change is on the way. Businesses will need to be able to adapt quickly to new client demands, economic conditions and to maintain a competitive advantage. To meet the challenges posed by this change, IT management should no longer be sidelined as a supporting role: instead CIOs should be given their head to influence business models, client interaction and employee productivity.
This should start with business critical processes - the number one ranked activity to impact business growth, says David Mills. "CIOs can combine technology expertise with commercial acumen to review, and change the organisation's traditional ways of working. In turn they will gain much more than cost savings. The business will benefit from being able to move forward with a more productive and agile working model where employee knowledge sharing is enhanced and they are more responsive to client needs. In the longer term, with these strong foundations in place, the CIO can focus on the core business areas and successfully lead the organisation into a brighter digital future." The likes of Kevin Roberts may see a bit further than this, but it would be a start.